Penn State Addiction Symposium keynote address: "Applying Science to Clinical Care – What it Really Means to Treat Addiction as a Chronic Illness"
December 10, 2019 @ 12:00 pm

-

1:00 pm
The keynote address for the fifth annual Penn State Addiction Symposium, "Applying Science to Clinical Care – What it Really Means to Treat Addiction as a Chronic Illness," will be given by Yngvild Olsen, MD, and Joshua Sharfstein, MD.
Dr. Olsen is the director of the Institutes for Behavioral Resources Inc., a comprehensive addiction treatment center in Baltimore, and vice president of the American Society of Addiction Medicine. Dr. Sharfstein is Vice Dean for Public Health Practice and Community Engagement and professor of practice in health policy and management at Johns Hopkins Bloomberg School of Public Health. He previously served as the Health Commissioner of Baltimore, Principal Deputy Commissioner of the U.S. FDA and Health Secretary of Maryland.
The two speakers co-authored the book "The Opioid Epidemic: What Everyone Needs to Know" (2019, Harvard University Press) as an accessible, nonpartisan overview of the causes, politics and treatments tied to the opioid crisis. The book's comprehensive approach and Q-and-A format offer readers a practical path to understanding the epidemic from all sides: the basic science of opioids; the nature of addiction; the underlying reasons for the opioid epidemic; effective approaches to helping individuals, families, communities and national policy; and common myths related to opioid addiction.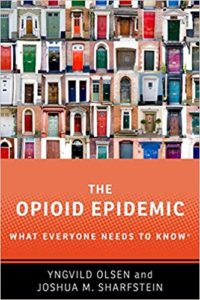 "As two of the most distinguished experts on addiction and the opioid epidemic, Drs. Olsen and Sharfstein have written a definitive guide to understanding the epidemic and arming readers with information backed by science and evidence to help themselves, their loved ones, and their communities."
– Michael Botticelli, Executive Director, Grayken Center for Addiction Medicine and former Director, White House Office of National Drug Control Policy
"In The Opioid Epidemic, Drs. Olsen and Sharfstein lay out with clarity and eloquence the root causes and solutions to a crisis that has devastated communities across the United States. Whether you are a parent, a policymaker, a physician, or a concerned citizen, everyone should read this book."
-Vivek Murthy, 19th Surgeon General of the United States
Thanks to the generous support of Drs. Olsen and Sharfstein, dinner guests and the first 100 symposium registrants who attend the event in person, in whole or in part, will receive a free copy of the book.
The talk will be live-streamed and recorded via Zoom.
CME and APA credits for Penn State Health employees attending the keynote are pending.
Lunch will be provided for those who register by Dec. 3, 2019; late registrations are welcome, but food cannot be guaranteed after that date.
Those interested in attending either the full symposium or the keynote address/lunch should register online here by Dec. 3, 2019.
Related Events