Guest Seminar: "Integrative genomics approaches to translate genetic findings to therapeutics for complex diseases"
November 9, 12:00 pm

to

1:00 pm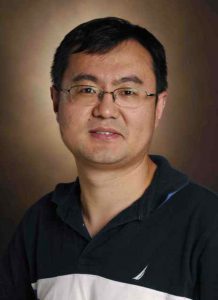 On Nov. 9, you are invited to attend a special seminar co-sponsored by the Department of Public Health Sciences and the Penn State College of Medicine Strategic Plan Goal 2 of Biomedical Informatics and Artificial Intelligence.
Invited speaker Dr. Bingshan Li, PhD, is an Associate Professor of Molecular Physiology and Biophysics at the Vanderbilt School of Medicine and a member of Vanderbilt's Center for Human Genetics Research. Dr. Li's research focuses on developing statistical methods and computational tools for genetics and genomics studies and applying these tools for mapping genes associated with human diseases.
About the Seminar
Genome-wide association studies (GWAS) identified numerous genetic loci for complex diseases, providing novel targets for drug development. The translation of GWAS findings to therapeutics, however, has proven challenging. One challenge is that the risk genes in GWAS loci are generally unknown. In this talk, Dr. Li will describe a Bayesian framework that integrates multiple-omcis data and networks to identify risk genes for the GWAS loci, with its application to schizophrenia. Dr. Li's team uses this integrative framework to identify risk genes for other diseases (e.g. type 2 diabetes, Alzheimer's disease) and uses the genetic signature in combination with perturbation experiment data in CMap and L1000 to nominate candidate drugs. The team further validates the candidate drugs using real world patient data in electronic health records.
Zoom Info
Join Link: https://pshealth.zoom.us/j/94860982030
Meeting ID: 948 6098 2030
Passcode: 320367
Dial-In:  929-205-6099