Seminar: Imaging Flow Cytometry
October 18, 9:30 am

to

11:00 am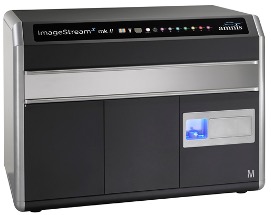 The Flow Cytometry Core at Penn State College of Medicine will offer a seminar on using Imaging Flow Cytometry to enhance research.
Specialists from Luminex will provide an overview and lead the seminar on applications for using the Amnis ImageStream X Mk II instrument.
High content imaging to make novel discoveries and understand mechanisms of action
Image Analysis tools for enhanced classification of populations
Nuclear Translocation
DNA Damage/Autophagy
Co-localization
Phagocytosis
Trafficking/Surface
Cell Shape Change/Morphology
EV Detection/Sensitivity
Cell-Cell Interactions
Advanced Cell Cycle
Apoptosis/Micronucleus Assay
The seminar will begin at 9:30 a.m. Oct. 18 in Room C2860 and via Zoom. Registration is not required.
Zoom information: Connect via Zoom using this link. Meeting ID: 954 8235 8459, Passcode: 397296.
For more information, contact Nate Sheaffer at 717-531-6908.
To schedule a follow-up one-on-one session to plan or discuss experiments or to collect samples, please contact Jade Vogel at 717-531-6908 or jav229@psu.edu.