Sock Out Bias on National Coming Out Day!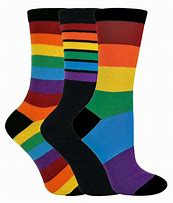 According to the 2022 Accelerating Acceptance report by GLAAD, for the second year in a row, LGBTQ+ Americans are reporting an alarming increase in unjust treatment, including bias. Seven in ten report personally experiencing discrimination, up +11% from a year ago, and a disturbing increase of +24% from 2020.  In addition, over the past two years, 61% of BIPOC (Black, Indigenous, and people of color) LGBTQ+ people are face discrimination based on their intersectionality of race or ethnicity and sexual orientation/gender identity, compared to 32% of all LGBTQ adults.
The Penn State Health Office for Diversity, Equity and Inclusion encourages employees to show support as allies for sexual and gender minority patients and colleagues, including those who identify as lesbian, gay, bisexual and transgender, by wearing rainbow socks for National Coming Out Day on Monday, Oct. 11.  Coming Out Day, observed in the U.S. and in countries around the world, was founded in 1988 with the goal of raising awareness of the LGBTQ+ community and its civil rights movement. Tuesday, Oct. 11, marks the anniversary of the 1987 National March on Washington for Lesbian and Gay Rights.
The theme for this year's Penn State Health National Coming Out Day Sock Out Bias  will focus on recognizing and eliminating bias against lesbian, gay, bisexual and transgender patients and employees.   "The October 11th National Coming Out Day provides an opportunity for all Penn State Health employees to show support for eliminating bias against our LGBTQ colleagues and patients," said Lynette Chappell-Williams, Penn State Health's vice president and chief diversity officer. "By wearing rainbow socks on Oct. 11, employees become allies with a part of our community that continues to experience challenges, including discrimination and health disparities."
Employees looking for more ways to support equity for LGBTQ patients and colleagues can check out these resources:
Get your Sock Out Bias Zoom Background here!
Check out PSH pronoun posters and flyers- in multiple languages on the digital store front!
Ally to Accomplice Webinar – Supporting Sexual and Gender diverse communities by Sonya Wilmoth
2022 Accelerating Acceptance report by GLAAD,