Webinar: Connecting Through Literature Book Club
September 14, 12:00 pm

to

1:00 pm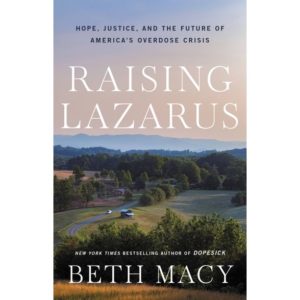 This book club is a collaboration between Humanities and Harrell Health Sciences Library. Come having read all, some or none of the selected books or readings for new perspectives and to step outside of your own life for a few minutes. Meetings are held over Zoom. Registration is required to receive the link to attend!
September 14, 2022 Discussion:
"Raising Lazarus: Hope, Justice, and the Future of America's Overdose Crisis" by Beth Macy
Open to all Penn State College of Medicine and Penn State Health faculty, nurses, health care providers, staff, students and members of our surrounding community.
CME's available.
Click here to register to attend: https://harrelllibcal.library.psu.edu/event/9372932.
Meeting info will be sent by email the day before the event. ​​​​​​​
For more information visit:
​​​​​​​https://harrell.library.psu.edu/bookclub
​​​or email sdaugherty@pennstatehealth.psu.edu
For a complete listing of upcoming book discussions visit: https://harrell.library.psu.edu/c.php?g=1061278