College of Medicine genomics facility leads the way in identifying new medical pathways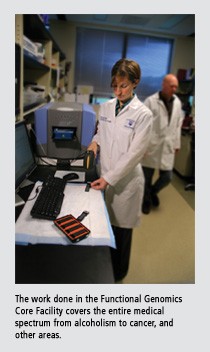 Bioanalyzer 2100. Nanodrop ND1000. BeadXpress. SpectraMax 2. Denator Stabilizor.
No, these aren't weapons from an episode of Star Trek–they're a sampling of the sophisticated equipment in the Functional Genomics Core Facility at Penn State College of Medicine.
Under Assistant Professor of Pharmacology and Director Willard Freeman, Ph.D., the facility has become one of the nation's leading resources for the study of molecular biology. The facility's mission is to better understand disease mechanisms and enable diagnosis at earlier and more preventable stages. The facility itself is a prime example of how medicine has evolved from a "treat and wait" approach towards personalized medicine. While most of the nation's leading educational medical centers have similar facilities, Penn State's facility has developed a reputation for being at the forefront of exploration into this relatively uncharted medical landscape.
"In a nutshell, most of our work looks at the human genome, our DNA, for the genetic differences between people, and the expression of genes with health and disease," explained Freeman, who earned both his undergraduate degree and doctorate in pharmacology at Wake Forest University in Winston-Salem, North Carolina, and completed post-doctoral fellowships at the Vollum Institute in Portland, Oregon and Yerkes Primate Center in Atlanta, Georgia. "For example, why are some people more predisposed to Alzheimer's disease than others? Our studies cover the entire medical spectrum from alcoholism to cancer, and other areas such as agriculture."
Agriculture? "Absolutely," Freeman responded. "We have worked with a Penn State researcher studying various varieties of potatoes to determine which grow best in particular conditions and the genetics behind these differences. Our facility and its capabilities are available to not only the College of Medicine, but the entire Penn State system."
"There have been tremendous advances in systems biology technologies over the last decade which are facilitating entirely new avenues of research," he added. "This is a very exciting time in molecular biology. Today we're conducting studies on a routine basis that would have been considered science fiction only a decade ago."
One area that has recently seen rapid growth through the facility's work is the field of epigenetics, or the study of modifications to a person's DNA by environmental factors such as diet, and drugs. These modifications can cause long-lasting changes in gene expression and potentially contribute to disease. By studying the human genome and gene expression, researchers can determine the particular cellular pathways affected with a disease and identify new ways to diagnose and treat patients.
While many of the studies conducted in the facility are focused on cancer research, Freeman points out that a significant amount of work has gone into studies that will help researchers and clinicians better understand other chronic conditions, such as diabetes and drug abuse.
In fact, Freeman said, "many of the studies being conducted in the genomics core will help develop an area of disease diagnosis and treatment known commonly as 'personalized medicine'." Ideally, clinicians will at some point be able to study a patient's genetic makeup and determine the best drug and dosage to treat his or her condition. Freeman gives this example: for a disease that can be treated with multiple treatment regimens or drugs, a study of each patient's genetic makeup will help determine which drug will be best for each patient.  Also, genetic testing may identify patients who should not receive a drug due to likelihood of side effects.
And while there are many such facilities around the country, Freeman points out that the Functional Genomics Core at the College of Medicine's lab is a little different. "We've worked hard to develop a facility that assists as wide a range of medical research fields and investigators as possible," Freeman said. "We have conducted large clinical studies and small basic research studies and everything in between."
The work of the Functional Genomics Core goes beyond academic research. With its location in the Hershey Center for Applied Research, the facility can conduct studies for start-up companies spawned from medical investigations. This allows new firms to develop their discoveries more quickly, smoothing the transition from laboratory discovery to applied medicine.
Operating and maintaining a state-of-art-facility such as this requires significant investments. The facility's leadership and staff are always examining new technologies to stay at the forefront of medical research. The bulk of the Core's funding comes from common sources such as the National Institutes of Health and the U.S. Department of Defense, as well as from the Pennsylvania Tobacco Settlement Fund established in 1998.
This funding is used to support a range of research projects, and at any one time, the Core is conducting a number of different studies. In 2009, the facility contributed to research being performed by sixty different labs, from both within and outside the Penn State system.
When asked if he could pinpoint a specific "eureka moment" that stands out in the facility's history, he cited work done by the Juvenile Diabetes Research Foundation Center that resulted in a process to allow for more rapid testing to diagnose diabetes retinopathy treatments in laboratory rats.
Freeman said many uncharted areas in genomic research remain, waiting for focused studies and interested investigators. "The next big challenge is synthesizing the large and complex data sets into a more complete understanding of human health and disease.  This will drive the next generation of breakthroughs in individualized disease diagnosis and treatment."
– By Cary Boshamer
If you're having trouble accessing this content, or would like it in another format, please email the Penn State College of Medicine web department.