The Humanities First Friday presentation at Penn State College of Medicine for February will be part of the Hershey Lectureship in the History of Medicine. The presentation, titled "Taking Turns: Graphic Medicine and the Oral History of an Inpatient AIDS Unit," will be noon Feb. 9, 2018, in the College's Room C2860.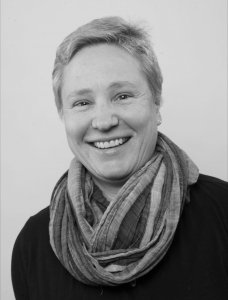 M.K. Czerwiec, a nurse, author and artist, will present stories from her graphic novel "Taking Turns: Stories from HIV/AIDS Care Unit 371." Unit 371 was a hospital unit dedicated to the care of patients with AIDS and their families and friends that opened at Illinois Masonic Medical Center in Chicago in 1984. Though it closed its doors in 2000, the unit has not been forgotten by anyone who came in contact with it. Czerwiec's history of daily life in this unique AIDS care unit offers an open, honest look at suffering, grief and hope among a community of medical professionals and patients at the heart of the epidemic.
Czerwiec is a senior fellow of the George Washington School of Nursing Center for Health Policy and Media Engagement and the artist in residence at Northwestern Feinberg School of Medicine. She has a BA in English and philosophy from Loyola University of Chicago, a BSN in nursing from Rush University, and a Master of Arts in medical humanities and bioethics from Northwestern University. Her clinical nursing experience is in HIV/AIDS care and hospice care. MK has been making comics under the pseudonym Comic Nurse since 2000. See more about her work here.
This lecture is sponsored by the Department of Humanities and the Division of Infectious Diseases and is free and open to the public. Registration is not required. For details, email Claire de Boer at cdeboer@pennstatehealth.psu.edu.
If you're having trouble accessing this content, or would like it in another format, please email the Penn State College of Medicine web department.