Is a science career in my future?
A five-year federal grant awarded to Penn State College of Medicine's biochemistry and molecular biology department aims to ignite high schoolers' passion for science by giving them hands-on research experience in biochemistry, microbiology, nutrition, DNA and genetics in College of Medicine labs.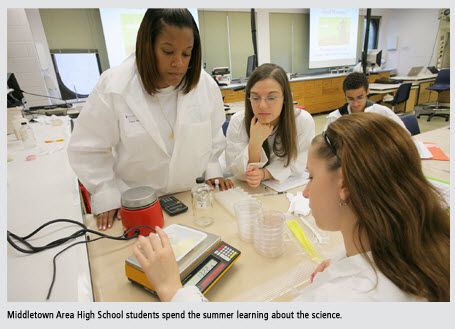 Middletown ninth grader Joseph Owens isn't sure animal dissection is his thing. At 15, the hockey player who works at the Giant supermarket in Middletown was already interested in microbiology when he decided to write an entrance essay for a new summer research program after attending a presentation at school. While Owens' true interest remains astronomy, he still gets excited about the summer program, which also earns him and the other students an elective credit at school.
"This really gave me a 180 on what I wanted to do," Owens said.
Drawing from students at Middletown High School, the Collaborative Research Experiences for Students and Teachers program (CREST) brought twenty-two students and four of their teachers to the College of Medicine in the summer of 2009 for instruction in lab basics, such as dissection of a mouse and the use of a pipette. It is the latest and largest addition to a cadre of year-round research opportunities designed to spark the interest and build the skills necessary for bright young minds to consider science, and biomedical research in particular, as a career choice.
The CREST program is made possible at Penn State College of Medicine through a $1.3 million Science Education Partnership Award (SEPA) grant from the National Institutes of Health. The program will run for five years and will include overlapping classes of students drawn from other area schools. These students and teachers will return for two additional summers of more advanced classes in laboratory research while fresh classes from other area schools begin their own instruction. The labs are staffed by Penn State College of Medicine faculty, who are assisted by college students from Lincoln University. The high school teachers devote their afternoons to discussions on teaching science, let by Penn State Harrisburg educators. An objective of the program is to increase the number of science-based jobs in south central Pennsylvania and to encourage participation of minorities traditionally underrepresented in science-related research.
Jessica Drebot, 15, says CREST serves as a sneak preview of what students would otherwise have to wait until college to discover.
"It's better than going to college with no plan and spending your money, then to have to go another year because you don't know what your major is and wasting your money," Drebot said.
Middletown Earth and Space Science Teacher Adam Shaffer emphasized the hands-on approach the CREST program offered and credited it with giving those students expressing an early interest in science an entry-level opportunity to learn under and network with Penn State professors.
"I think the most important aspect is that these kids are really starting to hone in on what they can do in the future, and most kids in ninth grade are not normally thinking about that," Shaffer said. "These kids have taken that next step."
Middletown High School was a logical choice to participate in the CREST program in part due to the uniqueness of its Pathways Program, which helps channel students as young as ninth grade into one of six career paths – science and health, industry and technology science, business and finance, information technology, arts and communication, or human services. Once an area of focus is established that early in a student's educational career, offering advanced courses in furtherance of that field is much easier, thanks to the partnership with Penn State Hershey through CREST, said Terri O'Neil, Middletown's Science and Health Pathways chairwoman.
"I see the biggest benefit as students simply developing an interest in science," O'Neil said. "I'm very interested in seeing what these students' career choices are going to be four or five years from now. Are these three summers going to make a link for them?"
Another reason Middletown was selected is south central Pennsylvania's relatively low number of science-related jobs compared to other parts of the state, something CREST and the NIH SEPA grant program are designed to help remedy.
Judith Bond, Ph.D., the College of Medicine's Biochemistry and Molecular Biology Department chair and the principal investigator for CREST, expressed concern about the scarcity of students from the United States pursuing careers in science and engineering. Applications flow in from China, India, Europe, and South America, but not so many from the United States. U.S. high school students are lagging behind their peers internationally. The SEPA/CREST program aims to demonstrate that science is exciting, and problem solving can be fun and rewarding.
To extend the reach of the summer portion of the program into the south central Pennsylvania community at large, the SEPA/CREST program faculty joined with the Whitaker Center for Science and the Arts to present an all day program 'Pathways to Health' last spring.
"One of the satisfactions has been the opportunity to increase general awareness on the part of students and their parents of how lifestyle affects their overall well-being," Bond said.  "The things we are teaching them will, we hope, affect their choices on what they eat and what they do in terms of physical activity."
During the second summer of the SEPA program, the same Middletown students and teachers will conduct more quantitative studies at the College of Medicine as a group using the equipment and techniques used by full-time researchers and that they learned to use during their first summer. This prepares them for summer three, when the students, then rising seniors, will enter individual research laboratories and become engaged in original research projects under the guidance of Penn State College of Medicine faculty.
CREST bolsters an already strong portfolio of "pipeline" education programs—so-called because they are designed to increase the number and diversity of students with the interest and skills to pursue science as a career—offered at the College of Medicine. The Short-Term Education Program for Underrepresented Persons, or STEP UP, is a 10-week summer intern program for 120 undergraduate students from underrepresented racial and ethnic groups and those from disadvantaged backgrounds. The program, which provides summer internship experience for 30 students in Hershey each year, is designed to help its interns gain practical, hands-on experience in biomedical research. It focuses on encouraging members of these underrepresented groups to learn how discovery research is conducted and to help them become knowledgeable about the prevention, cause and treatment of obesity, diabetes, and kidney, urologic and digestive diseases.
The College of Medicine also supports a Summer Undergraduate Research Program (SURIP) led by Dr. Sarah Bronson that aims to attract outstanding college students with an interest in research. SURIP brings 14 students to College of Medicine each summer.
The College of Medicine also has joined with Lincoln University to enhance the Research Infrastructure of Minority Institutions (with an RIMI grant). The RIMI award has enabled several Lincoln University faculty members to pursue collaborative research with Penn State College of Medicine faculty members. In addition to these formal programs, faculty members bring in around 60 college and high school students for research projects during a typical summer.
The grant to develop the CREST program is one the largest of 16 SEPA grants awarded in 2008 by the National Center for Research Resources, part of the federal department of Health and Human Services' National Institutes of Health.
"It has been eye opening and rewarding to see the enthusiasm and competence of the high school students and teachers in the laboratory," Bond said. "The potential is there for creative contributions to science and health, which are receiving renewed focus at the national level. Pipeline programs like CREST are critical to encouraging more of America's brightest young minds to act on their potential for meeting the health challenges of the 21st century."
By Reggie Sheffield
If you're having trouble accessing this content, or would like it in another format, please email the Penn State College of Medicine web department.