Technology Transfer – Bringing Scientific Discoveries To Market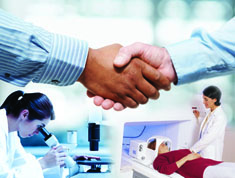 Every day, researchers at Penn State College of Medicine work to discover new ways to improve human health and well-being. Through technology transfer—the process of commercializing those discoveries—people across the country and the world gain access to innovative drugs, medical devices, and therapeutics.
"Physician-scientists often gain their insights and inspiration from the patients they see," says Daniel Notterman, M.D., vice dean for research and graduate studies at the College of Medicine, professor of pediatrics, biochemistry, and molecular biology, and associate vice president for health sciences research, Penn State. "There are often several motivations, and large among those is a desire to improve the care of people who have the condition that they're studying."
Technology transfer is a significant part of the research process because it brings patented ideas into the marketplace.
"If we were only able to conduct and present research in the form of scientific papers or presentations at conferences, that wouldn't result in a product [because] the information becomes public," says Keith Marmer, D.P.T., M.B.A., associate dean for research innovation and director of the Office of Technology Development. "Drug companies are typically not going to want to invest in excess of $1 billion to try to bring a drug to market if it is based on publicly available information as there is no competitive advantage to do so."
In practice, it requires several players to make the commercialization of a scientific discovery successful. Each stakeholder, such as academics, venture capital investors, and economic development groups, helps make up a so-called "entrepreneurial ecosystem" in a particular geographic area. "[The ecosystem] also includes professional service organizations, such as the accounting firms and law firms that help support the entrepreneurial activity in the region," Marmer says.
With more than $100 million in research taking place at the college every year, the institution's vision is to serve as a leader and a catalyst for biomedical innovations in central Pennsylvania. "We want to be able to drive that research out into that entrepreneurial ecosystem but be fully engaged with all the ecosystem partners," he says. "We also aim to be recognized as a leader nationally and globally."
Among the stakeholders in the regional ecosystem is the Life Sciences Greenhouse of Central Pennsylvania. President and CEO Mel Billingsley, who's also a pharmacology faculty member at the college, says the Greenhouse is a nonprofit organization designed to enhance tech transfer in the mid-state.
The Greenhouse is funded through the Commonwealth Universal Research Enhancement program, which was established under the Tobacco Settlement Act of 2001. Billingsley says the roughly $33 million in state money has enabled the Greenhouse to offer two types of services to startup life sciences companies: providing a direct investment of money and assisting with support, management, and marketing.
The Greenhouse first determines if a startup company's research is unique and has a good market. The next step is to get backing by venture capital. Once a company has acquired the necessary money to begin clinical trials, it will likely gain some attention in the pharmaceutical world, he says.
"If you've gone through several of the main phases of clinical testing and your compound looks safe and effective, you may be a very good candidate to either partner with or be taken over by a larger pharmaceutical company," Billingsley explains, noting that most ideas do not survive. "In this day and age, it can be quite costly to take a new drug to market, so getting the appropriate financial support is an important step in the process."
But the lengthy process can be fruitful for the local economy. Penn State's engagement in technology transfer is a benefit to central Pennsylvanians through job creation, both in the laboratory and at companies formed through research commercialization.
The College itself also sees benefits. According to Marmer, if a company is effective in taking its technology from Penn State into the marketplace, the college will receive royalty payments. "Those dollars come back to the college and are reinvested to further the mission of the College and the university."
As the College of Medicine becomes known as an "innovation engine," it will attract investors looking for new opportunities. "We will be recognized as a vital resource for innovative research but also we will be viewed as an entity that is ready, willing, and able to partner with industry in a collaborative manner."
With the goal of becoming an economic driver in the region, the college has begun implementing a series of programs under Marmer's direction. Innovation Café, in partnership with the Hershey Center for Applied Research, is a recurring networking event aimed at keeping a dialogue going between the players in central Pennsylvania's entrepreneurial ecosystem. The Innovation Awards, introduced last fall, were created to show researchers that the College of Medicine recognizes and values their work. There are also educational programs offered to assist scientists in protecting and developing their biomedical research.
Another such initiative is the Executive-in-Residence program, which provides support to faculty-entrepreneurs working to commercialize their discoveries. The Pennsylvania Department of Community and Economic Development awarded the college a $425,000 grant to help expand the program.
Through Executive-in-Residence, the Office of Technology Development helped launch a spinoff company called Melanovus, which is based on faculty member Gavin Robertson, Ph.D.'s research for new melanoma treatments. "Now the company can begin taking those patents and doing clinical trials, raising money to do the trials, and all things necessary to bring a drug into the marketplace," Marmer says.
Melanoma treatment is just one of the many areas of research being developed for market at the College. Ideas range from a new way to evaluate patients early for macular degeneration and a faster system for patient flow in the Emergency Department to innovative devices for repairing orthopedic injuries and new treatments for cancer.
In the future, how the college participates in the process of technology transfer could change. "We've been following a model in which we work with the main campus to protect our research ideas through disclosures and patents, and then license these patents to companies," says Notterman. "We're talking now of moving to a more focused approach where we decide to employ broader commercialization strategies within the Penn State system. It will allow us to assure that these products are developed for the public good."
– By Melanie Herschorn
If you're having trouble accessing this content, or would like it in another format, please email the Penn State College of Medicine web department.