Transforming health care through personalized medicine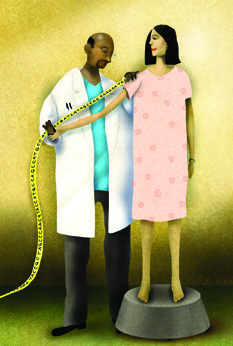 It's been nearly ten years since scientists completed the Human Genome Project, sequencing all 3 billion DNA letters of the human genome. While this was a groundbreaking feat, the biomedical community is now beginning to realize the promise of genomic transformation through an approach known as personalized medicine.
Penn State Hershey is taking the next step forward in this important area of research and clinical care with its new Institute for Personalized Medicine, which will use a multifaceted approach including home care to understand the correlation among a person's biologic framework, the environment in which he or she lives, disease predisposition, and treatment options. By pursuing translational research—the kind of research that directly applies the latest scientific technologies to a patient's clinical condition—physicians and scientists can tailor health care to individual patients and help improve medical outcomes.
Understanding the genome
The human genome is all of an individual's DNA-based information, including our genes, as well as regulatory sequences that control gene expression and DNA for which no function has yet been established. With technology growing at such a rapid pace, many discoveries have been made and many more are on the horizon. Knowledge of a person's genome allows researchers to understand how their genetic make-up and metabolic profile affects his or her susceptibility to specific diseases or response to specific therapies. Physicians can use this knowledge to outline predictive and preventive health strategies and to prescribe the right therapy for the right person at the right time.
"We now have a much more precise means of classifying and stratifying patients because we have much more information to accumulate on them," says James R. Broach, Ph. D., director, Penn State Hershey Institute for Personalized Medicine and chair of the Department of Biochemistry and Molecular Biology. "With that information we are now able to provide better correlations between patient outcome and the genetic and metabolic markers we can identify early on."
"We're reaching a few tipping points in the development of biomedical research," adds Daniel A. Notterman, M.A., M.D., vice dean for research and graduate studies, professor of pediatrics, biochemistry and molecular biology, and associate vice president for health sciences research, Penn State. "One of those tipping points is that the costs for developing very large genomic and metabolomic data sets about an individual are rapidly decreasing. This is matched by a corresponding increase in computational power and the rapid adoption of electronic medical records." Scientists expect that in the near future, the cost for sequencing the entire genome will be low enough that it will be practical to do this for all individuals.
One of the institute's major initiatives is to create a bio-repository to collect specimens such as blood or saliva from patients treated at Penn State Milton S. Hershey Medical Center and its ambulatory practices. From this bio-repository and other data sources, the institute staff will use biologic and lifestyle information to correlate gene-environment interactions and connect this information with outcome data contained in the electronic medical record (EMR). The advent of the EMR is another tipping point in the development of personalized medicine. "The bio-repository by itself is just a bank of samples. It becomes valuable when we can link it to a person's EMR," explains Glenn S. Gerhard, M.D., '86, professor, Departments of Biochemistry and Molecular Biology and Pathology and Laboratory Medicine, and administrative director of the insititute's bio-repository. "That's where you can put it in the context of what happened to them in clinical care and when it becomes an engine of discovery for personalized medicine."
Capturing this amount of biologic data for research purposes is a massive undertaking. Beyond building the computational structure, there's a need for computer scientists who must figure out how to analyze all this new data. "New methods have to be developed from an informatics standpoint to analyze the data and to integrate all of it into clinical care using EMRs," says Gerhard. Informatics, which refers to the technology necessary to store, compute, and retrieve both the biological and clinical data, will be a critical component in propelling personalized medicine to the forefront of health care.
However, Penn State has already committed to acquiring the technology and experts to fulfill its vision for personalized medicine. "When it comes to the computational side of this, we have terrific computer engineers and some of the best bioinformatics in the world at University Park," adds Notterman. "The scientific community is very excited about what this means to tailoring medicine to individuals."
Helping patients now
Personalized medicine will help provide the narrowest treatment focus for patients and to evaluate their risks for developing problems such as cardiovascular disease, dementia, autism, diabetes, and obesity. For some patients, there may be some immediate benefits to this undertaking.
Personalized medicine is already producing remarkable results for cancer patients, and in particular, melanoma. In the past, patients who had melanoma that had already metastasized rarely responded to chemotherapy. Scientists discovered one specific change in a particular protein, B-Raf, which was driving the growth of the tumor. A drug was developed to inhibit that hyperactive protein. "It has been an important advance. People on their deathbeds are showing a significant response, although cure remains elusive." says Broach. "However, if you don't have this mutation, it won't work, and it may even be harmful," adds Notterman. This is where genome sequencing and genotyping play such vital roles.

By simply knowing the genotype–or particular genetic traits–of the patients or the tumor, clinicians are able to recommend more targeted treatment plans. For example, Carla Gallagher, Ph.D., assistant professor in the Department of Public Health Sciences is currently collaborating with Philip Lazarus, Ph.D., and Joshua E. Muscat, Ph.D., M.P.H., from Penn State Hershey Cancer Institute. They are studying how genetic variations affect cancer risk and their treatment plans. "We study a family of genes, known as UGTs, that detoxify carcinogens and metabolize the treatment drugs," explains Gallagher. "By identifying people who have a particular genotype for developing cancer, we can develop a personalized approach to intervention through more frequent screenings and other preventative programs."
"Another way we're trying to personalize care is by reducing the toxicity of chemotherapy. We're all different, and the way our bodies handle medicine is different," says Wafik El-Deiry, M.D., Ph.D., F.A.C.P., Rose Dunlap Division Chair in Hematology/Oncology, associate director for translational research, Cancer Institute, and associate director for clinical translation in the new Institute for Personalized Medicine. "Within our clinics, we are carefully monitoring care. Without knowing a person's genetic variation, we can give too little or too much of a dose." However, through personalized medicine, researchers and clinicians can determine how an individual is metabolizing a drug and thus determine a far more accurate dosage. This not only reduces the toxicity, but maximizes the benefits of anti-cancer therapy.
Knowing what kind of drugs will work on specific tumor mutations is an insight that could make clinical trials more effective and less costly. According to El-Deiry, "If only 10 percent of new patients respond to a drug in a clinical trial, then that may not be an exciting thing. However, if we knew ahead of time which tumor would respond to this drug, the trial could be much more selective in who enters it and the results would more efficiently bring forward the most effective drugs." In fact, Gallagher is also working with Elliot Epner, M.D., Ph.D., on a clinical trial for the cancer treatment SAHA, which is FDA-approved to treat cutaneous T-cell lymphoma and is in clinical trials to treat many other types of cancer. "We know that if people have a particular genotype, they cannot metabolize SAHA. We are measuring levels of drug metabolites in patients to see if the genotype affects the response," Gallagher says.
This tailored approach to medicine is not just touching patients with cancer. The blood-thinning drug, Coumadin, is used to treat patients with blot clots. In the past, it was difficult to prescribe the right dosage. Often, patients would experience excessive bleeding or develop another blood clot. "Recently, the FDA, in its label, began recommending doing a genotype of the patient to learn how quickly they metabolize the drug. You can demonstrate that this decreases their chance of being readmitted to the hospital," explains Notterman. The original science that led to this discovery goes back to an article by Penn State Hershey's Elliott S. Vesell, M.D, Sc.D., founding chair of the Department of Pharmacology. (see story at the end of this post.)
The future of medicine
The early goal of the Institute for Personalized Medicine is to draw correlations between genotype and outcome. "As we gain more information, the shift will be from being a research effort to make those correlations to being a clinical service where, as a patient comes in, we get their genetic or metabolic profile and inform the clinician immediately that the patient will benefit from this treatment and not that treatment," Broach says.Penn State Hershey is poised for success in this field because of the many synergies between the College of Medicine, the Medical Center, and University Park."We have a superb group of scientists and physicians who can help realize this vision. I also think we have an outstanding infrastructure that includes electronic medical records (EMR) to make the relevant host and tumor genetic and genomic information readily available to the practicing clinicians, so we can improve the way we provide personalized care," says El-Deiry. "We are doing this now at Penn State Hershey."In addition to defining response to therapy for people with existing conditions, personalized medicine and genetics can also help physicians and their patients define the risk of acquiring certain diseases. This information can help focus efforts at prevention. For example, risk of breast and ovarian cancer, depression, Alzheimer's disease, and even the extent of brain injury after repeated concussion, each seem to be moderated by specific genetic variants, and knowing the genetic status of individuals may eventually provide guidance that can mitigate this effect.Throughout its history, Penn State has fostered a culture of interdisciplinary work. When it comes to the future of personalized medicine, there are numerous teams and institutes collaborating to discover new life-saving options for patients. Whether it's identifying someone's susceptibility to a disease and aggressively screening for it or designing a specific treatment plan that will respond to a particular genotype, each group contributes a rich depth and breadth of expertise that collectively have the ability to achieve the full potential of the genomics revolution.Through the new institute and in particular, the bio-repository, Penn State Hershey will be advancing medicine for the entire region by studying the local population and finding results that are applicable to the patients treated here. "There is an opportunity to put into practice what most of us believe is possible. I was excited to come here and be a part of the effort to substantiate it," says Jen Ferruggia.
– By Dawn Costantini
___________________________________________________
From the beginning
Even in its infancy, Penn State College of Medicine recruited the best minds in medicine and research. In 1968, College leadership recruited a young Harvard graduate, Elliot S. Vesell, M.D, Sc.D., to serve as the founding chair of the Department of Pharmacology–a role he kept for thirty-two years.
His internationally recognized work in human twin studies, which led to seminal papers assessing the role of genetic factors in contributing to large individual variations in drug response, was critical in establishing the scientific field of what has become known as pharmacogenetics and pharmacogenomics. "These studies showed that the pharmacokinetic variations in unrelated people were prominent, but if you had the same drug levels in the blood or serum, your response to the drug was very similar," Vesell explains.
"So the idea was to overcome these pharmacokinetic differences by giving individuals different doses at different intervals to make the levels in the blood more alike." This idea is now used in practice when prescribing doses for drugs like Coumadin. At the same time, Vesell was studying environmental factors, such as age and other drugs, including weight loss drugs that work well with the treatment and saw that they could impact and change an individual's genetic effect.
It was Vesell's work, in part, that laid the foundation for personalized medicine. "Personalized medicine is an easy thing to say, but it's a big challenge to bring about," says Vesell. "That's why we need an institute." Vesell remains active in his work as he continues to write reviews and collaborate with other pioneers in his field. He's written 355 scientific papers throughout his career.
"I'm still inspired by the vision and the ideas of this medical school, which are far ahead of the pack in terms of medical education," he says. "It inspires me to think of the future, because the future holds so much promise."
If you're having trouble accessing this content, or would like it in another format, please email the Penn State College of Medicine web department.