White Coat Ceremony held for incoming medical students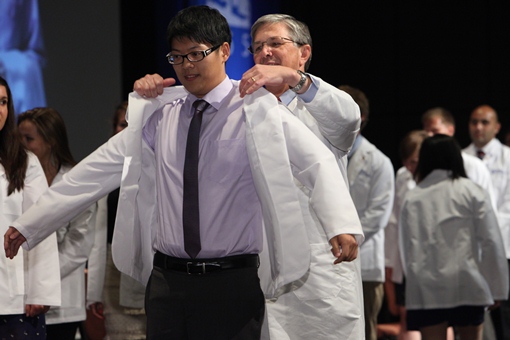 The 145 members of Penn State College of Medicine's medical class of 2016 received their first white medical coats today, symbolizing their entrance into the medical profession as student physicians.
The first-year medical students received the coats in the presence of family, friends and peers at the college's annual White Coat Ceremony, which took place at the Hershey Lodge. Following the distribution of white coats, the students, who are pursuing M.D. or M.D./Ph.D. degrees, joined together to recite the Hippocratic oath – the universally recognized creed for physicians.
"The White Coat Ceremony emphasizes the values of professionalism, integrity, and humanism in medicine," said Eileen Moser, MD, interim vice dean for educational affairs. "This rite of passage allows incoming medical students to publicly affirm their commitment to provide skilled, compassionate care to their future patients and to uphold the highest standards of ethics and professional responsibility."
Generally one in seven prospective medical students applies to the College of Medicine. The incoming class is 52 percent female and 48 percent male. They come from 25 states and seven foreign countries. Of the incoming students, 66 are from Pennsylvania and 23 are from the local region, with Cumberland, Dauphin, Lancaster, Lebanon and York counties represented.
The College of Medicine initiated its annual White Coat Ceremony in 1996 with funding support from the Arnold P. Gold Foundation, a public foundation fostering humanism in medicine. Each year, the foundation donates lapel pins for the honorary white coats that are emblazoned with a stethoscope in the shape of a heart, surrounded by the words "Humanism in Medicine." A White Coat Ceremony or similar rite of passage takes place at more than 90 percent of schools of medicine and osteopathy in the United States.
If you're having trouble accessing this content, or would like it in another format, please email Penn State Health Marketing & Communications.