Penn State Hershey captures 2nd place in national video competition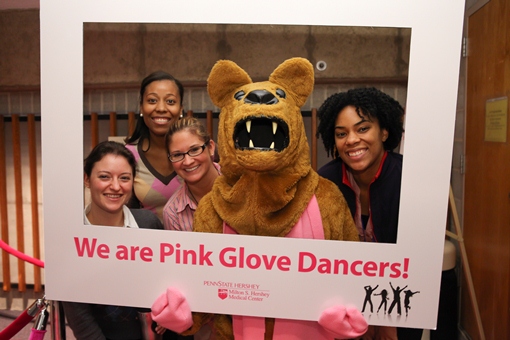 Penn State Milton S. Hershey Medical Center has won second place in the national Pink Glove Dance video competition. With the win comes a $5,000 check from competition sponsor Medline Industries made payable to the Pennsylvania Breast Cancer Coalition.
Penn State Hershey's entry features more than 600 faculty, staff, patients, survivors, and the Nittany Lion, all donning pink gloves and dancing to Katy Perry's song "Part of Me" in support of breast cancer awareness and prevention. The video, which was produced completely by in-house hospital staff, can be viewed at www.pinkglovedance.com.
"We had fun making the video, especially knowing it was for a good cause and that many of the participants have been touched by breast cancer in some way," said Kathleen Law, R.N., B.S.N., M.S., director of nursing, perioperative services. "We're excited that our efforts brought awareness to the important issue of breast cancer and will support the good work of the Pennsylvania Breast Cancer Coalition."
The national contest included 270 video submissions from across the United States and Canada. More than 200,000 votes were cast in the three-week competition. Penn State Hershey's entry received more than 8,400 votes and more than 23,000 views.
Each of the top three winners in the competition received award money to be presented to the breast cancer charity of their choice. As a result of Penn State Hershey's second place finish, Medline presented a check for $5,000 to the Pennsylvania Breast Cancer Coalition today.
"Congratulations to the staff at Penn State Hershey Medical Center whose amazing video honors the hundreds of thousands of women who are diagnosed each year with breast cancer," said Andy Mills, president of Medline. "We thank Penn State Hershey and the other participants in the competition who have made great strides in helping make Medline's Pink Glove Dance a 'movement' in every sense of the word as we work together to fight breast cancer."
The original Pink Glove Dance video premiered in November 2009 and featured 200 hospital workers in Portland, Oregon, wearing pink gloves and dancing in support of breast cancer awareness and prevention. That video led to the launch of a national contest last year.
If you're having trouble accessing this content, or would like it in another format, please email Penn State Health Marketing & Communications.