Penn State Hershey helps lead effort to give more babies a healthy start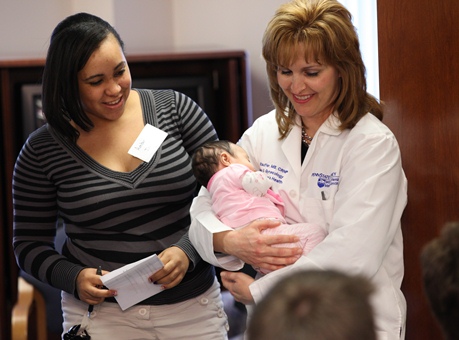 Penn State Milton S. Hershey Medical Center is partnering with the Pennsylvania Chapter March of Dimes, the Pennsylvania Department of Health and other organizations to lower the number of babies born too soon.
A key part of the effort involves providing obstetric practitioner training in the CenteringPregnancy® model of group prenatal care. Pregnant women enrolled in CenteringPregnancy group prenatal care at 11 obstetric sites across the commonwealth meet monthly with their obstetrician or nurse midwife for 90 minute, in-depth, group appointments shared by ten to twelve pregnant women with the same estimated date of delivery. Penn State Hershey Medical Center's obstetric providers have been leaders in the growth of the CenteringPregnancy model of care in Pennsylvania, and the Department of Obstetrics and Gynecology hosts training for other providers from across Pennsylvania.
To learn more about these efforts – and the results of the 2012 March of Dimes Preterm Birth Report Card – visit the Pennsylvania Chapter March of Dimes website.
To view or download photos from a recent news conference about CenteringPregnancy, visit our photostream page.
If you're having trouble accessing this content, or would like it in another format, please email Penn State Health Marketing & Communications.