The Medical Minute: Acupuncture as an alternative treatment option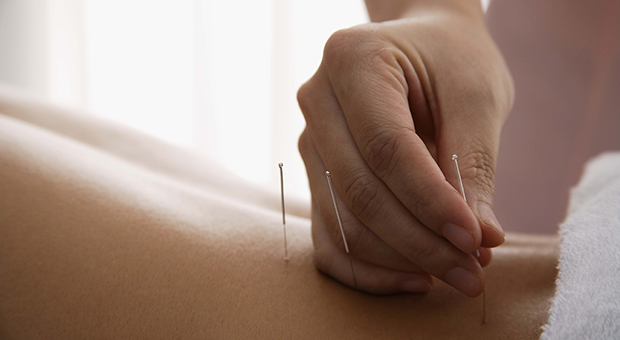 Acupuncture used to be viewed as new-age therapy, but is becoming more accepted by clinicians and patients alike as a complementary or alternative treatment for many illnesses. Acupuncture originated in China approximately 2,500 years ago and is one of the oldest medical procedures in the world. The therapy entered the United States mainstream in 1971, when a New York Times journalist, James Reston, visited China and reported his experiences with acupuncture for post-operative pain relief.
"The general theory of acupuncture is based on the premise that there are patterns of energy flow (Qi) through the body that are essential for health," said Juan Qiu, M.D., family physician at Penn State Hershey Medical Group in State College. "Disruptions of this flow are believed to be responsible for disease."
 Acupuncture encourages the body to promote natural healing and improve function by correcting imbalances of energy flow. It focuses on a holistic approach to the patient rather than a disease-oriented diagnostic and treatment model.
Findings from basic research have begun to illustrate the mechanisms of action of acupuncture. Treatment is done by inserting needles and applying heat or electrical stimulation at very precise acupuncture points in the body to relieve pain and many other symptoms. This induces the release of opioids, which are psychoactive chemicals, and other neurotransmitters, and changes nervous system and endocrine function.
As each needle is inserted, patients should feel them, but initially without pain. Sometimes the needles are heated or stimulated with mild electricity after insertion, which may cause a gentle tingling sensation. Once inserted, the needles will remain there for about ten to twenty minutes.
Acupuncture is currently widely practiced in the United States for a variety of medical conditions. Commonly treated conditions include:
Acute or chronic pain (back pain, neck pain, joint pain, myofascial pain, nerve pain, etc.)
Post-operative nausea and vomiting
Chemotherapy-induced nausea 
Headaches
Anxiety
Fatigue
Insomnia
Addiction
Menstrual cramps
Abdominal and pelvic pain
Fibromyalgia
Carpal tunnel syndrome
Tennis elbow
Use of acupuncture has been endorsed by the United States National Institutes of Health (NIH), the National Health Service of the United Kingdom, the World Health Organization (WHO), and the National Center for Complementary and Alternative Medicine.
"There is general agreement that acupuncture is safe when administered by well-trained practitioners using sterile needlesand carries a very low risk of serious adverse effects," says Dr. Qiu. "The incidence of adverse effects is substantially lower than that of many drugs or other medical procedures used for the same conditions."
The Medical Minute is a weekly health news feature brought to you by Penn State Milton S. Hershey Medical Center. Articles feature the expertise of Penn State Hershey faculty physicians and staff and are designed to offer timely, relevant health information of interest to a broad audience.
Up next week:  As devices designed to aid ailing or damaged hearts improve, the Medical Minute brings you a primer on the basic types of heart technology more and more Americans are benefiting from.
If you're having trouble accessing this content, or would like it in another format, please email Penn State Health Marketing & Communications.