The Medical Minute: Tips for weathering a heat wave
Extreme heat can lead to a range of ailments. Conditions such as heat rash or heat cramps can be treated at home. But when a more serious condition such as heat stroke occurs, it's important to seek medical attention immediately, as it can prove deadly. According to the Centers for Disease Control and Prevention, heat exposure caused 7,233 deaths in the United States from 1999 to 2009.
In this video, Dr. Glenn Geeting, an emergency medicine physician at Penn State Hershey Medical Center, talks about the symptoms and treatments of heat-related illnesses — and how to avoid them in the first place.
Learn about how to watch out for your friends and family in the heat with this infographic.
(Click on image for a larger version.)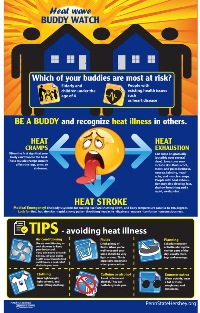 The Medical Minute is a weekly health news feature brought to you by Penn State Milton S. Hershey Medical Center. Articles feature the expertise of Penn State Hershey faculty physicians and staff, and are designed to offer timely, relevant health information of interest to a broad audience.
If you're having trouble accessing this content, or would like it in another format, please email Penn State Health Marketing & Communications.
Subscribe to our email newsletter