Penn State and VCU to collaborate on health research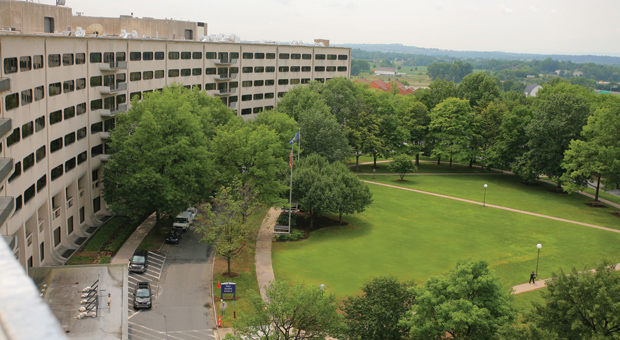 Virginia Commonwealth University and The Pennsylvania State University/Penn State Milton S. Hershey Medical Center have announced plans to work closely together on health research. The parties have signed an informal agreement with a common goal of moving important findings from the lab to the clinic and community more efficiently. Faculty members from both institutions plan to collaborate on a range of projects building off already successful partnerships.
The memorandum of understanding signed by VCU and Penn State is built around the National Institutes of Health's Clinical and Translational Science Award (CTSA). The two institutions are among 62 academic research centers in the nation to receive CTSAs, which are intended to spur collaboration around scientific health discoveries.
"VCU and Penn State will be collaborating to conduct biomedical research, educate future translational scholars and practitioners and seek funding for joint research," said Lawrence Sinoway, M.D., director of the Penn State Clinical and Translational Science Institute, based on the campus of Penn State Milton S. Hershey Medical Center and Penn State College of Medicine in Hershey, Pa. "The purpose of this agreement is to promote and accelerate clinical and translational scientific collaboration between our two institutions."
Working together, the institutions' CTSAs will promote collaboration among their scientists and develop training programs between VCU and Penn State. The effort builds on established and successful collaborations, including:
Jonathan Foulds, Ph.D., (Penn State) and Thomas Eissenberg, PhD, (VCU) have collaborated on research on electronic cigarettes, work that continues with a planned clinical trial of 520 smokers–half recruited at Penn State and half at VCU. The trial will evaluate the effects of cigarette substitutes on smokers who have decided to not quit smoking. The results of the study will advise the FDA for  regulation of novel tobacco products.
Jerome Strauss III, MD, PhD, John Nestler, MD, and Ponjola Coney, MD, (VCU) have collaborated with Richard Legro, M.D., and Jan McAllister, Ph.D., (Penn State) on numerous studies related to familial polycystic ovary syndrome, or PCOS. Strauss is also collaborating with Mark Shriver, Ph.D. (Penn State) on an NIH grant to study the genetics of preterm birth.
Vernon Chinchilli, Ph.D., (Penn State) and Chris Gennings, PhD, (VCU) have developed a new statistical model on social network analysis to study research groups. The team hopes to identify whether factors like distance between collaborator offices, gender and faculty rank affect publication success rate.
"Our goal is to assist in identifying and developing powerhouse research teams, bringing experts from both universities together to work on advancing medical care," said John Clore, MD, director of the Center for Clinical and Translational Research, home of the CTSA grant at VCU. "This collaborative research will enhance the international reputation and expertise of our institutions and will result in the discovery of innovative, life-saving medical treatments for patients around the world."
Specific purposes of the agreement include strengthening and building informatics capabilities, attaining national recognition for community-engaged research, fostering innovation in clinical and translational science, and creating a collaborative education program. Another important area of cooperation will be the identification, evaluation, protection, transfer and commercialization of technologies.
If you're having trouble accessing this content, or would like it in another format, please email Penn State Health Marketing & Communications.