The Medical Minute: Alcohol-based sanitizers win the germ war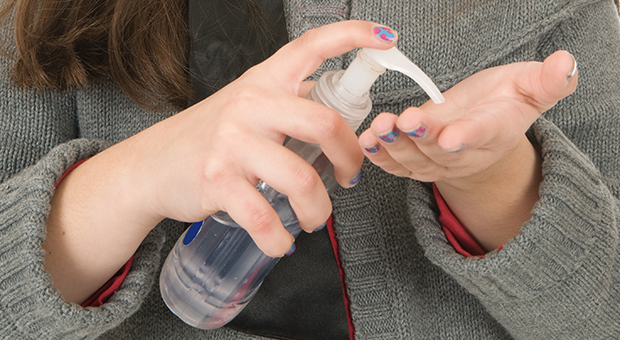 Whether you are a parent, work with children, or encounter many people during your day, hand sanitizers are most likely part of your cold prevention arsenal.
According to Dr. John Messmer, Penn State Milton S. Hershey Medical Center family medicine, hand washing is the best way to prevent sharing germs, but hand sanitizers can be beneficial and practical, especially if you do not have easy access to soap and water.
"The advantage of hand sanitizer is it's quick, it's effective, and it kills almost everything," Messmer said.
He suggests using alcohol-based products instead of those containing antiseptics like triclosan.
"The science is leaning toward not using these," he said.
Antiseptic products have to remain in contact with the offending organisms for a longer period than alcohol-based sanitizers to kill them. Alcohol, however, kills on contact. Additionally, some pathogens do not die when exposed to antiseptic and some will actually develop a resistance to the product.
"The fear is we will encourage the development of many resistant organisms," Messmer said. "If you're going to use something, it should kill the organism or wash it away."
While soap and water are best, alcohol-based products are the only other option you should consider.
Alcohol-based sanitizers have become standard in health care since medical personnel are exposed to infectious organisms on a regular basis. Use of hand sanitizer reduces the likelihood of health care workers infecting themselves and patients.
With proper use, commercial sanitizers that contain alcohol can be effective as well. Messmer said to apply these thoroughly to the entire hand and not just part of it.
However, hand sanitizers are not sufficient when dealing with dirty hands. If there are solids, not just dirt or suspected germs, it is best to use soap and water, which will remove the soil as well as any pathogens.
You do not need your hands clean constantly if you can refrain from touching objects and others and not touch your face.
"The key in keeping yourself from getting a cold is to not touch your eyes, nose or mouth until you've just cleaned your hands, whether it is with an alcohol sanitizer or washing your hands with soap," he said.
Remember that cold germs can live on surfaces like door handles and pens as well as someone's hands. If you pick objects up or touch someone's hands and then touch your face, you can get yourself sick.
Using alcohol-based sanitizers can cause dry skin or make it worse, so Messmer suggests applying a moisturizer after each use. Keep in mind it may be best to carry your own sanitizer because using a communal dispenser can be counter-productive unless it has only been touched with clean hands.
People with long nails should opt to use soap and water and keep their hands clean. Long nails, especially artificial ones, trap bacteria and alcohol- based sanitizers break down the nails and create more places for germs to thrive.
Messmer advises parents to have children stick to soap and water whenever possible. It is best to teach them to wash properly especially after bathroom use and before they touch food, he says. When running water is unavailable, only let children use sanitizers under supervision and do not allow them to dispense their own.
The Medical Minute is a weekly health news feature brought to you by Penn State Milton S. Hershey Medical Center. Articles feature the expertise of Penn State Hershey faculty physicians and staff, and are designed to offer timely, relevant health information of interest to a broad audience.
If you're having trouble accessing this content, or would like it in another format, please email Penn State Health Marketing & Communications.