College of Medicine receives $1.8 million to study mentoring program for chronic kidney disease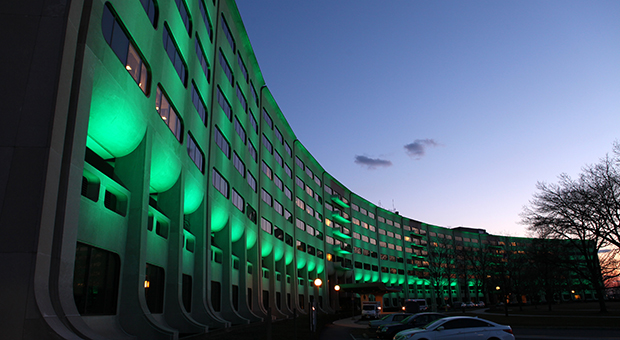 Penn State College of Medicine has been awarded $1.8 million in research funding from the Patient-Centered Outcomes Research Institute (PCORI). Dr. Nasrollah Ghahramani will study improving the quality of life in patients with chronic kidney disease through use of a peer-mentoring program.
"Patients with advanced kidney disease and their family members face many challenges in dealing with the disease and the decisions that relate to choice of treatment," said Ghahramani, associate professor of medicine. "Quite frequently, patients and their family members decide on a treatment option without full awareness of all the options and may ultimately not be satisfied with their choice. Poor satisfaction is likely to result in poor quality of life for the patients and increased sense of burden for the caregiver."
Use of mentors who have had similar experiences has been successful in the Kidney Foundation of Central Pennsylvania's Patient and Family Partner Program, as envisioned and designed by the late Peggy Jayne Pierce.
"I am pleased that Ms. Pierce's vision has gained national recognition and support," said Ghahramani, who is the medical director of the Foundation's Patient and Family Partner Program.
Ghahramani's three-year study will measure the quality of life of patients and the feeling of burden for caregivers after providing education in one of three ways: face-to-face with peers, online from peers, or through printed information.
"We expect that both face-to-face and online peer-mentorship programs will result in improved quality of life among patients with advanced kidney disease and decreased feeling of burden among caregivers of these patients," Ghahramani said. "We also expect that mentorship will lead to improved engagement of patients in their own care."
This project is one of 33 recently funded by PCORI out of 325 applications submitted for the 2014 winter cycle. PCORI is an independent, non-profit organization authorized by Congress in 2010 to fund research that will provide patients, their caregivers and clinicians with the evidence-based information needed to make better-informed health and healthcare decisions.
Ghahramani is the second Penn State Hershey investigator to receive funds from PCORI.  Dr. Cynthia Chuang is lead principal investigator on a project to develop a health research data network.
If you're having trouble accessing this content, or would like it in another format, please email Penn State Health Marketing & Communications.