Online tool is first to help parents and pediatricians assess newborn weight loss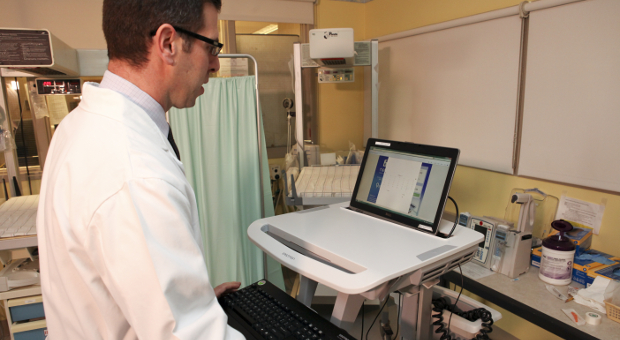 Most exclusively breastfed newborns lose weight during their first few days after birth, and until now, doctors and parents haven't had a way to know how much weight loss was normal or healthy. Indeed, most breastfeeding mothers worry if their babies are getting enough to eat during the first few days. For the first time, a new online tool is helping determine worrisome amounts of weight loss in breastfed newborns so they can get the interventions they need to be healthy. The tool could also give many new mothers the confidence to continue breastfeeding, the optimal form of feeding after birth.
Newt was developed by Dr. Ian Paul, a professor of pediatrics and public health sciences at Penn State College of Medicine and a pediatrician at Penn State Hershey Children's Hospital, along with Eric Schaefer, a statistician at Penn State, and researchers at the University of California, San Francisco, and Kaiser Permanente. An interactive weight loss chart, Newt uses data collected from a diverse group of more than 100,000 exclusively breastfed babies born between 2009 and 2013 at Northern California Kaiser Permanente hospitals. The tool is available for free at www.newbornweight.org, and healthcare providers can bookmark it on their computers, smartphones and tablet devices. It was designed for health care professionals to share the information with parents similar to the way growth charts are used now.
"Pediatricians routinely use growth charts for children of all ages, but we've had no such tool for babies in their first few days after birth when we know they actually lose weight," Paul said.
Newborns are typically weighed once a day during their birth hospitalization. To learn if a newborn who is being exclusively breastfed has better than average, average or above average weight loss, healthcare providers simply go to www.newbornweight.org, enter in the baby's birth weight, birth date and time, whether the baby was born vaginally or by Cesarean section, and the baby's most recent weight and the date and time for that weighing. Newt instantly plots the baby's percentile weight loss on a graph compared to the large data set.

Most hospitals have certified lactation consultants who work with mothers to improve their breast milk output, and by identifying those babies at risk for excess weight loss, health care providers can prioritize their mothers for lactation support. Breastfed babies who lose too much weight during their first few days can experience dehydration-related health problems such as exacerbated effects of newborn jaundice and further feeding issues.
The normal amount of weight loss depends on how many hours old a baby is.
"With Newt, we can normalize what the expected patterns of weight loss are on an hour-by-hour basis, which has never been possible before," Paul said. "This way we can more easily identify those who are at risk for excess weight loss early."
Not all newborn weight loss is concerning.
"Most breastfeeding mothers worry if their babies are getting enough milk," Paul said. "The data that Newt is based on show that most exclusively breastfed newborns who lose weight are perfectly healthy."
The American Academy of Pediatrics, the World Health Organization and the Centers for Disease Control and Prevention all promote exclusive breastfeeding for the first six months of a baby's life.
"Although a small minority of babies do need formula, breast milk has many health benefits that have been well-documented," Paul said. "Hopefully by being able to know what the normal amount of weight loss is for exclusively breastfed babies, we can prevent the unnecessary use of formula."
Soon to come, Newt will also show outcomes for a baby's weight loss percentile, such as risk for hospital readmission, breastfeeding cessation and the need for jaundice treatment.
"Our hope for these babies would be that their mothers get good lactation support to improve breastfeeding," Paul said.
Support for the Newborn Weight Tool came from Children's Miracle Network at Penn State Hershey Children's Hospital.
MULTIMEDIA AVAILABLE FOR THIS STORY:
==Hear a podcast featuring an interview with Dr. Ian Paul about the Newborn Weight Tool (Newt).
==Photo album with downloadable high-resolution images.
==High-resolution video clips available for download:
—Clip #1
—Clip #2
—Clip #3
—Clip #4
—B-roll
If you're having trouble accessing this content, or would like it in another format, please email Penn State Health Marketing & Communications.