Children decorate flags for charity motorcycle ride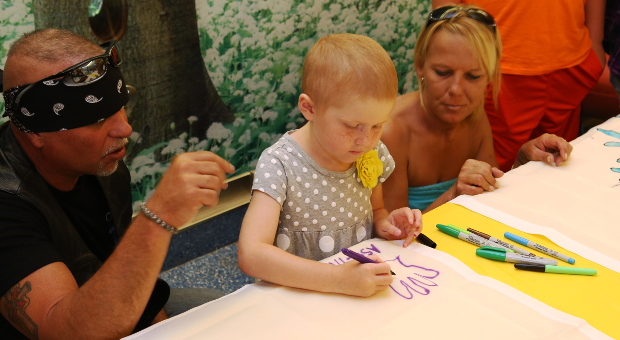 A group of motorcycle riders made a special delivery to Penn State Hershey Children's Hospital on July 31. They brought large flags to be decorated by young patients. The banners will then be a part of the bikers' 3rd Annual Helping Little Hands Charity Motorcycle Ride on Saturday, August 22, with proceeds from the ride going to the Child Life Program at the Children's Hospital. In 2013 and 2014, the event raised a total of $11,000 for the Child Life Program. The lead organizer is Barry Sheeder, who coordinates the annual benefit as his way to thank the hospital that cared for his daughter in 2011.
>> View a photo gallery from the bikers' visit here.
If you're having trouble accessing this content, or would like it in another format, please email Penn State Health Marketing & Communications.