Ruffin named family and community medicine chair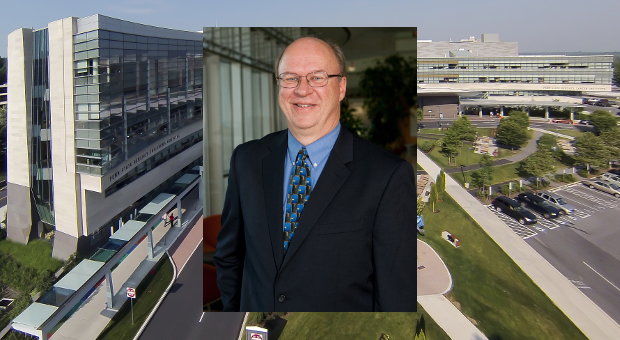 Dr. Mack Ruffin IV will serve as the next chair of the Department of Family and Community Medicine at Penn State Health Milton S. Hershey Medical Center. He will join the faculty on September 1.
Ruffin is the Dr. Max and Buena Lichter Research Professor of Family Medicine at the University of Michigan Health System. He brings 27 years of experience as a physician-scientist focused on improving health promotion and disease prevention in community-based primary care settings.
"Dr. Ruffin has a unique perspective as an academic family medicine physician who is also a renowned leader in research relative to disease prevention and early detection, particularly cancer," said Dr. A. Craig Hillemeier, dean of Penn State College of Medicine, chief executive officer of Penn State Health, and Penn State's senior vice president for health affairs. "I believe his vision for improving our delivery of family medicine, educating patients, providers and learners, engaging communities, and generating new discoveries is the right vision for the future."
Ruffin earned his M.D. at the Medical College of Virginia and completed a family practice residency at Wake Forest Medical Center in Winston-Salem, North Carolina. He earned his M.P.H. in epidemiology at the University of Minnesota while completing a research fellowship.
His current appointments at the University of Michigan Medical School include professor, associate chair for research programs in the Department of Family Medicine and member of the University of Michigan Comprehensive Cancer Center. He leads and participates in numerous multi-institutional studies.
Ruffin will succeed Dr. William Bird, who has served as interim chair of the Department of Family and Community Medicine since July 2015, when Dr. James Herman was named dean of the School of Community Medicine at the University of Oklahoma-Tulsa.
"It's an honor to assume the post previously occupied by Dr. Herman, who was a mentor of mine when I was a resident at Wake Forest Medical Center," Ruffin said. "One of my primary goals at Hershey will be to help grow the research enterprise, integrating new innovations into patient care and education."
Ruffin is active in community service as a volunteer physician and Boy Scout leader. His wife, Kathy Carter, will be joining the Hershey community as well. Their oldest son, Sean Ruffin, is an architect in Chicago. Their youngest son, Noah Ruffin, will be entering his sophomore year at Xavier University in Cincinnati, Ohio.
EDITORS: Click here to download a high-resolution image of Dr. Ruffin.
If you're having trouble accessing this content, or would like it in another format, please email Penn State Health Marketing & Communications.
Subscribe to our email newsletter