The Medical Minute: Toy safety tips for the holidays – and year-round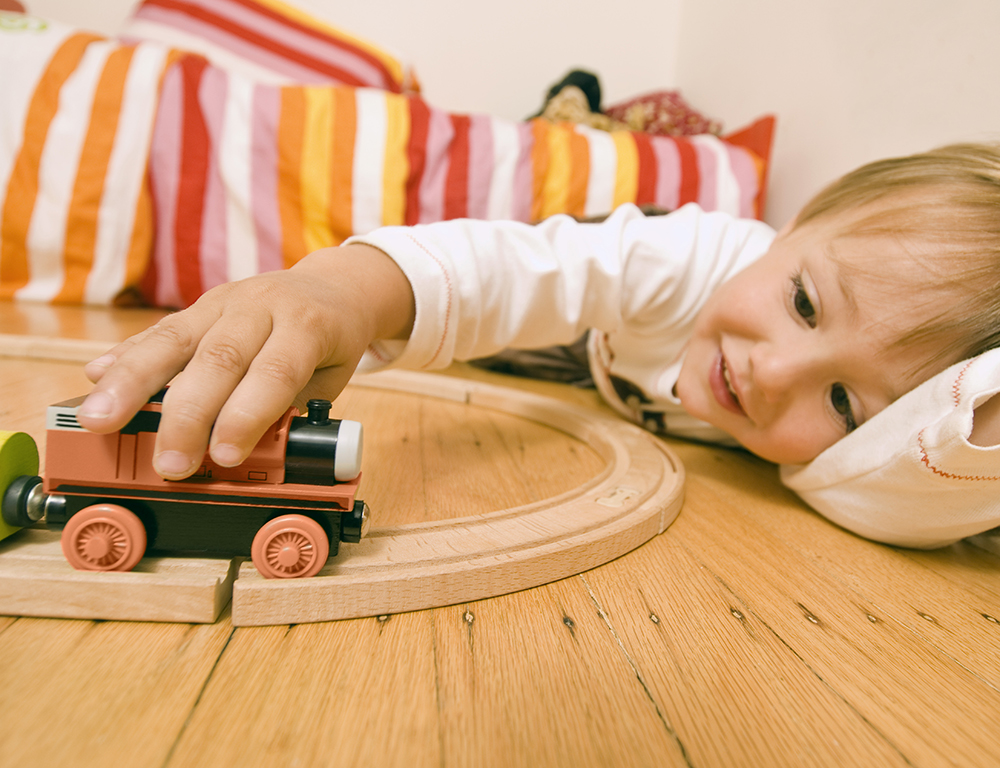 Pretty much all toys can look inviting to children. But it's important for adults who are buying toys this holiday season look beyond the flashing lights and cool noises to make sure they are safe.
Some of the dangers – such as sharp edges or long strings or cords – are rather obvious. But many other guidelines on what to watch for are more easily overlooked.
Be mindful of age
Most toys are labeled with an age recommendation, which experts suggest using as a starting point in the selection process.
"Play is the work of childhood. So if we're going to buy a toy for a child, we want to support his or her development," says Sue Rzucidlo, a nurse practitioner with Penn State Pediatrics. "Parents often think their child will 'grow into' a toy, but that can be dangerous with something like a bike, if the child doesn't have the skills to control it."
Equally important is keeping older children's toys out of reach of their younger siblings.
"It's developmentally appropriate for a toddler to put everything in his mouth," said Amy Bollinger, manager of the Pediatric Trauma and Injury Prevention Program at Penn State Health Children's Hospital. "If that toddler gets a hold of a toy that belongs to an older sibling and puts it into his mouth, he could choke."
Avoid choke hazards
Objects that pose a risk of choking come in many shapes and sizes, but an easy guideline for parents of children under age 3 is to make sure none of their toys fit through a toilet paper tube.
"Common culprits are toys with small removable parts," Rzucidlo said. "For example, many newer toys and even greeting cards have button batteries, which can easily be swallowed. Some of these are concealed but others are quite accessible."
Latex balloons are another leading cause of toy-related choking incidents.
Small magnets can also be harmful, especially if two or more are swallowed, as they can be attracted to each other through intestinal walls, causing a hole, blockage or infection.
Fun on wheels
Children aren't always quick to strap on a helmet before hopping on a bike, skateboard or set of roller blades – but given the risk of injury, it's important to do so.
"Children who weren't wearing helmets while riding bikes and scooters are brought in to our pediatric trauma center quite frequently," Bollinger said. "Helmets are a must when riding anything with wheels."
When giving a child a bike, skateboard or roller blades, Rzucidlo suggests making protective gear part of the gift.
Steering clear of toxic toys
Parents should make sure a toy that appears to be otherwise safe is not made with chemicals that can harm a child. These include phthalates, which are commonly used in plastic. Older toys can also pose hazards – for instance, when it comes to chemicals in the paint.
"As recently as 10 years ago, the guidelines as to what constituted a safe toy were very different," Bollinger said. "Older toys may contain lead or other toxic chemicals."
Even newer toys that are handed down from one sibling to another – or perhaps purchased at a garage sale – should first be inspected by a parent for worn out pieces, peeling paint or other dangers.
Both Rzucidlo and Bollinger say toy safety is always in season.
"These guidelines are important for parents to keep in mind all year-round – not just at the holidays," Rzucidlo added.
Learn more:
(This is a revised version of an article that was originally published in December, 2016.)
The Medical Minute is a weekly health news feature produced by Penn State Health Milton S. Hershey Medical Center. Articles feature the expertise of faculty physicians and staff, and are designed to offer timely, relevant health information of interest to a broad audience.
If you're having trouble accessing this content, or would like it in another format, please email Penn State Health Marketing & Communications.