The Medical Minute: Staying safe while camping and hiking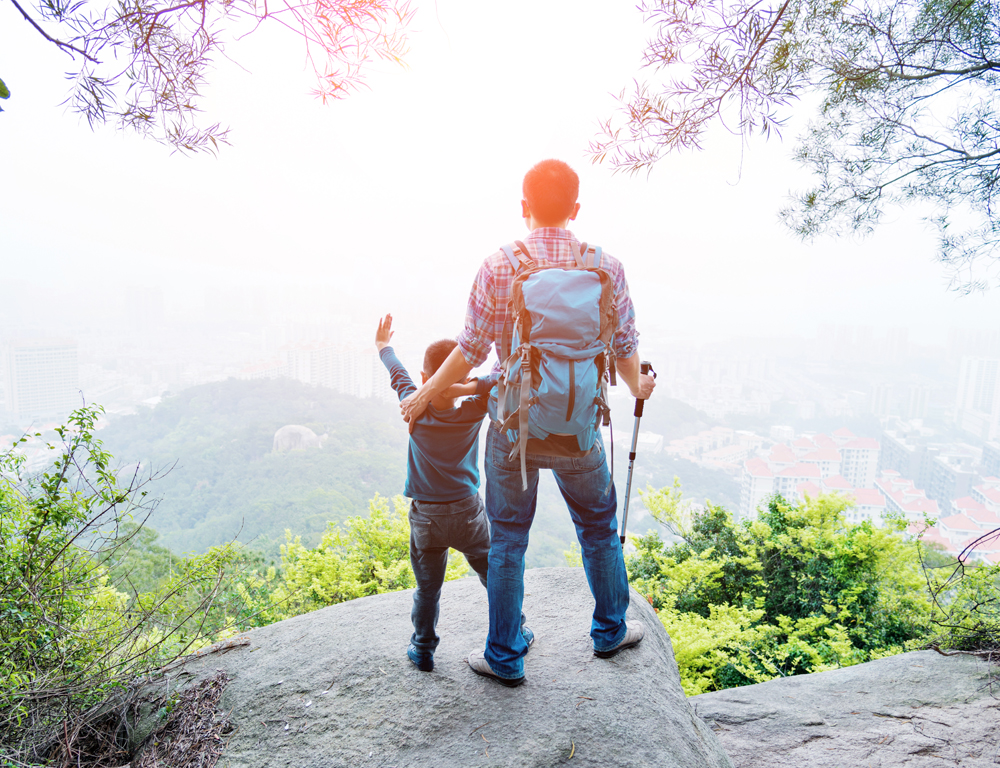 When the weather heats up, many nature lovers head to a national park or forest for a summertime hiking or camping trip. A little preparation and an understanding of safety can go a long way to avoid potential pitfalls that come with enjoying Mother Nature. Appropriate packing and clothing, along with knowledge of possible issues, can prevent difficulties with insects, weather and illness.
Be Prepared
"'Be prepared' is the Boy Scout motto, and it is one of the best ways to avoid pitfalls and make the most of any hiking or camping trip," said Dr. Jonathan Adams, a family medicine physician with Penn State Health Medical Group – Park Avenue in State College.
The Centers for Disease Control and Prevention urges hikers and campers to check the weather report before leaving for their trip to help them pack properly for the forecast. In addition, they should learn about security at the campsite and hiking location, and make sure family and friends are aware of their plans.
According to Adams, foodborne illness is more common when spending time in the outdoors, most often occurring when food is inappropriately stored.
"Packing food safely can minimize foodborne disease and keep everyone happy," he said. Adams recommends packing each item in a tight, waterproof container, preferably in an insulated cooler, and also suggests keeping raw foods separate from cooked items and store at appropriate temperatures.
Clean water also should be readily available for cooking and drinking. It can be carried on the trip, or by using any number of water purifying methods, such as boiling, chlorine tablets or specialized filtration.
In preparation, hikers and campers should know what to do when toilets are not available, as well as be sure to bring supplies that include a first aid kit, compass or GPS, map, flashlight, blankets, batteries, food, water, clothes and medications. Most importantly, they should know who to contact at the camp or trail to report issues that may come up.
Bugs—Control the Pests
Insects are a common pest that can plague people outdoors during the summer months. Mosquitoes, ticks and stinging insects are the most common offenders and can carry infectious diseases, such as West Nile virus and Lyme disease.
Dr. Christopher Heron, a family medicine physician with Penn State Health Medical Group – Park Avenue in State College, urges everyone to wear appropriate clothing to help prevent bites and stings.
"Long sleeve shirts and pants can help keep insects from biting. Light-colored clothing helps to spot ticks," he said.
Use an EPA-registered insect repellent for a safe and effective way to avoid bugs, as well.
"DEET, picaridin and lemon eucalyptus oil are a few of the readily available agents that tell bugs to head somewhere else," Heron said. "Treat clothes with permethrin 0.05 percent to help keep ticks and other bugs at bay."
Checking for and removing ticks regularly and thoroughly after any outdoor activity helps drastically reduce the risk of Lyme disease.
Temperature-related illness
According to the CDC, campers and hikers should also bring adequate bedding and clothing to stay warm and help prevent hypothermia during cool nights. Use a plastic ground cloth under your tent to help keep you dry.
To help prevent heat-related illness during hot days, drink plenty of alcohol-free and sugar-free fluids, and don't wait until you're thirsty to drink. Wear layers of light-weight, light-colored and loose-fitting clothing, and rest often in shady areas.
Finally, Adams and Heron urge hikers to remember sun protection. They recommend staying out of the sun at the brightest time of the day, wearing appropriate clothing for the activities planned, and using a sunscreen of at least SPF 15 to protect skin, especially on the nose and ears.
"Whether the day is overcast or sunny, UV rays can cause skin cell inflammation, which can result in sunburn in the short-term and increased risk for skin cancer with repeated exposures," Heron said. "Avoiding exposure is the easiest way to prevent UV inflammation."
Learn more:
The Medical Minute is a weekly health news feature produced by Penn State Health Milton S. Hershey Medical Center. Articles feature the expertise of faculty physicians and staff, and are designed to offer timely, relevant health information of interest to a broad audience.
If you're having trouble accessing this content, or would like it in another format, please email Penn State Health Marketing & Communications.