Penn State Health Children's Hospital ranks among best in the nation for ninth consecutive year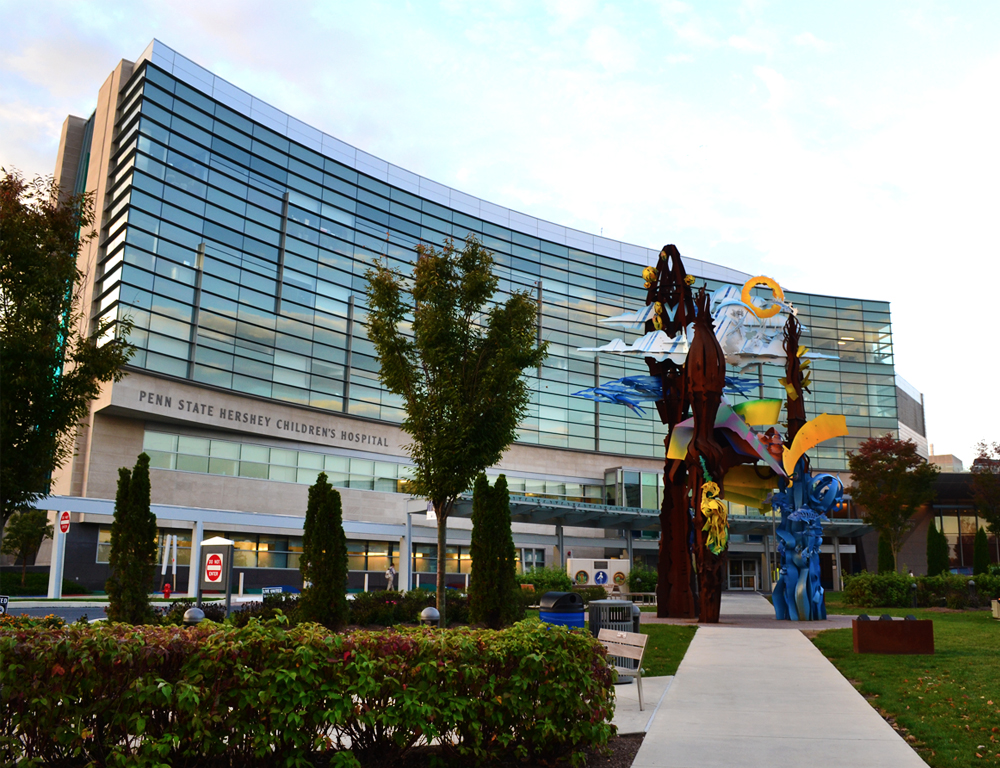 For the ninth consecutive year, U.S. News & World Report has ranked Penn State Health Children's Hospital among the nation's best hospitals for children in multiple specialties.
The Children's Hospital ranked in cancer and cardiology and heart surgery in the magazine's 2019-2020 Best Children's Hospital rankings.
Mary Illicete, whose daughter Theresa was diagnosed with osteosarcoma in 2014, credits the Children's Hospital or saving Theresa's life.
"The attending physician came into the room and gently told us Theresa had a 30% chance of survival," said Illicete. When Theresa's cancer became resistant to chemotherapy treatment, her oncologist Dr. Smita Dandekar, along with Dr. Valerie Brown and a research fellow, enrolled her in a clinical trial that used personalized medicine to treat her tumor. Because of this, Theresa is a happy and healthy teenager. "Doctors and researchers at the Children's Hospital and Four Diamonds are people who really want to conquer childhood cancer, and they've made great strides. Theresa is a miracle."
The U.S. News rankings highlight the top 50 hospitals in each of ten pediatric specialties: cancer, cardiology and heart surgery, diabetes and endocrinology, gastroenterology and gastrointestinal surgery, neonatology, nephrology, neurology and neurosurgery, orthopedics, pulmonology and urology. The rankings are based on clinical data including patient safety, infection prevention and nurse staffing, as well as responses from more than 11,000 pediatric specialists about where they would send the sickest children in their specialty.
"Every day, our team members are working together on the front lines and behind the scenes to ensure that our youngest patients and their families receive the very best, most compassionate care," said Dr. A. Craig Hillemeier, dean of Penn State College of Medicine, CEO of Penn State Health and senior vice president for health affairs at Penn State. "To see these efforts recognized at such a high level, year after year, is truly remarkable."
Established in 2007, U.S. News & World Report Best Children's Hospital rankings help families with life-threatening and rare illnesses find the best care available. This year's rankings will be published in U.S. News & World Report's "Best Hospitals 2020" guidebook, set for release in September.
In addition to the U.S. News rankings, the Pennsylvania Health Care Cost Containment Council (PHC4) recently released a report that details outstanding outcomes for pediatric heart surgery at Penn State Health Children's Hospital. PHC4 worked with the Society of Thoracic Surgeons (STS) to compile the report.
"These third-party rankings and reports reflect what we believe our patients and families already know," said Dr. Sarah Iriana, interim chair of pediatrics at Penn State Health Children's Hospital. "That is the commitment of our dedicated and skilled providers to offer the most critically ill patients high-level, compassionate care that is among the best in our region, the state and the nation."
EDITORS: High-resolution video of Penn State Health Children's Hospital is available here.
If you're having trouble accessing this content, or would like it in another format, please email Penn State Health Marketing & Communications.