Farm Show highlights: Volunteer nurses give free flu shots, experts share info from Penn State Health front porch
Penn State Health wrapped up a busy week at the annual Pennsylvania Farm Show Jan. 4 through 11.
Experts were on-site daily talking with attendees about health care on the Penn State Health "front porch" with Tom Russell of WHP-TV CBS 21 News. Featured topics included memory and aging, men's health, Penn State Health OnDemand, children and farm safety, and finding the right family doctor.
Click or touch the arrows to see photos from the event, or view full photo gallery on Flickr.
On the other side of the Farm Show Complex, more than 100 nurses and staff volunteered at the Pennsylvania Department of Health booth to vaccinate 1,810 people against the flu. It was Penn State Health's 10th year of partnering with the Department of Health to offer free flu shots, and the partnership inoculated almost 350 more people than last year.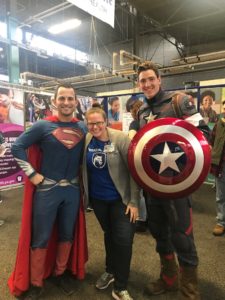 "Year after year, it is our privilege to offer this important service to central Pennsylvania and the surrounding community as they enjoy the Farm Show," said Ashley Visco, community health director at Penn State Health. "Over the course of the week, I was so glad to meet people who said this is where they always get their flu shot. Many thanks to our volunteers who made this a great year."
Students from Penn State College of Medicine joined in on the fun. Members of the BraveCubs organization, a student group that brings princes, princesses and comic book characters to life to visit with young patients, came out to the Farm Show on Saturday to lend a superhero-sized hand at the flu shot booth.
If you're having trouble accessing this content, or would like it in another format, please email Penn State Health Marketing & Communications.