Penn State College of Medicine Class of 2020 celebrates Match Day
Observance takes different form due to coronavirus concerns
Each year, fourth-year Penn State College of Medicine students come together in March to learn where they're headed for residencies. They count down to noon, then rip open their envelopes together in a moment that's typically followed by hugs and cheers.
This year, the tradition known as Match Day played out differently due to concerns over coronavirus (COVID-19). There was no gathering; rather, the 139 members of the Class of 2020 opened emails sent their way at noon by the National Resident Matching Program.
The Class of 2020 is collectively celebrating an important achievement: All 139 members matched with residencies.
For students, the process of matching with residency programs started long ago. At the beginning of their final year of study, students begin to visit and evaluate programs – while programs evaluate them. On Match Day, students discover if they matched with the residency programs of their choice.
Fifty-three of this year's College of Medicine graduates are staying in Pennsylvania, with 22 of those students accepting residencies at Penn State Health Milton S. Hershey Medical Center. The rest of the graduates will be joining programs across the country. Forty-three of the graduates will be doing their residencies in primary care. Two will be trained at military medical centers.
View a gallery of photos submitted by students from their virtual Match Day experience.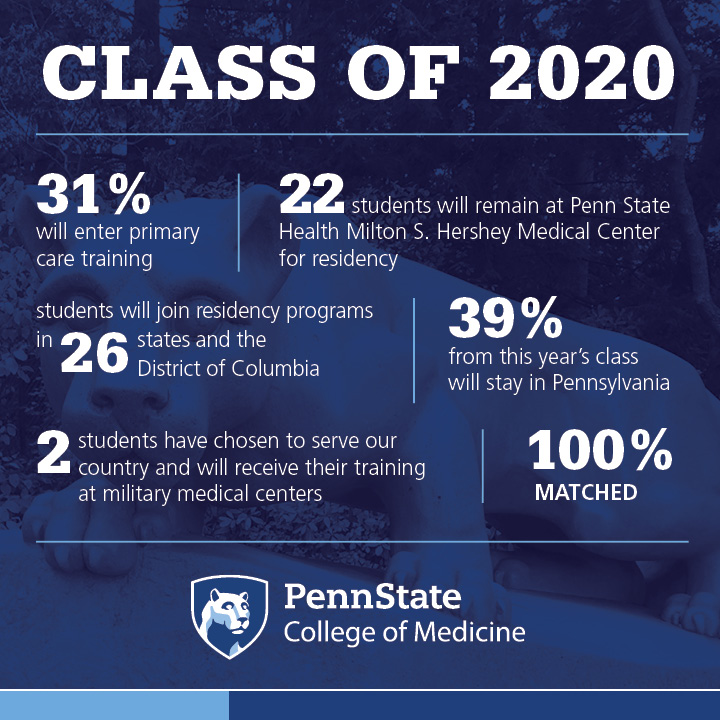 If you're having trouble accessing this content, or would like it in another format, please email Penn State Health Marketing & Communications.