Hershey Medical Center cardiac rehab program wins reaccreditation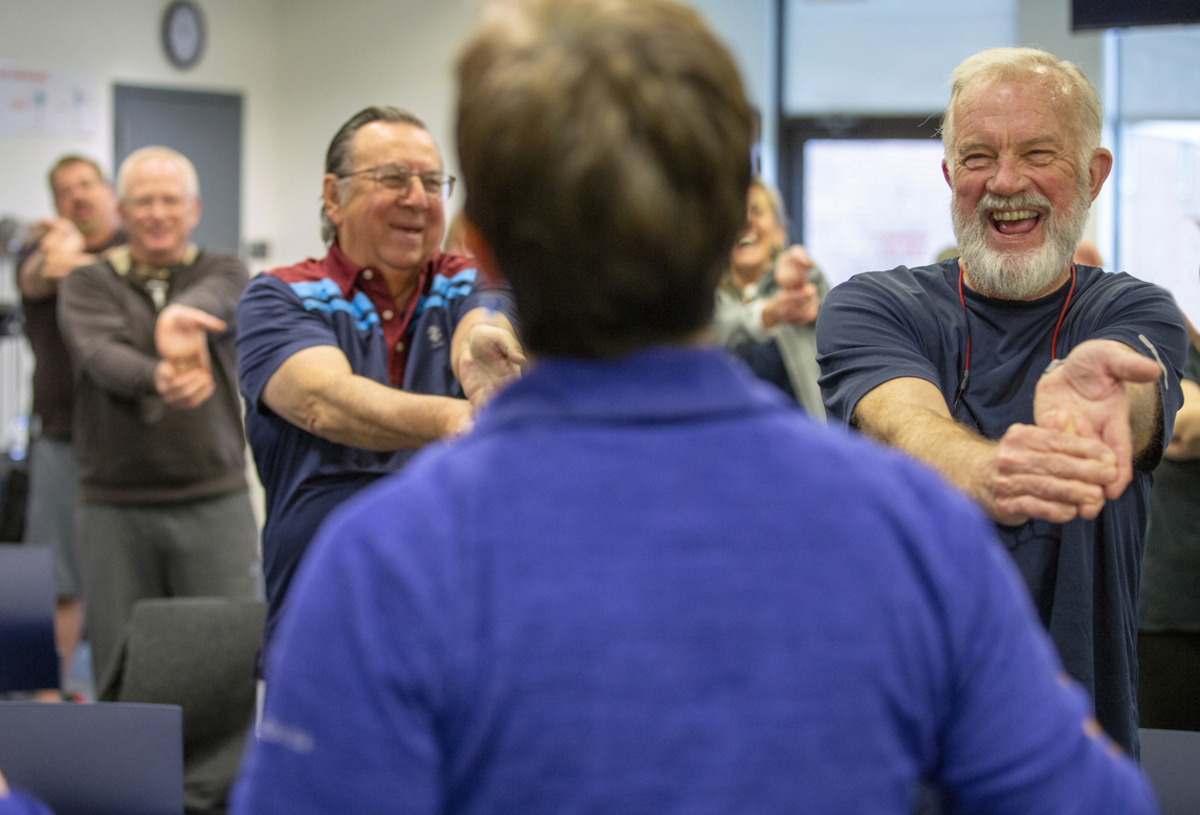 More than three-quarters of the patients in Penn State Health Milton S. Hershey Medical Center's Cardiac Rehabilitation Program find their depression decreases, half of patients see their strength nearly doubled and 80% of patients meet their blood pressure goal of 130/80 or lower.
Those positive benchmarks are part of the reason that the American Association of Cardiovascular and Pulmonary Rehabilitation (AACPR) recertified the program in July – an accreditation it has held since 2008.
"We're holding ourselves to a higher standard to make sure we're providing beyond leading industry care in cardiac care and rehabilitation," said Andrew Sorey, nurse manager of cardiac rehabilitation and wellness programs at Hershey Medical Center. "Because of this, we're positively impacting our patients' physical and psychological health."
The rehab program is for anyone who had a heart attack or heart surgery, heart failure or any qualifying cardiac procedure. The sessions, which can add up to 36 over a three-to-four-month period, are highly individualized to meet patient needs, Sorey said.
"When a patient first steps foot into our clinic, we take extra time to get to know them in depth, clinically as well as personally. We gather a lot of different data points on their lifestyle and set individual goals with them to make better choices, follow dietary guidelines and take their medications properly," Sorey said.
Studies show that patients who complete a cardiac rehab program enjoy both a 47% reduction in risk for worsening health problems and death and a 31% reduction in risk for another heart attack in the next four years, Sorey said. Overall, those who finish the program can count on a 25% risk reduction in hospital readmission.
"I am delighted, although not surprised, that we have again attained this certification," said Dr. Lawrence Sinoway, director of Penn State Heart and Vascular Institute. "It means our patients are receiving the highest level of care from a team that is vigorously trained and highly skilled –which assures the best outcome for them."
The program's history of accreditation doesn't mean they can take continued certification for granted, Sorey said.
The application process involves long hours of data collection as well as comprehensive detailing of the programs care protocols and treatment plans.
The AACVPR Program Certification is the only peer-review accreditation process designed to analyze individual cardiovascular and pulmonary rehabilitation programs for adherence to professional standards. The certification is valid for three years. Sorey is already at work gathering information for the next accreditation.
"It's an ongoing process to win certification, which means we're always offering the most current and evidence-based rehab practices to help our patients get back to their best level of health," Sorey said.
If you're having trouble accessing this content, or would like it in another format, please email Penn State Health Marketing & Communications.