New Penn State Health acute care hospital one step closer to opening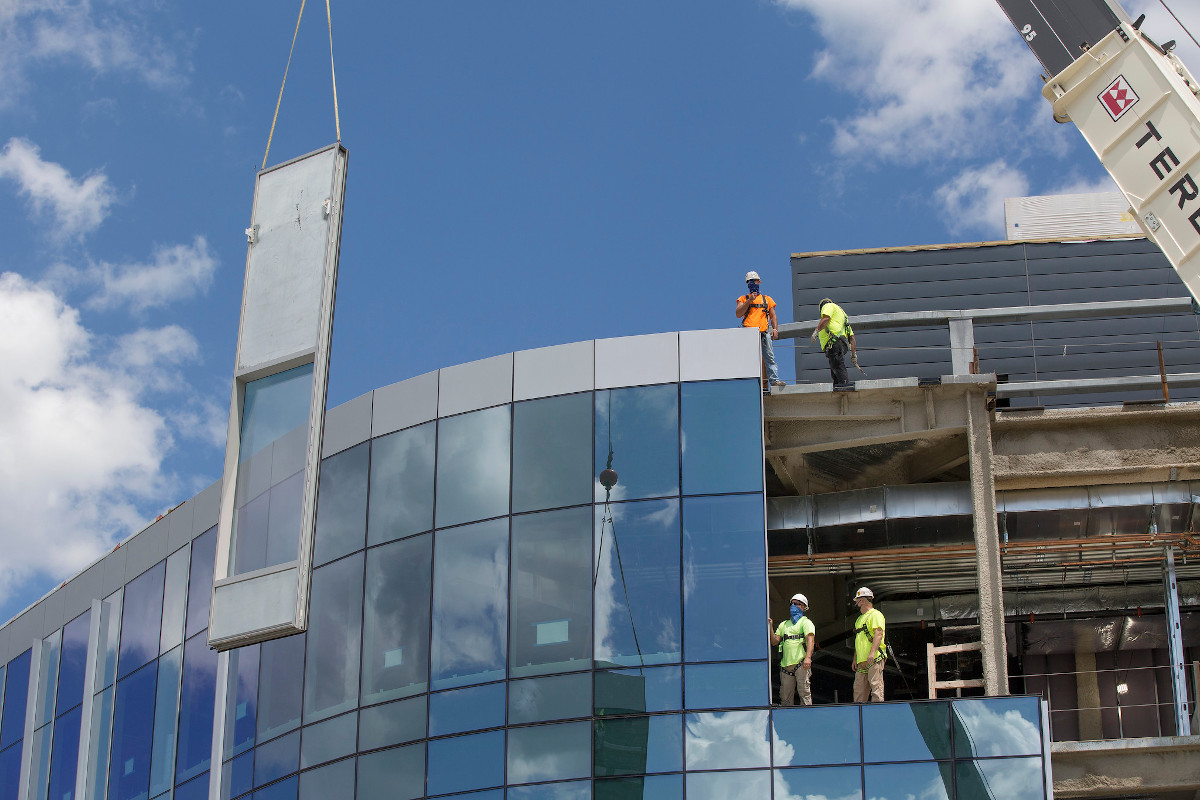 Construction crews building Penn State Health Hampden Medical Center, the future 300,000-square-foot, three-story acute care hospital in Cumberland County, reached a milestone this week: they completed the walls and enclosed the outside of the building. The project is on track for completion in the summer of 2021.
Hampden Medical Center, located in the Wentworth Corporate Center at the intersection of Good Hope and Wertzville roads, will give residents of Cumberland and Perry counties, as well as the broader Harrisburg area, enhanced access to Penn State Health's acute care services without having to make the drive to Hershey. Hampden Medical Center will complement Penn State Health's primary and specialty services in Mechanicsburg and Camp Hill.
"Almost three years ago, we joined together with Highmark Health and made a commitment to patients in the central Pennsylvania region to ensure access to high-quality care close to their homes that includes full primary and specialty care services," said Steve Massini, CEO of Penn State Health. "Hampden Medical Center is one example of the significant progress we've made toward that commitment."
Click on the photo below to view a photo gallery.
The new $200 million facility will feature 110 inpatient beds, an emergency department, physician offices, various specialty inpatient services, image and lab services and complete medical and surgical capabilities. It will feature an open medical staff, with a plan to develop collaborative programs between Penn State Health physicians and private community providers. Hampden Medical Center will include an attached outpatient medical office building.
"Hampden Medical Center will offer a growing region access to world-class, comprehensive care from Penn State Health," said Deborah Rice-Johnson, president of Highmark Inc. "That includes thousands of Highmark employees in Camp Hill, and employees at Highmark subsidiary United Concordia Dental. Highmark and Penn State Health made a promise to central Pennsylvania, and we're keeping our word. We will continue to invest in the health and well-being of our members, patients and neighbors in the years to come."
The project is bringing hundreds of well-paying jobs to the area, both during construction and for hospital operations. The construction process is employing about 1,000 people; and once operational, the hospital will initially employ 650, with a planned increase over the first three years to about 1,000 employees.
Penn State Health appointed two leaders of Hampden Medical Center in early 2020: president Don McKenna and chief nursing officer Aimee Hagerty.
Penn State Health is partnering with Cannon Design and Barton Malow Alexander on this project, and has sourced many key services and materials from local businesses.
If you're having trouble accessing this content, or would like it in another format, please email Penn State Health Marketing & Communications.