Hershey Medical Center's Peregino wins 2020 Nightingale Award
The Nightingale Awards of Pennsylvania selected the Milton S. Hershey Medical Center's Elisha Peregino as the winner in its 2020 Clinical Advanced Practice Registered Nurse category. Peregino is a nurse practitioner in Inpatient Pediatric Neurosurgery.
The Nightingale Awards of Pennsylvania recognizes exemplary nursing practice and grants scholarships to students pursuing degrees in nursing at all levels. The winners, selected for recognition in one of 10 categories, were announced during the virtual 31st Annual Awards Gala on Oct. 23.
Katherine Curci, advanced practice director, Family and Community Medicine, nominated Peregino for the award. Curci highlighted Peregino's work with the Pediatric Hematology Oncology and Pediatric Intensive Care Unit Accountability Teams; her leadership on several quality improvement projects that focus on improving communication between physicians and nurses; and her extensive clinical knowledge, which has resulted in numerous state and federal speaking engagements.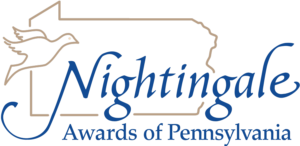 "Elisha strives to provide the best patient and family experience for the patients on her team," said Curci. "She embraces the opportunity to positively impact our health care providers of the future, acting as a preceptor for advanced practice nursing students and serving as the chair of the Advanced Practice Advisory Board. Elisha is highly respected by the nursing staff and providers with whom she works."
Peregino is a member of numerous professional organizations and has published several articles and participated in research initiatives related to pediatric critical care, HIV testing, prevention and caregiver communication. She has received many honors and awards, most recently the 2019 Nursing Community Service Award and the 2019 Nursing Week Nursing Research and Clinical Scholarship: Manuscript and Publication Award.
Elisha is enrolled as a PhD student at Penn State College of Nursing and is a member of Sigma Theta Tau Nursing Honor Society. She aspires to use her PhD to lead clinical research that helps improves the care and advancement of medicine at the bedside and to teach undergraduate and graduate level nursing students.
Nightingale Award recipients are judged on their demonstration of excellence in several areas, including significantly influencing the quality of patient care, creating collaborative environments for the practice of nursing, modeling caring and compassion and contributing to healing and health in the community. Each nomination is reviewed by seasoned professionals in each of the identified nursing categories.
If you're having trouble accessing this content, or would like it in another format, please email Penn State Health Marketing & Communications.