Psychiatry resident Piper honored for exceptional teaching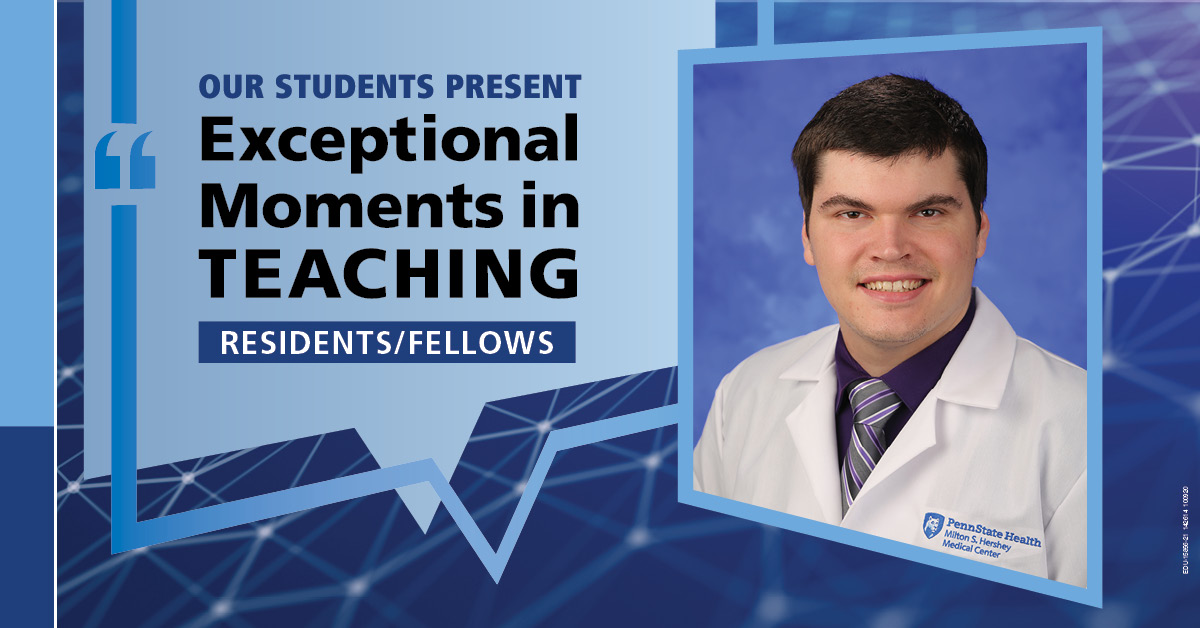 Dr. Luke Piper, a fourth-year psychiatry resident at Penn State Health, was recognized in October 2020 as part of the Exceptional Moments in Teaching program of Penn State Health and Penn State College of Medicine.
A current student wrote, "Dr. Piper stood out to me and many of the other students. He's a natural teacher who is clearly passionate about his field. He made himself available to all of us at the start of our rotation and consistently replied to our questions via email. I especially enjoyed the weekly review series that he led. He kept us engaged with his sense of humor. Psychiatry's pharmacology used to be terrifying to me, but I actually felt I understood it after working with him. We're taking our first shelf exam tomorrow, and even with the coronavirus issues he made time to host a last-minute review session via Zoom. Talking with my classmates, a lot of us were inspired by how passionate he is about teaching, and while I'm personally still undecided about my future as a doctor, Dr. Piper made a very strong case for me to consider psychiatry."
Piper earned his MD from Penn State College of Medicine, and before medical school studied biology and philosophy at Indiana University of Pennsylvania.  His interest in medical education dates to his time as a student, where he assisted with clinical skills classes and facilitated problem-based learning groups for younger medical students.
Penn State College of Medicine's Office for a Respectful Learning Environment recognizes exceptional faculty, residents and fellows with the monthly "Exceptional Moments in Teaching" program. Each month, one faculty member and one resident/fellow are highlighted for their contributions. College of Medicine students are invited to submit narratives about faculty members, residents, nurses or any other educators who challenge them and provide an exceptional learning experience using the online nomination form.
The Office for a Respectful Learning Environment fosters an educational community at Penn State College of Medicine in which all learners and educators feel supported, challenged, valued and respected. It serves all learners at the College of Medicine: medical students, graduate students, physician assistant students, residents and fellows.
See previous faculty and resident/fellow honorees here.
If you're having trouble accessing this content, or would like it in another format, please email Penn State Health Marketing & Communications.