'Go with the flo': Nurse spearheads project to combat period poverty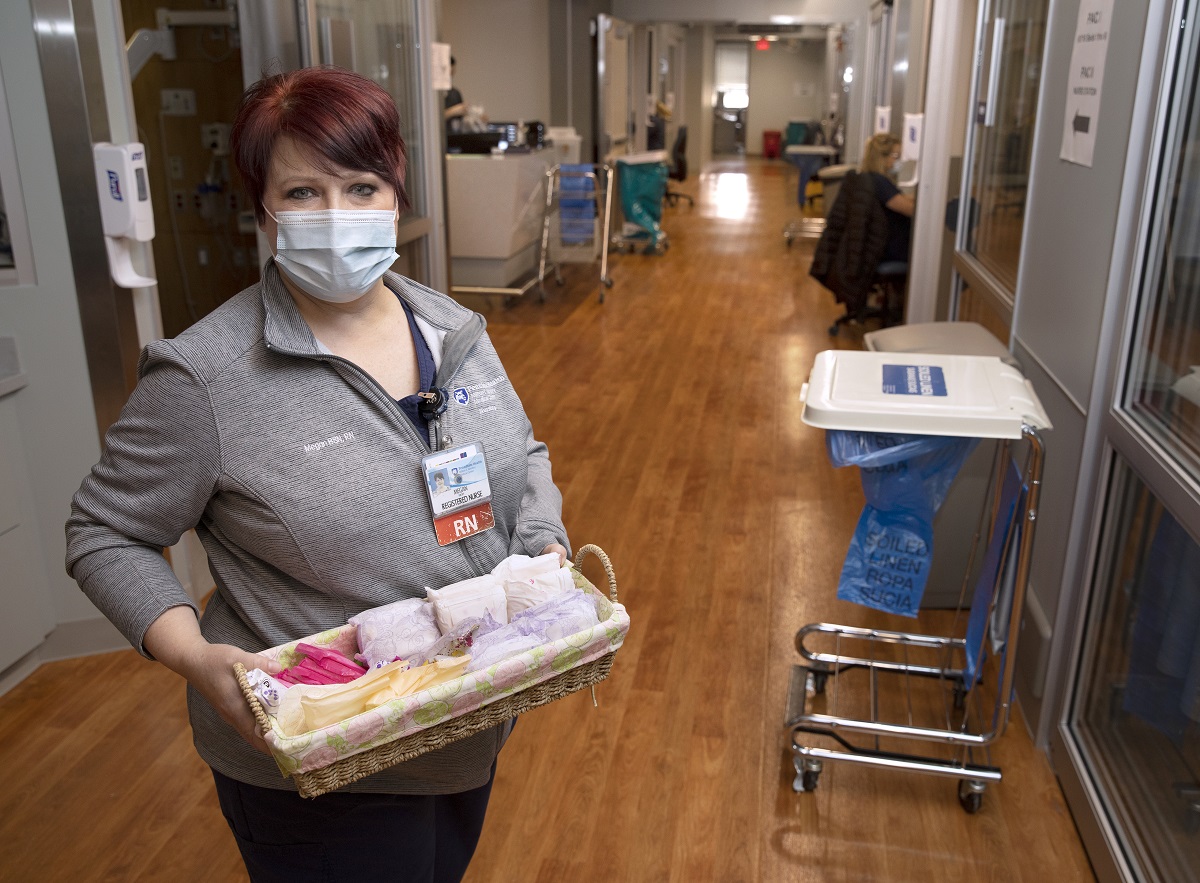 For many low-income and homeless people, "that time of the month" can pose sanitary challenges and a barrier to work – a hardship that Megan Swope says most people don't realize.
"I had never really thought about not having access to such a basic necessity and how that can be so disheartening and robs you of your dignity," said Swope, a perianesthesia nurse at Penn State Health Milton S. Hershey Medical Center, who came across the term "period poverty" when she was working on her bachelor of science in nursing degree.
Low-income people often miss work when they menstruate, because they can't afford to buy pads and tampons necessary to allow them to carry on with normal life one week a month, Swope said. Missing work means missing pay, which only exacerbates the problem, she said. Others resort to using substitute items, such as tissues or cloths that don't work well.
"Toxic shock syndrome is a very real threat. Low-income and homeless people often extend wear of their products because they don't have the money to buy more," Swope said. "They have a higher rate of strep and staph infections, which puts them at a higher risk of toxic shock."
Swope created The Period Project Harrisburg to address the need for hygiene packs for low-income and homeless individuals who menstruate.
With a grant from Penn State Health Community Health Outreach, she is putting together period packs that contain a week's worth of pads, tampons and panty liners and educational material on toxic shock syndrome. Penn State Health's Office of Marketing and Communications is donating the plastic packs.
"People don't realize how expensive sanitary products are, and in 30 of 50 states, a luxury tax is assessed on sanitary items," Swope said. Also, public-assistance funds can't be used on pads and tampons.
The period packs will be available at Beacon Clinic for Health and Hope and Alder Health Services, both in Harrisburg. Swope hopes to build a bank of supplies so people can return to replenish their period packs.
Her long-term goal is to start a nonprofit organization that would fund this and other projects that steer positive change in the community.
"I hope it brings hope – that there are people who are willing to do the right thing and to recognize the dignity we all deserve," Swope said. "We're all called as human beings to serve and help each other."
The project kicked off with Go with the Flo Impact Day on March 13, when the first 1,500 period packs were to be assembled.
Sign up to help or to learn more about Swope's efforts here.
Help us share the good news going on at Penn State Health, including small happenings that might otherwise go unnoticed. Have a "Pawsitivity" story to share with us? Email us and write "Pawsitivity" in the subject line.
If you're having trouble accessing this content, or would like it in another format, please email Penn State Health Marketing & Communications.