College of Medicine biobank accredited by College of American Pathologists
Patients at Penn State Health Milton S. Hershey Medical Center who provide blood, saliva or other tissue specimens for research at Penn State College of Medicine can rest assured that their donations are in good hands. The College of Medicine's Institute for Personalized Medicine keeps biological samples in a facility which received accreditation for its exceptional storage, tracking and maintenance of samples from a national organization renowned for their quality assurance standards.
The biorepository at the Institute for Personalized Medicine joins more than 8,000 facilities worldwide to be accredited by the College of American Pathologists, the world's largest body of board-certified pathologists who advocate for high-quality and cost-effective medical care. The accreditation program began in 2012 with the goal of providing requirements for standardization of processes that will result in high-quality human specimens and genetic materials that can be used to support research.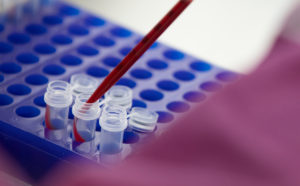 "This recognition confirms that our researchers have access to high-quality samples and that the patients who provide them to us can trust their donations are well cared for and support leading-edge biomedical research," said James Broach, director of the Institute for Personalized Medicine and chair of the Department of Biochemistry and Molecular Biology at the College of Medicine.
The biorepository currently holds more than 120,000 samples from Hershey Medical Center patients who provide consent when visiting a clinic or in preparation for a surgery. They are used for a variety of research studies and include a collection of specimens from patients diagnosed with COVID-19.
"The scientific and biomedical community will be researching COVID-19 long after the pandemic ends," said Broach, a researcher at Penn State Cancer Institute. "The samples we're collecting from COVID positive patients may be able to help investigators understand the history of the disease and how patients respond to and recover from infection. These have been used in several studies, including the development of a vaccine prototype by College of Medicine faculty."
In addition to COVID-19 research, the Institute for Personalized Medicine supports studies for various cancers, neurodegenerative diseases, orthopedic conditions, psychiatric disorders and other diseases. To become accredited, the biorepository had to demonstrate that they were employing ethical and legal frameworks for use of biospecimens, maintaining robust chain of custody tracking and appropriately storing and monitoring temperatures of samples. The accreditation cycle takes two years and includes an onsite inspection.
Samples are currently only collected at Hershey Medical Center, but Broach said they hope to develop an online consenting process that would allow collection from other Penn State Health facilities including Penn State Health Holy Spirit Medical Center and Penn State Health St. Joseph Medical Center.
"Patients and researchers in our community should be excited that we have received this accreditation," said Broach. "It means the samples that patients provide us are handled with the utmost quality to support our research endeavors to improve health in central Pennsylvania and beyond."
If you're having trouble accessing this content, or would like it in another format, please email Penn State Health Marketing & Communications.