Preview event offers first glimpse at future Penn State Health Lancaster Pediatric Center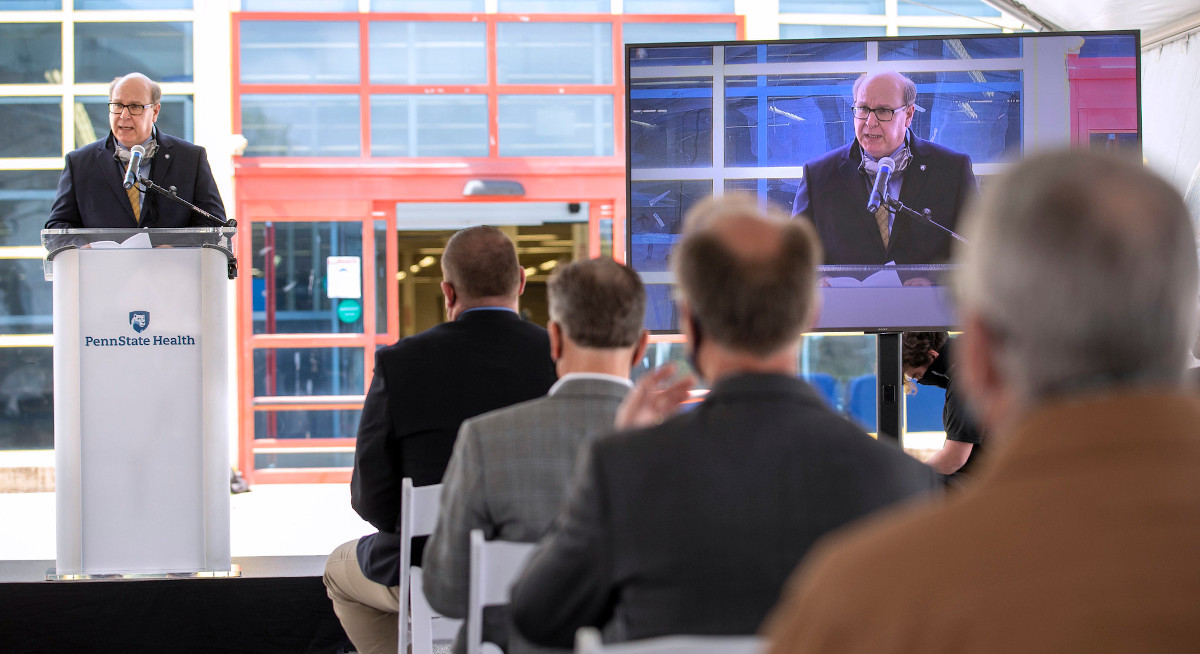 Leaders from Penn State Health, High Construction Company, Highmark Health and local officials gathered today for a preview event at the future site of the largest pediatric specialty outpatient practice in Lancaster County. The 47,000-square-foot Penn State Health Lancaster Pediatric Center will be located at the intersection of Harrisburg Pike and Route 30 in Manheim Township.
When the facility opens in spring 2022, it will offer Lancaster County residents convenient and comprehensive, high-level pediatric specialty care in an environment completely designed for and dedicated to children, teens and their families.
"To the nearly 550,000 people who call Lancaster County home, please know that Penn State Health is committed to providing convenient access to a seamless continuum of high-quality care, even to the smallest newborns in the community," said Penn State Health CEO Steve Massini. "This site is just one more step in fulfilling that commitment."
Click on image below to scroll through photo gallery:
Lancaster Pediatric Center will offer 20 medical and surgical pediatric specialty and subspecialty services, including cardiology, dermatology, neurology, ophthalmology, rheumatology, gastroenterology, urology and more. It will offer consultations with neurosurgeons and orthopedic surgeons, as well as psychiatrists and behavioral health specialists. The center will offer a full spectrum of care for children from infancy through age 18. It will employ 40 people, including physicians and staff.
The board-certified, nationally-recognized specialists at Lancaster Pediatric Center will be supported by Penn State Health Children's Hospital, the region's only inpatient acute care pediatric facility. When a patient needs care that cannot be provided in this outpatient center – such as surgery – the Children's Hospital offers the most advanced care, only 30 minutes away in Hershey.
"Penn State Health has been caring for Lancaster County children and families for a long time. We look forward to continuing to do so in a location that makes accessing providers so much easier for our patients," said Dr. Peter Dillon, chief clinical officer for Penn State Health. The health system plans to collaborate with pediatricians and primary care physicians in the region to ensure their young patients have access to high-level specialty care.
When it opens next year, Lancaster Pediatric Center will feature 46 private exam and consultation rooms. The facility will include 16,000 square feet of shell space for future expansion.
Lancaster Pediatric Center serves as another example of how Penn State Health and Highmark continue to improve health care access in Lancaster County. Just over two years ago, Penn State Health Lime Spring Outpatient Center opened in East Hempfield Township, offering primary, specialty and diagnostic care under one roof. The health system is also starting to recruit some of the 750 people who will be employed at Penn State Health Lancaster Medical Center, also in East Hempfield Township, when it opens in 2022.
"Projects like Lancaster Pediatric Center encourage more people to live and work in Lancaster," said Mike Lorelli, senior vice president of commercial asset management at High Associates Ltd. "High Associates has worked hard to plan and carry out smart and sustainable growth in Lancaster County, and Penn State Health has been a good partner in this effort. This project demonstrates the potential for adaptive reuse of the spaces we already have to make them more attractive and functional for today's economy, the workforce and the community's needs."
If you're having trouble accessing this content, or would like it in another format, please email Penn State Health Marketing & Communications.