Zaorsky recognized for Exceptional Moments in Teaching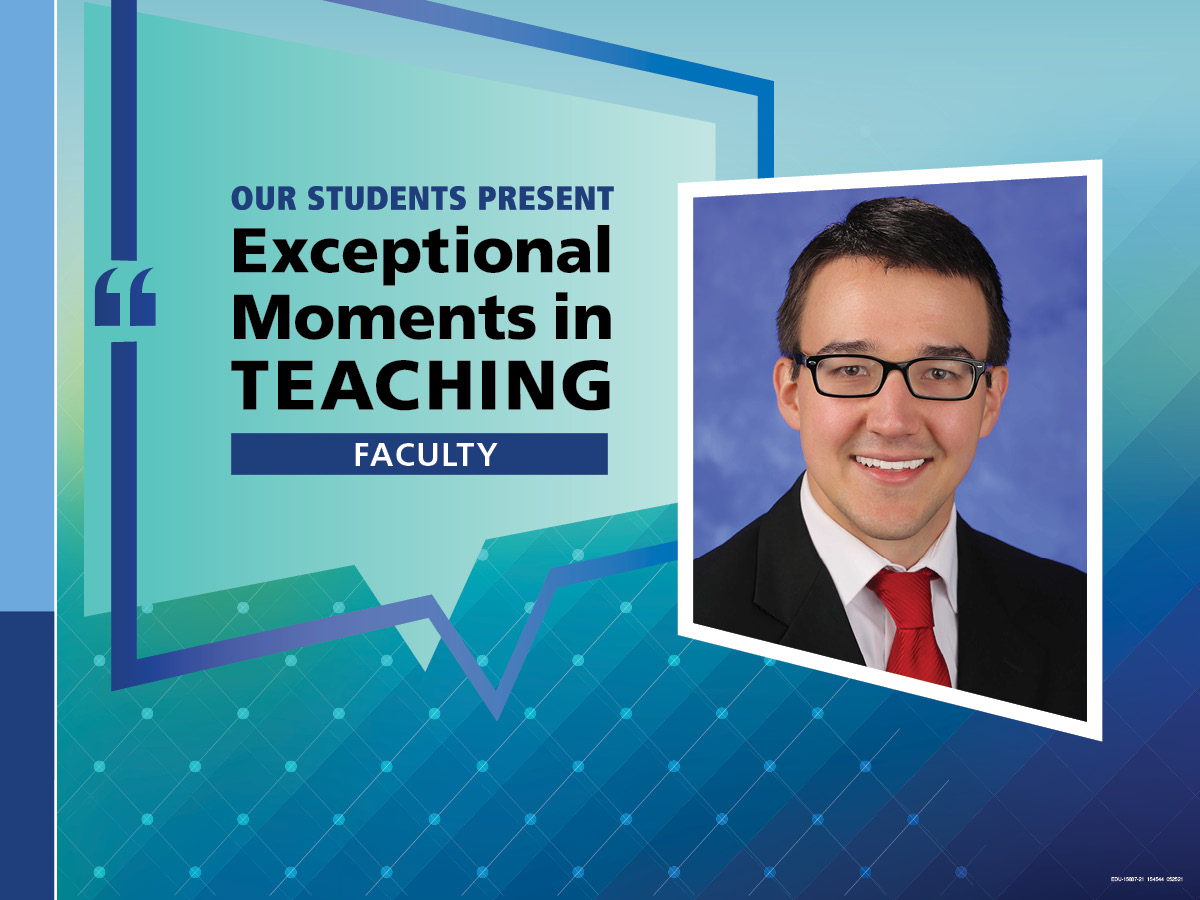 Nicholas Zaorsky, MD, MS, assistant professor of radiation oncology and public health sciences at Penn State College of Medicine, is featured for June 2021 in the "Exceptional Moments in Teaching" program.
"Dr. Zaorsky is a phenomenal teacher," a current student wrote. "He not only provided guidance on how to give patients high-quality, evidence-based clinical care, but also encouraged critical thinking regarding recognizing deficiencies in the literature and challenging common practices that may have minimal effect on patient-centered outcomes.
"What's more, he created a learning environment in which I felt completely comfortable voicing uncertainty and asking questions."
A graduate of Temple University School of Medicine, Zaorsky completed his internship at Thomas Jefferson University and residency in radiation oncology at Fox Chase Cancer Center, Philadelphia. He is a grant-funded, board-certified, tenure-track clinical investigator at Penn State Cancer Institute, focusing on metastasis, identifying and preventing specific causes of death in cancer patients, quality of care and lifestyle interventions. As a clinician, he leads the genitourinary, sarcoma and skin cancer services. Zaorsky also works internationally and writes radiotherapy treatment guidelines, which have been implemented at Penn State.
Zaorsky has helped bring in more than $1.5 million in funding from the American Cancer Society, U.S. Department of Defense and National Institutes of Health. As an educator, he works with the MD/PhD program and the Translational Science Fellowship and delivers lectures on how to get research published. Zaorsky has mentored more than 40 trainees who now have first-author publications in journals such as JAMA Oncology, Nature Communications, Cancer and Lancet Oncology.
Penn State College of Medicine's Office for a Respectful Learning Environment recognizes exceptional faculty, residents and fellows with the monthly "Exceptional Moments in Teaching" program. Each month, one faculty member and one resident/fellow are highlighted for their contributions. College of Medicine students are invited to submit narratives about faculty members, residents, nurses or any other educators who challenge them and provide an exceptional learning experience using the online nomination form.
The Office for a Respectful Learning Environment fosters an educational community at Penn State College of Medicine in which all learners and educators feel supported, challenged, valued and respected. It serves all learners at the College of Medicine: medical students, graduate students, physician assistant students, residents and fellows.
See previous faculty and resident/fellow honorees here.
If you're having trouble accessing this content, or would like it in another format, please email Penn State Health Marketing & Communications.