From suturing to practicing robotic skill, high schoolers learn about surgical careers at Penn State College of Medicine camp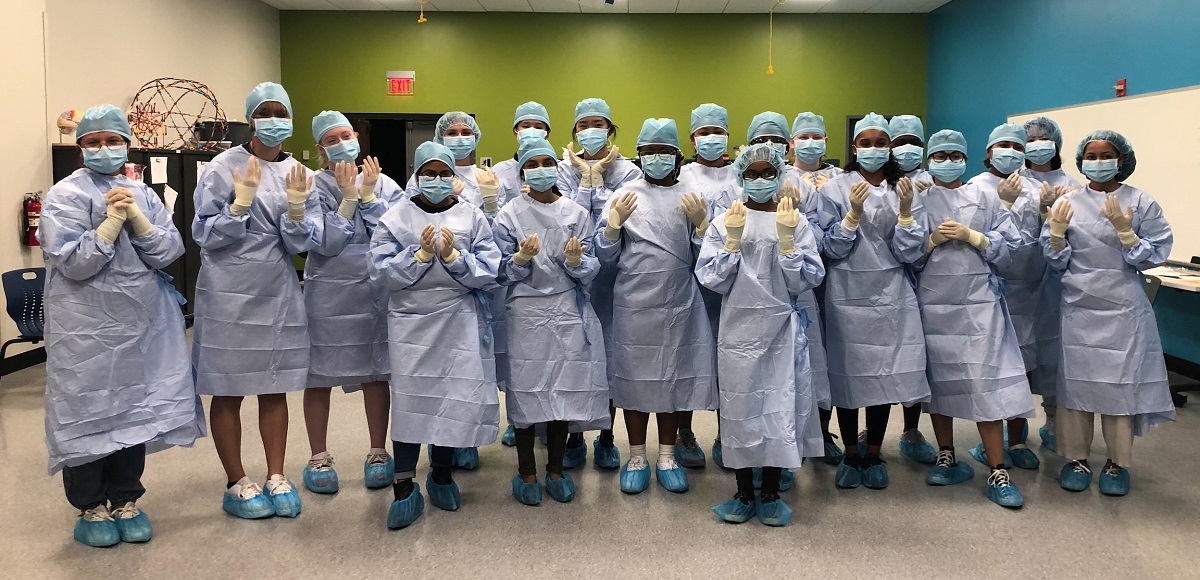 Rachel Amanor marvels at how she learned to do a tracheostomy at summer camp.
She didn't perform the procedure on a person, but the 17-year-old senior at Milton Hershey School now knows the steps a doctor takes to help a patient who can't breathe.
While other students her age were enrolled in sports and arts camps, Rachel and her twin sister Rebecca, also a senior at the Milton Hershey School, were part of the first "Emerging Health Care Professionals: Science of Surgery" camp for underrepresented high school students. The program, which ran from Aug. 9-13, was a partnership between Penn State College of Medicine and Whitaker Center for Science and the Arts in Harrisburg.
"It was a lot of fun!" Rachel said. "It was a real-world experience."
The sisters were among 20 girls from the Harrisburg region who attended the camp at Whitaker Center and learned about anatomy, ultrasounds, suture techniques, diagnostic tools, bedside procedures and more, said Sonnya Nieves, program director of the diversity pipeline programs in the Office for Diversity, Equity and Belonging at the College of Medicine.
Rebecca Amanor said her favorite part of the camp was using the da Vinci® robotic surgery simulator, an experience that even adults who were passing by wanted to try. The experience cemented her career aspirations.
"I've known I wanted to go into surgery since I was in middle school," she said. "This really helped me better understand what would be involved, and now I know I really want to do it."
Dr. William Wong, a resident physician in the Department of General Surgery at Penn State Health Milton S. Hershey Medical Center, wrote much of the curriculum for the camp and was an instructor during the program. Growing up in a community of first-generation Asian Americans, he explains, makes him acutely aware that diverse teens don't always know about potential medical career opportunities.
"I want to get young people excited about science," he said. "I want them to know that being a surgeon or being part of a surgical team is a career option for them."
Demiana Dabsha, a counselor at the camp, was also in a Penn State College of Medicine program that exposed her to medical careers when she was in high school. She is now a junior at Penn State Harrisburg studying biology and planning to go to medical school or be a physician assistant.
"The students were so excited about the program," she said. "Even in their downtime they were practicing suturing. I remember what a huge impact something like this can have on students and had on me."
Along with hands-on activities, the participants also heard from a cross-section of physicians and a physician assistant:
Omotola Lanlokun, resident physician of anesthesiology
Christa Grant, assistant professor in the Department of Surgery, Division of Pediatric Surgery
Lauren Hollins, assistant professor in the Department of Dermatology
Tonya Wright, assistant professor in the Department of Obstetrics and Gynecology, Division of Women's Health
Dan Watkins, physician assistant in the Department of Surgery, Division of General Surgery
The camp will take place again next year and is tentatively planned to be moved from Whitaker Center to the College of Medicine, Nieves said. She is hoping to increase the number of participants along with the experiences students will get from the program.
As for Rachel and Rebecca Amanor, they both said the camp opened their eyes to different careers in medicine.
Nieves says that's the goal: "Right now this is a dream for all of these students, and we want to help make it a reality."
If you're having trouble accessing this content, or would like it in another format, please email Penn State Health Marketing & Communications.