Hello Hampden: Capital Region's newest acute care hospital opens its doors
Today, Penn State Health Hampden Medical Center makes its star on Pennsylvania's map. The hospital opens its doors to patients at 10 a.m.
Keep up with the day's events below.

8 p.m. Thursday
In the final hours before Hampden opens, hospital beds wait empty under fluorescent lights. Well- scrubbed hallways wait for gurney wheels and footfalls. Computer screens stare ahead, waiting for data.
Throughout the days and weeks before it opened, an army of people filled Hampden Medical Center, drilling and ensuring it was ready to start providing care to residents of the Capital Region. The night before the first patients were set to arrive, a few night owls worked on odds and ends.
Joseph Conn, a dispatcher for the Security department, trains two security officers on the system the hospital team uses to check visitors in and out.
Hair dampening at the temples, Jennifer Szelewa, a project manager for integration and growth at Penn State Health, pushes four brand new full-size refrigerators onto a service elevator in the basement. She's been here since early in the morning, and she'd heard that a few of the staff lounges were missing a way to keep employee meals cold.
"You always worry you forgot something," she says, which explains the late-night fridge deliveries. Hampden has been her baby for two of her five years at Penn State Health. The most important lesson she's learned has been "bringing the right people in early enough," she says. "We had a really good crew."
She takes the elevator up and takes brisk steps through the empty hallways to breakrooms. Then she returns to the elevator and drags the fridges out on their wheels.
Building a new hospital has been stressful, of course. Everybody manages it differently. Szelewa says she gets over rough patches with good-natured sarcasm.
And fridge moving. After dropping off two of the big machines, she feels she can go home. Well, not home, exactly – though she lives 20 minutes away, Szelewa booked a hotel room even closer the night before the opening.
She pauses on her way out to pick up a pile of cardboard and carry it to a recycling container.
With hours to go, she is filled with confidence. "We're going to rock this," she says.
---
5 a.m. Friday
---
6 a.m.
A sliver of dawn is reflecting on the eastern glass wall of Hampden Medical Center as Stephanie Mertz makes her way across the parking lot for Day One.
For weeks, the assistant nurse manager and her team in Perianesthesia have been preparing for this moment. Scavenger hunts among mountains of supplies. Mock drills. Meeting after meeting.
"It's awesome to see this come into fruition," she said, nearing the front door. On Day One she'll be here all day, leaving the quitting time open ended. "I want to be here to support the staff."
The doors to the Medical Center open to patients in about four hours, but doctors, nurses and staff walk in through a hero's welcome. Staffers waving blue and white pompoms line up next to the door. The Nittany Lion dances on a lift.
For some of the employees, Hampden is a new office in a growing series. Scott Mickalonis, for example, is hoofing it toward the building he's been working on since January. The director of system emergency management and business continuity and his team will be stationed 24/7 at Hampden through the middle of next week.
The new Medical Center is ready, he said. It's safe for staff and patients. And his team is here, also at the ready, just in case.
---
8 a.m.
Judy Himes, chief nursing officer at Hampden Medical Center, joins a group of nurses in the Hampden Medical Center Emergency Department. The department has just opened to ambulances for the first time.
"I've been in health care for nearly 45 years," Himes says, "and this is the first time I've done an opening."
Himes has been helping at Hampden for three weeks. Simulation, she says, is key to preparing. Mock drills approximating real life emergencies show staff how to do their jobs.
"You don't have an expert to go to, because you're all doing it for the first time," she says.
As the clock rounds 8 a.m., team members hustle from place to place past empty hospital rooms, opening cupboard doors and checking out software. Hanlen Hoover, serving as the maiden shift's first charge nurse, laughs with co-workers and sips coffee from a Styrofoam cup.
Previously a nurse at UPMC Harrisburg, he's been working at Hampden since July 19. When he arrived the rooms with all their leading-edge equipment were blank spaces. "Watching it all come together is really exciting," he says.
It's also not without its challenges. Learning new systems and knowing where everything is has required practice. But as he waits for the first patient to come through the door, Hoover feels confident in his team. He worked with many of them as a nurse at UPMC Harrisburg, along with his nurse manager.
Now they're all at Hampden together.
Julia Boyd, a five-year veteran nurse, leans against a counter and drinks her coffee. She moved to Hampden after two years at Hershey Medical Center. "I never worked in a brand new ER before," she says. Also, it's an opportunity to work for a community hospital – where she started her career – instead of a regional trauma center.
"It's just a different vibe," she says. The transition was easier than moving to another health system, because Hampden and Hershey use many of the same systems for work like charting.
For Emily Warfield, everything is new. She got her degree in nursing from Liberty University in Lynchburg, Va., in May. This is her first job.
"I'm nervous," she says. "But I think it's good nervous." At the same time she takes comfort in her team. She's been working with them since Aug. 2.
Team members like Warfield will have a chance to evolve and grow with the organization, Hoover says. "That's part of the excitement."
---
8:15 a.m.
Regional President Don McKenna comes on the public address system. His thanks for the work leading up to today's opening echoes through the main lobby and café, wrapping up with a smattering of applause from clusters of employees nearby, getting ready for the day.
"Today is a very special day for all of us. Today, all the years of planning and practice finally become a reality. Today, we get back to what we have been called to do—caring for people—our friends and neighbors and those who come to us in a moment of need. … So from my heart, I want to thank you for being with me as we make history and make a difference for our community. In the spirit of Penn State, We are, Hampden Medical Center. Now let's roll."
In the Emergency Department, nurses pause in their preparation for the first patients to listen. When McKenna finishes, they burst into applause and nod their heads.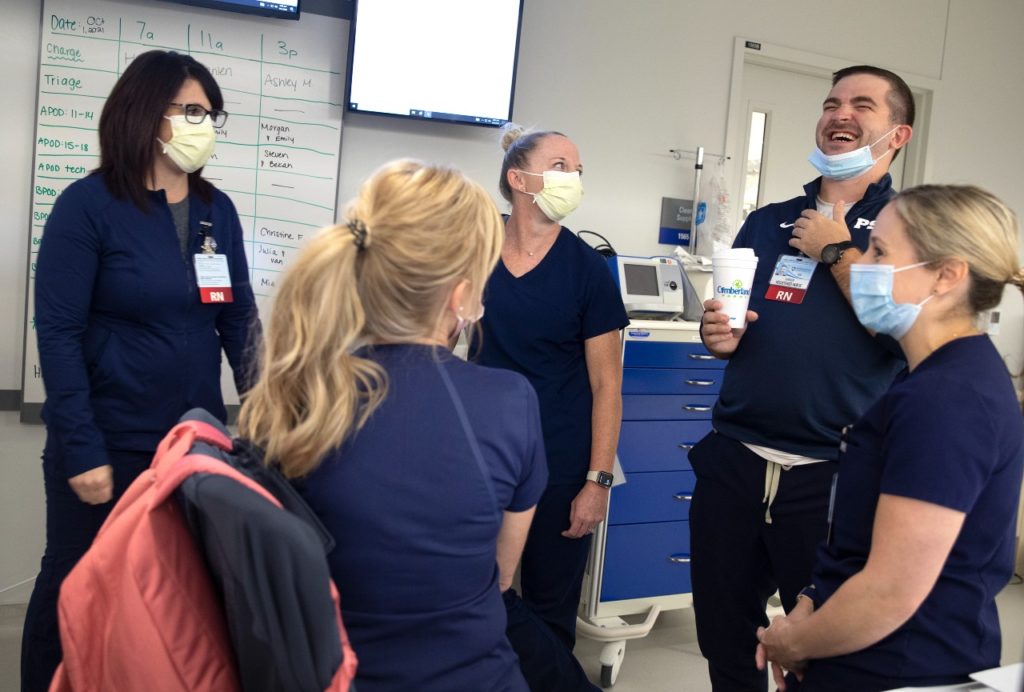 Although immersed in their work, members of the IS team respond with a cheer and a round of clapping.
In the Pharmacy on the ground floor, staff is busy stocking medications and supplies. When they hear the overhead system alert that precedes a building-wide message, they assume it is another code blue drill. But they quickly realize it's something else. They pause in their work and acknowledge McKenna's words. "Not a code drill, it's our motivational message for the day," says one staffer. And back to work they go.
On the East Elevators, a group of medical-surgical nurses are in good spirits. "It was like the principal's message on the first day of school," one observes with a giggle.
They are heading to the front entrance for a photo out front with the Nittany Lion statue before their day begins.
Outside the East Elevators on the ground floor, a group of contractors works in an equipment room to adjust outdoor site lighting.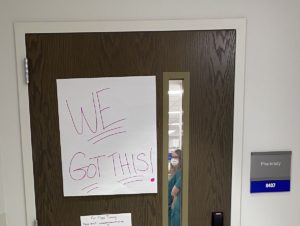 A piece of poster board on the door of the pharmacy next door has "We Got This!" scrawled in pink marker.
Around the corner in the pharmacy receiving area, pharmacists Sarah Gebhard and Stephanie Vecero rip open cardboard boxes from a supplier, stacking bags of clear fluid on trays and carrying them to a hyper-density shelving unit that arrived yesterday.
Gebhard worked at Holy Spirit and Vecero came from Hershey before transferring to Hampden.
"The nicest part is to see it built the way we want," Vecero says.
"You don't get this opportunity a lot," Gebhard says.
She walks over to admire the IV room, where pharmacists prepare sterile compounds for IV fluids and chemotherapy. She points out the automatic door, the large buffer room and smart layout.
"It's beautiful," she says. "I've never had an IV room this nice."
Some pharmacy employees arrived as early as 5 a.m. to get ready for the day, even though they wouldn't officially open until the first order came in.
---
9 a.m.
Ann Hubbard sold the first item from the new Hampden Medical Center gift shop on credit the day before the place even opened.
Two nurses popped in and grabbed a pack of plain M&Ms to share.
"They said they needed chocolate," she says. "So if someone comes in and says they owe you $1.25, just accept it," she tells retail associates Susan Schoen and Wanda Tabler, just after the shop's opening.
Hubbard, who ran the Holy Spirit Medical Center gift shop for 31 years, said employees are typically her biggest customer demographic. "Especially with the clothing and after-lunch snacks."
She let two employees in before the official 9 a.m. opening to get a jump on the 20% off apparel sale she was running to celebrate the grand opening.
Gretchen Ramsey, regional director of patient experience and volunteer engagement, bought a silky soft gray-and-white striped Penn State sweater. Suzy Keagy, a patient experience coordinator, grabbed a big travel bag.
"They were both two of our most loyal shoppers at Holy Spirit," Hubbard says.
Clinical informatics specialist Alyce Miller and systems analyst Felecia Williamson ooh and aah over the fall merchandise and Hubbard's attractive displays.
"Look at this!" Williamson exclaims, flipping over a pumpkin decoration to show off a Halloween scene on one side and a Thanksgiving one on the other. "It's really cute."
In addition to seasonal, inspirational and humorous gifts and Penn State apparel, a wall next to the register serves up snacks to satisfy both sweet and savory palates.
A standing display of rainbow fuzzy slippers and flamingo and taco socks promise to bring both comfort and joy in one corner. Shelves behind them offer everything from back scratchers and body wraps to scalp massagers and a satin pillowcase called "Bye Bye Bedhead" for those who prefer more high-end linens than the new Medical Center provides.
"You just kind of learn what is popular and what sells," Hubbard says.
The most sought-after item on opening morning is a light blue T-shirt with Penn State Health Hampden Medical Center on the front, worn by Information Technology staff filling the building for opening day support.
It's one thing she doesn't have for sale.
---
9:34 a.m.
The first patient arrives at the Emergency Department. Minutes later, the second arrives.
Both are brought to rooms for evaluation.
"Everybody's doing everything well," says Dr. James Leaming, director of emergency medicine, interim vice president for medical affairs at Penn State Health Hampden Medical Center.
---
10:30 a.m.
Rebecca Saylor's first meal in October was radioactive eggs and gluten-free toast with jam in the Imaging Department at Penn State Health Hampden Medical Center.
Not exactly comfort food, but the Lemoyne resident says the hospital itself is comforting and welcoming.
"This place has a wonderfully holistic, non-institutional feel," Saylor says. "Just waiting here for my next imaging, I love looking out the windows and seeing the grass and trees."
Saylor was supposed to be the first imaging outpatient at Hampden Medical Center, but she arrived 10 minutes late, she explained. Not because of traffic concerns — "this place is so convenient, and so easy to find" – but because she was up until the early hours of the morning talking with her daughter. "We take these moments when we can," Saylor said. "She's in her 20s and I love when we can take time to talk."
For weeks, staff at Hampden have worked to learn how to use the state-of-the-art equipment – sometimes testing it on one another to ensure the experience of the first real patients is as good as can be.
Taking care of family is top of mind for Saylor. Her loved ones have had several "brushes with the ER this past year," she said. "This hospital is so calming, so welcoming. No one wants to be in the hospital, but if you have to be, this is where I'd want to be, and where I'd want them to be too."
After eating her unusual breakfast, Saylor has had two images of her digestive track taken. She's awaiting two more before the morning ends. And she's enjoying the new bright, open hospital while she does that.
11 a.m.
A few hours after opening, a first patient meal had yet to be ordered, but the Food Services team was hard at work.
In the café, Food Services employee Jessica Kerper prepared for the lunch crowd. Baked tortellini, barbecue pulled pork quesadillas and margherita pizza were on the menu. House-made stromboli browned in the brick pizza oven. 
In the kitchen, staff readied the ingredients for a fresh salad, chopping vegetables and chicken.
"We're excited and ready to go," said Linda Lawrence, director of Food and Environmental Services. "We're just waiting for patients."
Upstairs the lunch crowd begins to trickle in. Staff cheerfully call out to customers, "How about a grilled chicken sandwich? Lettuce, tomato? How can I help you?"
---
11:17 a.m.
The first ambulance to arrive at Hampden Medical Center makes a K-turn and backs up to the sliding doors.
Emergency Medical Technician-Paramedic Kevin Swade and Advanced Paramedic Paul Rundle wheel a patient into the Emergency Department.
They are from Hampden Township EMS.
---
11:30 a.m.
James Van Ness wasn't planning to tour a brand-new hospital Friday. He was making his annual trek to a car show in Carlisle to check out the Corvettes and had never heard of Hampden Medical Center.
But when someone rear-ended his truck on Interstate 78, Van Ness's route changed. His neck was throbbing. At first he thought he'd go to a nearby urgent care, but then he learned a new hospital was closer.
When he checks in, Van Ness finds himself the focal point of not one, not two, but a team of health care workers just itching to deliver care. He's one of the opening salvo of patients pouring steadily into the Medical Center. By the time he arrives you can count the number of people like him – Hampden patients – on two hands.
A gaggle of eager professionals take him to a room, and within minutes a doctor checks his neck and says nothing seems to have broken.
"It was great," he says moments later, calling some friends on his cell phone from his room. "The level of care was amazing."
Once he lines up his ride, Van Ness plans to get back on the road in time to catch the rest of the car show.
---
12:30 p.m.
The quote on the wall within Penn State Health Hampden Medical Center's meditation room says this:
"Take courage, friends. The way is often hard, the path is never clear, and the stakes are very high. Take courage. For deep down, there is another truth: you are not alone."  Wayne Amason
That quote embodies Rev. Kyrian Buba's hope for the staff, patients and visitors whose lives are touched by Penn State Health's newest hospital.
"I want them to know I'm here for them, I care for them, and they are not alone," he said.
Early Friday afternoon, just hours after the hospital opened, he was already in the emergency department, offering empathy and a listening ear to the first pediatric patient and his parents.
Rev. Buba is Hampden Medical Center's staff chaplain. Shepherding people has been his life, and in his own words, he loves it with every ounce of his being.
Born and raised in Nigeria, he spent the better part of his life pastoring a church there. In 2014, he came to the United States to be closer to family. For the next few years, he took time to observe and learn the culture while also earning advanced degrees in divinity and patient counseling. He said a combination of those experiences, as well as nearly three years of clinical training in hospital environments, showed him what he always believed: that the human soul connects and bonds – regardless of each person's culture, traditions, or religion – when love, respect and dignity are extended graciously.
Rev. Buba was introduced to Penn State Health in February when he began providing part-time pastoral care services at Holy Spirit Medical Center.
"Right away I connected with the spirit and culture of the organization," he said. That led to his new position as chaplain at Hampden.
His role, as he sees it, is simply to be there for people, in whatever way they want, to support their physical, emotional and spiritual health.
Sometimes it's by listening. Sometimes it's by talking. Sometimes it's by praying with or for them. Sometimes he's the person who bridges the gap between a patient and provider, or even a patient and family.
As an example, he shared a story about a 37-year-old man who was in his final days of a battle with cancer. The man's last wish was to see his estranged teenage son. Working with the hospital's care coordinator, he was able to find and call the son, and encourage him to visit his father.
"The next day he showed up," Rev. Buba said. "I never saw this patient smile like he did when he laid eyes on his son."
On Thursday and again Friday, Rev. Buba made his way throughout Hampden Medical Center as eager yet nervous leaders and their teams prepared for their first patients. He encouraged them, let them know he was praying for them, and made sure they knew he was there as much for them as he is for his patients and families.
"When you can make staff happy, that transfers," he said.
---
12:47 p.m.
The blood has started flowing underground at Hampden Medical Center.
It arrives via pneumatic tube in vials labeled by health care workers in the emergency department. The tubes carry the blood to the basement lab, where technicians feed it into equipment that scans it for illness and abnormality.
Lab workers seldom see patients, but they play integral roles in their diagnoses. So far, the handful of men and women milling around acres of equipment are doing well, says Lab Manager Beth Houser. Samples have started to trickle in.
"Everyone is in high spirits," Houser says. "I thought everyone would be nervous, but it doesn't seem like it."
The lab works with others at nearby Holy Spirit Medical Center, Hershey Medical Center and St. Joseph Medical Center to handle tests for which it isn't equipped. Couriers arrive several times a day to ship samples. Already a few are awaiting delivery.
---
1 p.m.
Diana Prowell, a pulmonary diagnostics and rehabilitation supervisor at Holy Spirit Medical Center, is also a respiratory therapy and pulmonary diagnostic supervisor at Hampden Medical Center. And for the past two years, she's been fighting cancer. "When you spend your career working in a hospital, you never expect to be a patient," says Prowell as she leaves an ultrasound appointment at the new medical center on its opening day, "but here I am." Her doctor ordered the imaging to see if her cancer treatment caused a blood clot.  
No stranger to hospitals as an employee or a patient, Prowell says she loves it here. "Everybody is so friendly and welcoming, and also mindful of my privacy. They're caring and knowledgeable. That's what I want in my team, and that's what I experience here as a patient."
Prowell's treatment includes chemotherapy, radiation and immunotherapy. After her ultrasound at Hampden Medical Center, she heads to Hershey Medical Center for her latest round of radiation. But she will stick with Hampden for all testing and procedures that can be done there.
"I love this hospital and I know and love the employees who work here, especially the team I put together here," she says. "That's what keeps me working every day."
---
2:10 p.m.
With six weeks of training under her belt, Sharon Heron was well prepared to serve as Hampden Medical Center's receptionist on opening day. While the majority of the first people through the door were support staff and vendors, curious neighbors soon made their way inside.
Approaching her desk, they come ready with a variety of questions. Can I get a COVID test? Where do I find the café? Will you give me a tour?
"There has been a lot of curiosity," she says. "Most are very happy to have a hospital close to where they live."
One hearing-impaired patient was pleased to learn the hospital had on-demand access to interpreter services through LanguageLine. Heron quickly connected him with an operator skilled in American Sign Language.
"He was able to explain to her what he needed," she says. "It was a great way to communicate with someone, make sure his message was getting to me and make sure I had the right answers." 
---
2:15 p.m.
---
2:30 p.m.
As the afternoon wears on, boxes of syringes, tongue depressors, hospital gowns, surgical tape, catheter trays, personal protection equipment and other items are piled on shelves by supply chain staff.
The equipment, located in a large ground floor room, will make its way upstairs throughout the day and night to be used by the hospital staff.
Patrick Stapleton, supply and logistics manager for the hospital, isn't focused on the thousands of boxes he saw stacked and ready to be moved to different departments in the hospital. He is thinking about what might not be there and what supplies might quickly deplete and need to be reordered.
"A lot of the people in this room are thinking about today, which is important, but I'm looking ahead into the future," Stapleton says, who spent much of his career as an industrial engineer and only joined Penn State Health a few months ago.
Stapleton, of Carlisle, was happy to get assistance from people outside Hampden Medical Center as the hospital opened its doors and doctors and nurses needed a steady flow of supplies.
Jim Fisher, who usually supports Penn State Health Holy Spirit Medical Center, has been helping the new supply chain office get off the ground. He plans to work at the hospital at least a few days next week.
"We are flush with supplies and everything is right for opening day," says Fisher, who lives in Camp Hill. "Today it is all hands on deck."
Andrew Anthony is busy helping to unload trucks on the hospital dock and take them to the supply chain room, ensuring they are placed on the right shelves.
As supervisor for the supply chain OR/procedural area, he says the day has very busy but all is going smoothly.
"I'm glad we are finally open," says Anthony, of New Bloomfield. "We've been waiting for this day."
---
2:43 p.m.
---
2:45 p.m.
Wearing a pink smock, black pants and comfortable shoes, Vicky Shoenberger rolled her cart of cleaning supplies down a hallway dotted with patient rooms. Shoenberger, who works for environmental services, was busy dusting, wiping down furniture and sweeping floors in patient rooms.
On her blue cart she keeps a notebook filled with information she jotted down during her three-week training on hospital housekeeping. She looks at it when she needs a refresher on something she learned.
"I'm excited to be here," she said as she wielded a long duster and wiped off the mounted television in a patient room.
Shoenberger, who lives in Mechanicsburg, worked in a hospital for 25 years, later she did housekeeping at a hotel. She is glad to be back in a hospital setting.
"I like talking to the patients," she said. "They tell you about their families and are happy to have someone to talk to."
She is one of 15 members of the Environmental Services staff that will grow as the hospital becomes busier, said Linda Lawrence, director of food and environmental services for Penn State Health Holy Spirit Medical Center and Penn State Health Hampden Medical Center.
Lawrence said the first day has been going smoothly in her department and because of the training that has gone on since the summer, people are well prepared for the hospital opening.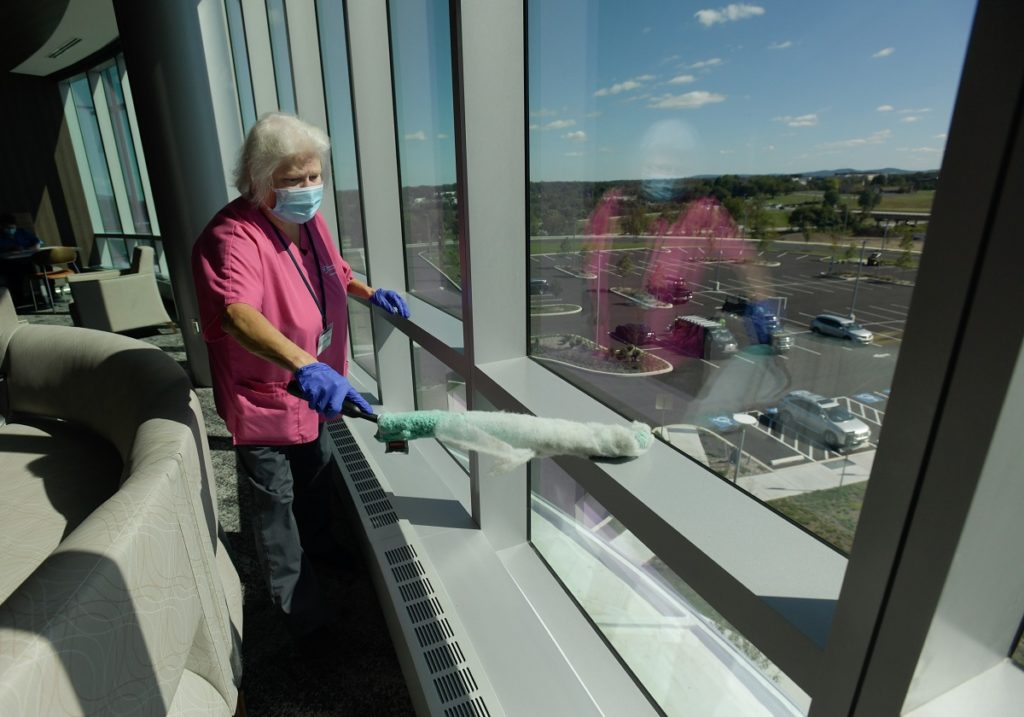 ---
3:04 p.m.
---
3:30 p.m.
Julius Cabbagestalk, a support specialist team lead for Penn State Health Information Services, normally manages a team that handles technology issues via phone calls.
But today he and Gwen Phillips, manager of Information Services, have been walking the hospital halls asking people if they need any assistance. They have worked on nonfunctioning staff access cards, Wi-Fi connection glitches and answered a lot of questions that started with the words "how do I…"
"The rollout has been smooth," Cabbagestalk says. "The IS teams have done a lot of due diligence beforehand."
Being at the hospital in person helps build trust with people, Phillips says.
"When they have issues in the future, they know we are more than just a voice over the phone," she says.
Phillips is excited that her team can use an innovation: the Information Services Desk Mobile Cart, which can be wheeled around to different departments to provide technical help—something her team can use at other hospitals down the road.
---
3:45 p.m.
Eight hours and 13 patients after Hampden Medical Center's 8 a.m. opening, the staff in pharmacy had fielded only two phone calls and dispensed zero medications.
For administrator Brandon Silva, that was evidence some of the innovations he put in place were already making a difference in patient safety and staff efficiency.
Silva moved from Florida to Pennsylvania for this job, embracing the challenge of getting a new hospital pharmacy up and running. When asked about some of the technologies and approaches being piloted at Hampden, he points to the new Pyxis medication dispensing system and Kit Check software.
For Hampden's Pyxis machines, Silva gathered information from the health system's other hospitals to create an inventory of every medication and every supply that nurses need to care for patients. It's all there in the Pyxis machine. Additionally, for treatments that are administered frequently, the Hampden Pyxis machines also include kits that provide all medications and supplies at once, versus providers having to access them individually.
For example, if a patient needs to be intubated, once the nurse enters the information, drawers open, containing all supplies needed for intubation.
"The goal was to give nurses everything they need, right there at the patient's bedside," he explained.
Kit Check is technology that replaces tedious and time-consuming manual restocking practices. At Hampden, Kit Check is being used to quickly restock crash carts that contain life-saving medication and equipment used in emergencies. When a cart has been used, the tray containing supplies is put inside a machine within the pharmacy department and within seconds, the staff can see what needs to be replaced. It also notifies them when medications are approaching expiration, have been recalled or are running low. It tracks the location of every kit.
"We can turn around a kit so quickly, and we know exactly where they are," Silva said.
Hampden also contains nearly a mile of a pneumatic tube system – similar to those used by banks at their drive-through — that enables the pharmacy to send medications and supplies to areas throughout the hospital. What's unique about Hampden's system is that it's wider, allowing more items to flow through it.
As with Pyxis and Kit Check, the new system saves time and improves efficiency.
---
4:30 p.m.
"Good afternoon," says the voice you hear when you phone Hampden Medical Center. "Thank you for calling Penn State Health Hampden Medical Center. How may I direct your call?"
The woman behind the voice, switchboard operator Kim Wacome, has been stationed in a small office by herself near the hospital's administration suite since 7 a.m. The phone hasn't rung as much as she's expecting. Wacome has fielded about 40 calls in all today.
Most of the time when the ringer sounds, Wacome must do her push-button traffic cop job – route the callers to the Emergency Department, Imaging or elsewhere. A few callers just wanted to double check that the Medical Center had opened as scheduled.
"Hallelujah!" one man shouted, when she confirmed the new hospital's doors had, in fact, parted for patients for the first time. He lives in Carlisle and is thrilled he no longer had to drive to Hershey for his Penn State Health care.
In an age of automated call screeners, Wacome's job conjures images of old-fashioned boards and wires. But for the past week, she has been learning all new tech, the latest in a string of software that seems to sprout new tangles every year.
Having a real voice on the other end of the phone isn't just a nicety; doctors depend on Wacome to alert security of possible problems (she has a walkie-talkie for that) or contact other departments for emergencies (she has a phone linked to a special emergency line for that).
For patients, Wacome is a necessary link in a lifeline.
She's been working on switchboard for years. She started at Bass Pro Shops and eventually landed a job at Hershey Medical Center, where she worked for years. She departed for another hospital last year, but when she saw her chance to come back to Penn State Health and get in on the ground floor at Hampden Medical Center, she jumped.
Before phones, Wacome wanted a career as a nurse. She planned to enroll in nursing school. But when her husband passed away, leaving her to raise two children alone, she abandoned her plans.
Still, she wanted to help people.
"That's why I do this," she says.
---
7 p.m.
The sun sets on opening day.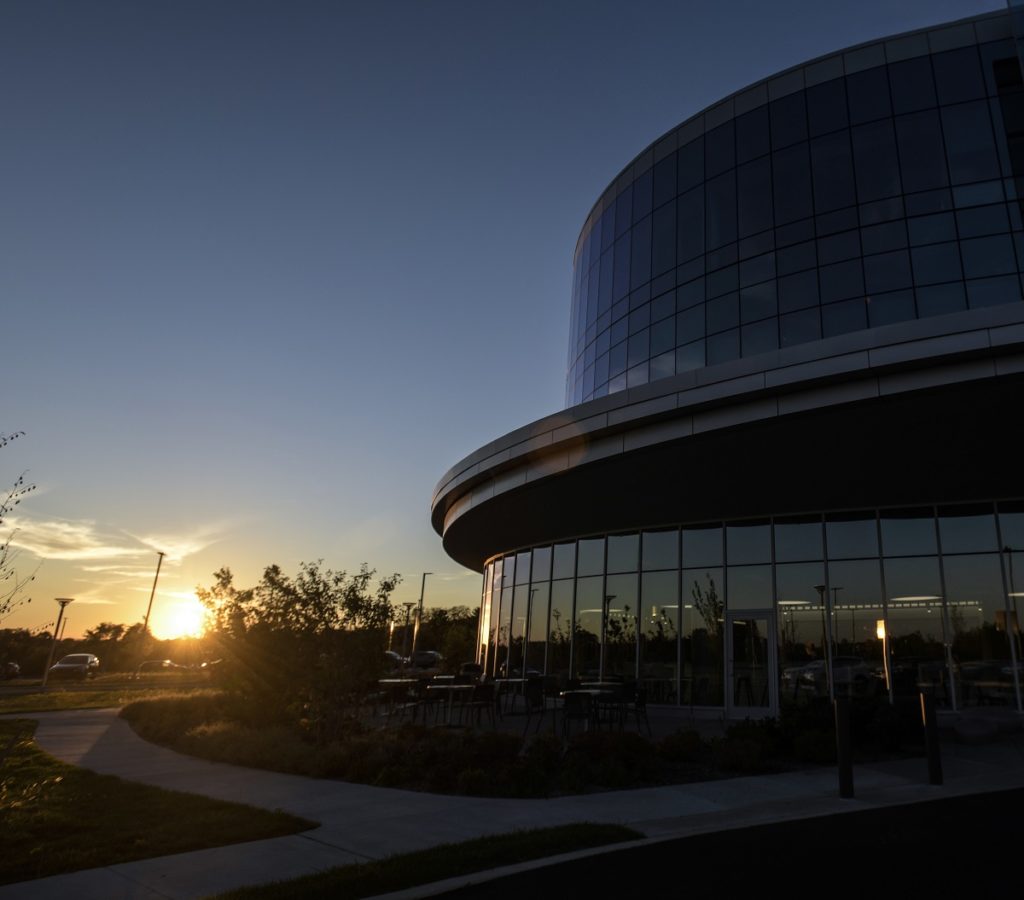 If you're having trouble accessing this content, or would like it in another format, please email Penn State Health Marketing & Communications.