Local kidney donor inspires others to give life with winning design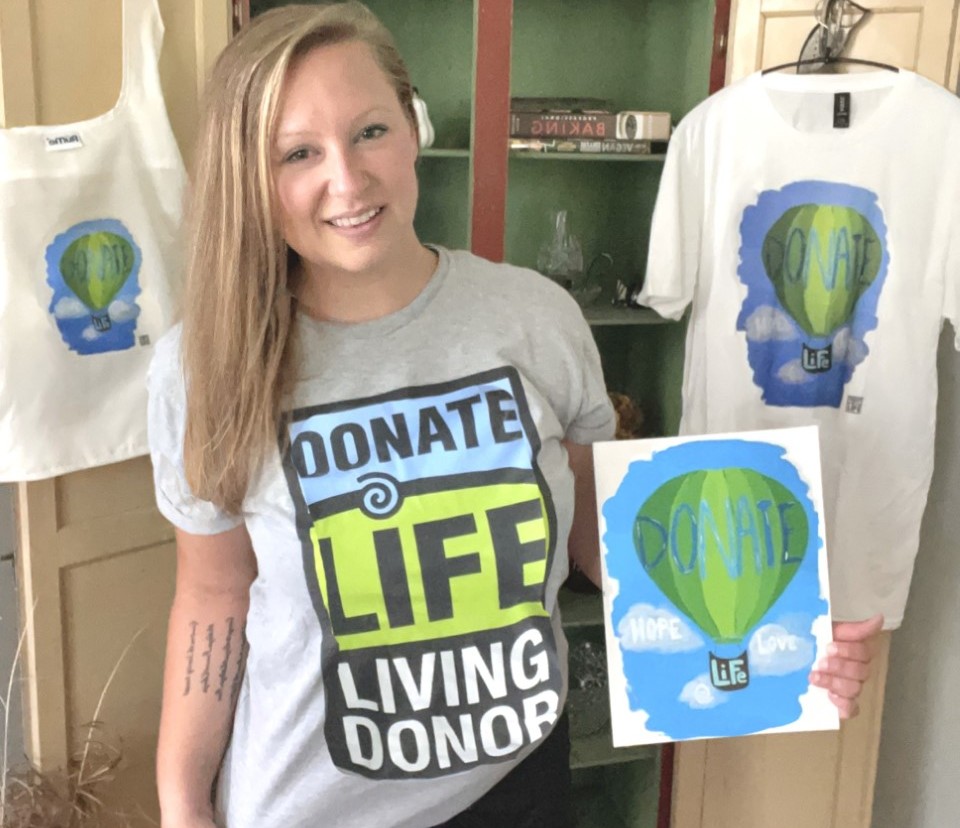 When Lauren Gydosh learned a former co-worker needed a new kidney ─ stat ─ she stepped up to help and ended up being a perfect match.
"I did for her what I hope someone would do for me if I were in that situation," said the 32-year-old Womelsdorf resident who has become passionate about inspiring others to consider organ donation.
Gydosh channeled that passion into her paintbrush and composed the winning design for a contest sponsored by Donate Life, a national organization dedicated to increasing the number of registered organ and tissue donors through public education and awareness.
Her design features a hot air balloon that says "Donate Life," surrounded by clouds that carry the words "hope" and "love."  It's available on the Donate Life website on T-shirts and tote bags.
"After I gave my kidney, I wanted to have some hand in advocacy to tell my story, and the art contest seemed a great way to do that," said Gydosh, who loves to paint in her spare time.
She first met Tiffany Runkle when the two worked for York County 911. Gydosh knew her co-worker had kidney problems but didn't know the extent until later, when the two no longer worked together, and she saw a Facebook post in which Runkle shared uncertainty over her future.
"She was in stage four renal failure, and she'd been on the transplant waiting list for four years," said Gydosh, who hadn't spoken with her former co-worker in more than a year. "I decided to get tested and see if I matched."
When she found out she did, she surprised Runkle at work with a gift box that contained a plush kidney and a certificate declaring the match.
"There was a lot of crying and hugging," Gydosh said.
The transplant took place at Penn State Health Milton S. Hershey Medical Center in 2018. Runkle was able to get her dialysis port removed and is still doing well nearly four years later.
"Lauren and the sacrifice she made mean everything to me," Runkle said. "Every day I think about how incredibly fortunate I am."
It took about six weeks for Gydosh to gain back her abdominal muscle strength, but that was a small price to pay, she said. She encourages others to research whether donating is a good choice for their health situation and, if so, forge ahead and get tested to be someone's lifesaving match.
Now a dispatcher for Penn State Health Life Lion Emergency Medical Services, Gydosh sometimes is responsible for setting up helicopter flights to procure donated organs, making her connection to the cause even deeper.
"It's one of the things I'm most proud of that I've done with my life," she said. "It's a way to change someone's life in a most positive manner."
If you're having trouble accessing this content, or would like it in another format, please email Penn State Health Marketing & Communications.