Bouncing back: Bilateral knee replacement at age 71 helps Mount Joy man continue family tradition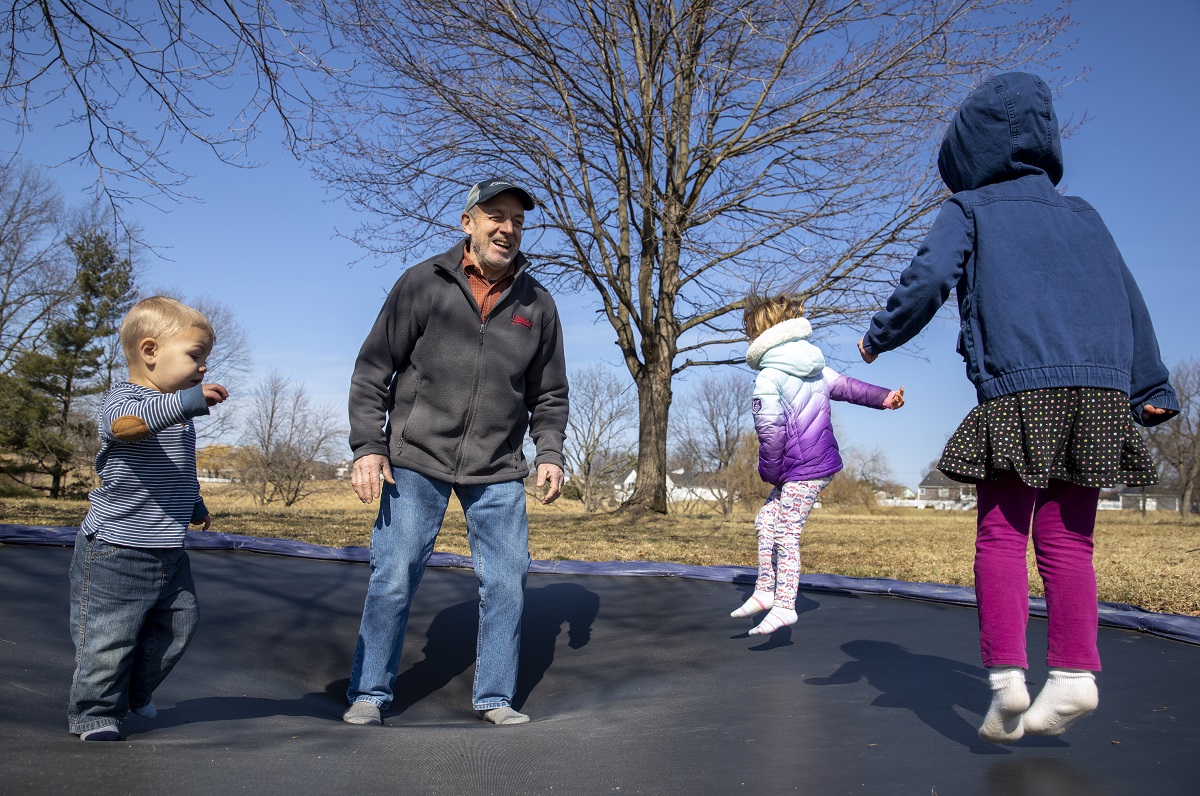 When the sun rises each morning, Galen Martin drives to the family's farm where the laying hens are housed. Once he gets there, he walks approximately two miles on the hardwood floor, checking in on the flock and the equipment. Farming is the continuation of a generations-long family tradition at Martin Grandview Farms in Mount Joy.
"We live on the edge of the farm where I grew up," Martin says. "My grandparents, Anna and J. Earl Martin, Sr. built the house that we live in. My wife and I are the third generation of Martin grandparents living here."
Even though he calls himself "retired," Martin remains determined to help his son Darrel on the farms. Darrel feeds beef cattle as well as growing corn, soybeans, wheat and hay. That's what led him to take a remarkable step—getting both of his knees replaced in the same surgery at Penn State Bone and Joint Institute last year at age 71.
"I normally don't do bilateral knee replacements on people over age 70," says orthopaedic surgeon Dr. Charles "Chip" Davis, who performed Martin's operation. "But I could see he was very determined, very committed, with a supportive family. It was clear he was going to get up and active very quickly."
A 15-year journey to knee replacement
Martin first noticed what he called "sensations" in his knees about a decade and a half ago. "I talked to my family doctor about it," he says. "They did some X-rays, checked things out, but couldn't find anything significant."
By 2019, Martin's wife, Nancy, started to grow concerned about her husband's health. "She noticed I was limping some," Galen Martin says. "It was challenging for me to go up and down stairs."
His daughter-in-law, Kelly Martin, is a certified registered nurse practitioner with the Bone and Joint Institute. She recommended that he see Davis. "He said I had bone-on-bone pain and that I would need to get my knees replaced sometime," Galen Martin says.
At that appointment, Davis gave him cortisone injections in his knees to relieve discomfort. "They made some difference but not a lot," Martin says. About a year later, Martin damaged the Achilles tendon in his left ankle. "I figured since that would take some time to heal, I better check into getting my knees done."
In summer 2020, during the height of the COVID-19 pandemic, Martin had a virtual appointment with Davis. "At the time, Galen had significant arthritis in both his knees and tried standard nonsurgical treatments but still had persistent pain," Davis says. "His pain was limiting his activities—what he could do on the farm, what he could do with his family. We discussed surgery and, in collaboration, we made the decision to go forward."
"I was impressed with how concerned he was about my situation," Martin says of Davis. "He explained things, told me what it would be like."
Determined to recover
On Oct. 14, 2020, Davis performed a four-hour procedure at Penn State Health Milton S. Hershey Medical Center to replace both of Martin's knees. About four hours later, Martin was out of bed and walking with a walker. He spent three days and two nights in the hospital. After a week, he replaced the walker with crutches, and a few days later, he started walking with only a cane.
"I was determined," he says. "I wasn't going to sit around too long."
Martin received physical therapy for seven weeks and also set his own goals. "I wanted to build up to where I could do a two-mile loop up the hill, around another road and then come back down to our house," he says.
Through it all, Martin relied on Nancy and his entire family, which includes four grown children and 15 grandchildren, ranging in age from 16 years to two weeks.
"Nancy and Kelly spent a few hours at my house taking away throw rugs and other obstacles so I wouldn't trip when I came back from Hershey Medical Center," Galen Martin says. "Once I was home, my 4-year-old granddaughter would take her play medical kit and check me out. She was taking care of grandpa!"
His quick recovery speaks to the care he received from the Bone and Joint Institute team, which performs more than 1,100 joint replacement procedures each year. "The biggest progress made in joint replacement over the last eight to 10 years is in patient recovery," Davis says, attributing that improvement to better pain control that includes less reliance on narcotic medications.
"Patients used to spend four to five days in the hospital after knee replacement," Davis says. "Currently, 85 to 90% of our patients go home either the day of surgery or the next day, and about 25 to 30% of patients go home the day of surgery."
Back to farm and family
Nearly 17 months after his operation, Martin is back to doing all the things he used to do. He's still making daily walks around the chicken house and helping out at the farm, which is now run by his son, Darrel Martin. He's active as a trustee with his church, Mount Pleasant Brethren in Christ in Mount Joy. And he's spending time playing with his grandchildren—even getting on the trampoline with his granddaughter. "She says, 'More! More!'" Martin laughs.
And while recovering from bilateral knee replacement surgery at age 71 isn't easy, Martin is glad he did it. "The Lord my creator gave me the patience and endurance to do this," he says. "It wasn't an easy thing to go through, but it was worth it, because I don't have pain in my knees anymore."
---
Find out if you would benefit from knee replacement surgery. Schedule a consultation with Penn State Bone and Joint Institute: 717-531-5638.
If you're having trouble accessing this content, or would like it in another format, please email Penn State Health Marketing & Communications.