Penn State Health dedicates newly named Carlino Family Inflammatory Bowel Disease Center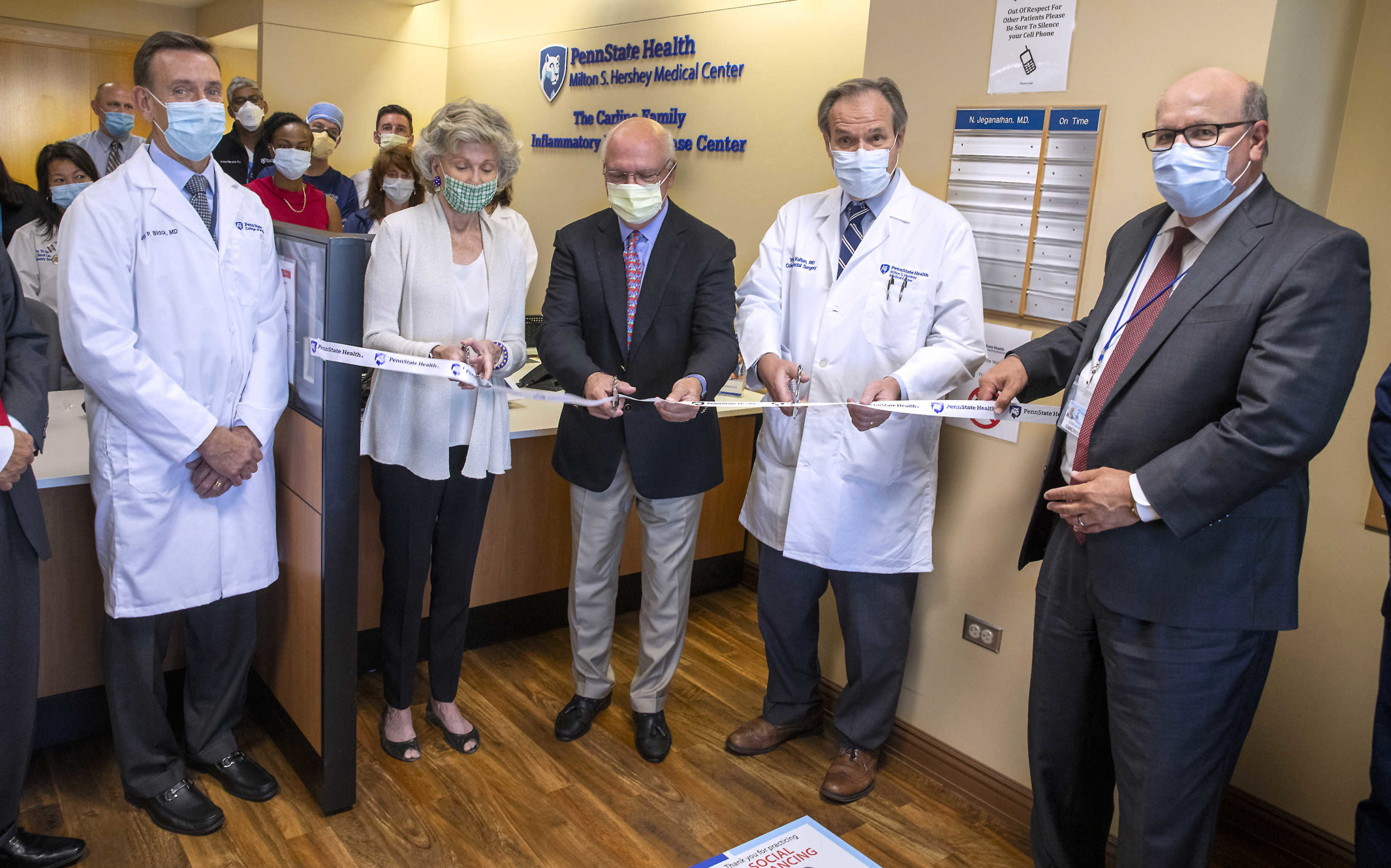 In recognition of a new $5 million gift from longtime Penn State philanthropists Peter and Marshia Carlino, Penn State Health has renamed its inflammatory bowel disease (IBD) center. The new Carlino Family Inflammatory Bowel Disease Center is the health system's first named center, which brings together experts from multiple specialties to enhance diagnosis and treatment and pursue cures for patients with inflammatory bowel diseases such as Crohn's disease and ulcerative colitis. With their gift, the Carlinos have established two new endowments to support faculty and research infrastructure at Penn State College of Medicine and added to the existing IBD patient support fund they created in 1998.
"We are truly grateful for Peter and Marshia's commitment to advancing IBD care and research that will ultimately save and improve countless lives," said Penn State Health CEO Steve Massini. "Their support over more than 20 years has been instrumental in developing our nationally recognized IBD program, and their continued generosity ensures that our teams can provide the highest level of coordinated care to patients across central Pennsylvania and beyond. The Carlinos' gift solidifies their already strong legacy, and we are honored that the IBD Center now carries their name."
The newly established Peter and Marshia Carlino Faculty Endowment will support outstanding physician-scientists who have a dual focus on clinical care and research. With previous leadership gifts, the couple has established five other faculty funds in IBD, including three early career professorships, a research professorship and an endowed chair position.
"Endowed faculty positions help us recruit and retain outstanding faculty at every level and support their teaching and research," said College of Medicine Interim Dean Dr. Kevin Black. "The Carlino family's strong support has enhanced our ability to mentor the next generation of physicians and scientists, translate therapies from the bench to the bedside and transform medicine."
With their latest commitment, the couple also established the Carlino Family Inflammatory Bowel and Colorectal Diseases (IBCD) Biobank Endowment, which supports a vital resource for translational IBD research at the College of Medicine. The IBCD biobank, which was established in 1998 with initial support from the Carlinos, now includes blood, DNA and surgical specimens collected from more than 4,000 patients who have consented to having their tissues used for basic science research.
"Our IBCD biobank is the largest containing blood, DNA and surgical tissue samples from patients, which allows us to do a remarkable amount of research into the genetics and causes of IBD," said Dr. Walter Koltun, director of the Carlino Family IBD Center and Peter and Marshia Carlino Chair of IBD in the Division of Colorectal Surgery. "The Carlinos' support promotes our ability to translate this research into clinically relevant discoveries and gives patients hope for a healthier future. I am deeply grateful for their longstanding partnership and truly honored to lead the Carlino Family IBD Center."
The Carlinos' recent commitment places them among the top five individual donors in the history of Penn State Health and Penn State College of Medicine. In addition to their support to enhance care, education and research through the Carlino Family IBD Center, the couple has supported Four Diamonds, Penn State Health Children's Hospital and many other departments and programs at Penn State Health and the College of Medicine. They have also helped to provide advanced medical equipment and technology at Penn State Health St. Joseph Medical Center, and in 2002, the Carlinos established the Elizabeth Powers Carlino Nursing Excellence Award in honor of Peter's late mother to recognize outstanding nurses and further professional development opportunities.
A 1969 graduate of Penn State's College of the Liberal Arts, Peter Carlino is former CEO and current Chairman Emeritus of the Board of Penn National Gaming, Inc., which has also generously supported the Carlino Fund for IBD through proceeds from an annual golf tournament and Penn State Health Children's Hospital with a leadership gift to name the surgical waiting area. Carlino has also given of his time and expertise by serving as a member of both the Penn State Health Board of Directors and the Penn State Health St. Joseph Medical Center Board of Directors and as a fundraising volunteer with Penn State's "For the Future" and "Grand Destiny" campaigns. He also serves the University as a Presidential Counselor.
"Our family knows the capability that physicians and scientists at Penn State Health and Penn State College of Medicine have to improve the lives of patients dealing with life-altering conditions like Crohn's Disease or ulcerative colitis," said Peter Carlino. "We also know how important private support is to help maximize their capability and ensure that more patients in central Pennsylvania have access to the very best IBD care. We are proud to have such an expert team caring for people in our region and glad to support the Center's continued excellence."
Support from the Carlinos will advance "A Greater Penn State for 21st Century Excellence," a focused campaign that seeks to elevate Penn State's position as a leading public university in a world defined by rapid change and global connections. With the support of alumni and friends, "A Greater Penn State" seeks to fulfill the three key imperatives of a 21st-century public university: keeping the doors to higher education open to hardworking students regardless of financial well-being; creating transformative experiences that go beyond the classroom; and impacting the world by serving communities and fueling discovery, innovation and entrepreneurship. To learn more about "A Greater Penn State for 21st Century Excellence," visit greaterpennstate.psu.edu.
If you're having trouble accessing this content, or would like it in another format, please email Penn State Health Marketing & Communications.