Radiology resident Park recognized for exceptional teaching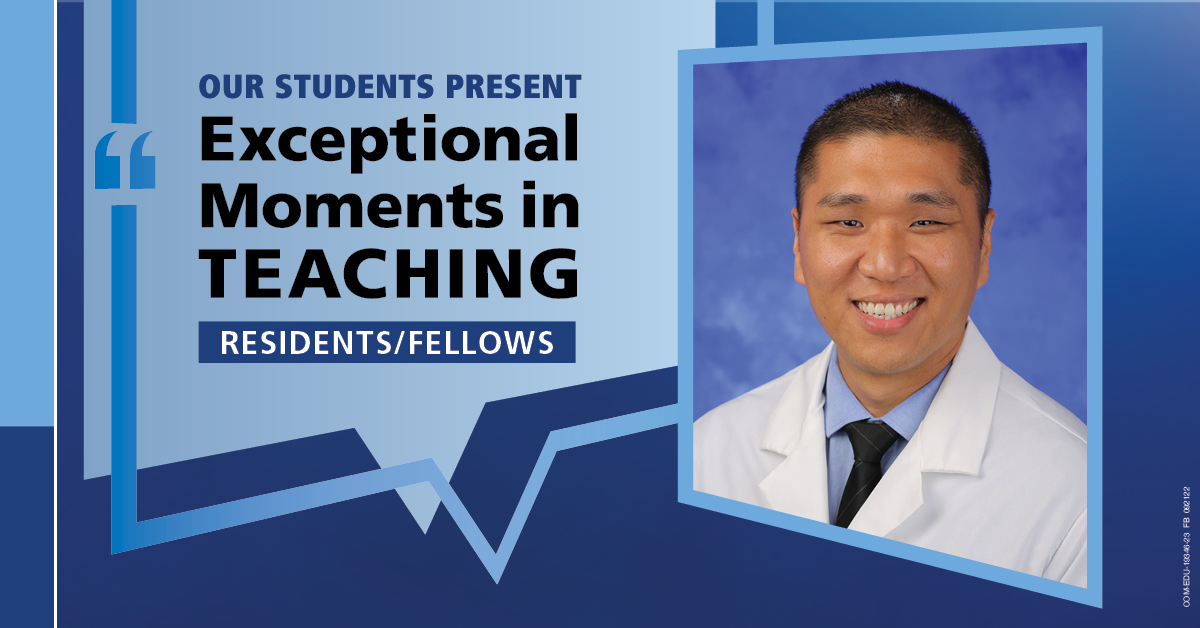 Dr. Joseph Park, a radiology resident at Penn State Health Milton S. Hershey Medical Center, was recognized in September 2022 as part of the Exceptional Moments in Teaching program of Penn State Health and Penn State College of Medicine.
"During my time working with Dr. Park in the Emergency Department/Trauma Reading Room," a current student wrote, "he spent ample time involving me in the work he was doing. He took the time to go over his systematic approach to reading chest radiographs and provided examples of common findings."
"He would allow me to give my impression of a chest X-ray (CXR) before he dictated the report, which was an engaging way to work teaching into the day-to-day workflow and allowed me to practice evaluating a CXR and articulating my findings."
Park was born and raised on Oahu, Hawaii. He attended the John A. Burns School of Medicine at the University of Hawai'i at Manoa and initially matched into urology at Penn State College of Medicine. After two years, he switched to radiology and is currently in his fourth and final year. Park is specializing in nuclear medicine and will likely return home to Hawaii to practice after residency.
Penn State College of Medicine's Office for a Respectful Learning Environment recognizes exceptional faculty, residents and fellows with the monthly "Exceptional Moments in Teaching" program. Each month, one faculty member and one resident/fellow are highlighted for their contributions. College of Medicine students are invited to submit narratives about faculty members, residents, nurses or any other educators who challenge them and provide an exceptional learning experience using the online nomination form.
The Office for a Respectful Learning Environment fosters an educational community at Penn State College of Medicine in which all learners and educators feel supported, challenged, valued and respected. It serves all learners at the College of Medicine: medical students, graduate students, physician assistant students, residents and fellows.
See previous faculty and resident/fellow honorees here.
If you're having trouble accessing this content, or would like it in another format, please email Penn State Health Marketing & Communications.