Hair ties: At THON, families, patients bond over common side effect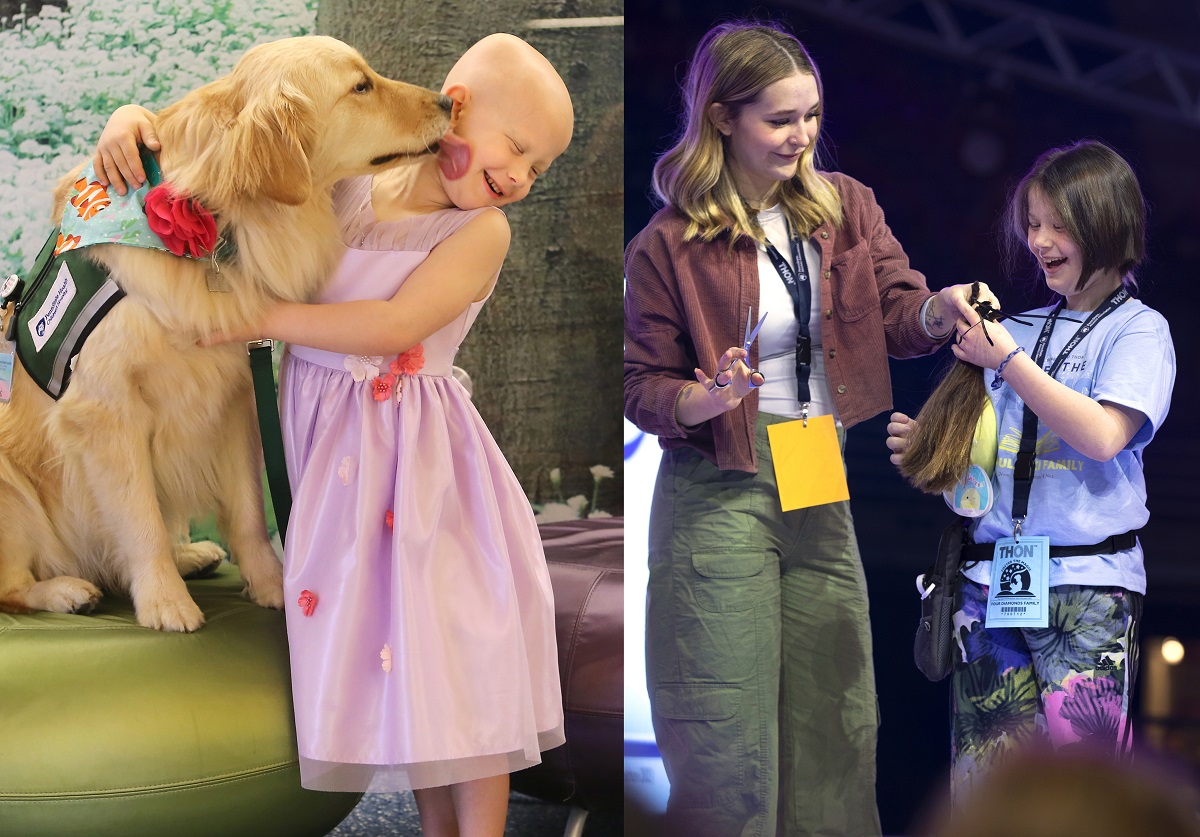 Until this weekend, Devin Pulaski had a ton of hair.
Sometimes, she wore it pulled back with a headband, and it spilled down her shoulders like an iron-colored waterfall. Other than an occasional trim to remove split ends, the 10-year-old had been letting it grow since she was 4.
But late in the morning of Feb. 18 during THON, the 46-hour event that every year culminates efforts to raise millions of dollars for Four Diamonds at Penn State Health Children's Hospital to defeat childhood cancer, Devin stopped letting it grow. On a stage in front of thousands of screaming dancers at the Bryce Jordan Center in State College, a barber made a couple of snips and handed Devin several foot-long locks of her once mighty mane.
Under the spotlights, Devin's mouth gaped. She absently stroked her recently detached strands, which she later donated to Wigs for Kids, a nonprofit that manufactures hair replacement products for children when they temporarily lose their own during cancer treatment. Donating was Devin's idea. Giving it back has been a goal practically since she lost her first head of hair, the one her parents remember as softer and lighter.
When she was four, doctors discovered Devin had a stage 4 Wilms tumor on one of her kidneys. A surgeon at Penn State Health Children's Hospital removed the organ and started her on chemotherapy. So, now they speak of Devin's hair before treatment and Devin's hair after. The after hair started off as wavy and coarse and eventually grew to mythic proportions.
"When I first lost my hair, I was like, 'I want to grow it back so long I'll look like Rapunzel,'" she said. And when her mother, Debbi Miller, and an aunt donated their locks to Wigs for Kids, Devin loved the idea.
"Yeah, but when the reality of it hit you were like, 'Mmmmm, I don't knooooow,'" her dad Nick said. The corners of his mouth flickered, and he nudged her.
Devin shrugged. She ran fingers through her new bob. On stage, a half dozen others were also making their Wigs for Kids donations. The dance floor, stands and concourses were packed with people for whom – like Devin – the styles on scalps have a significance deeper than fashion.
Hair courses through the crowd at THON like a secret handshake. For some families fighting childhood cancer, what chemotherapy does to hair during treatment is a badge of honor. For others, it's the bitter icing on the cake, the final insult and the last shoe to drop. If you're lucky. For some the loss of hair is one of the first signposts on the roughest road of their lives.
It's also in the background of most of the survivor stories. Even though it's usually temporary, living with the stigma of hair loss for a child ― even the fear of it ― is a link between everyone who has been there. Maybe it seems small ― and compared with what's gained from lifesaving treatment, it is.
But children with cancer mostly suffer their tumors on the inside. What happens to their hair during chemotherapy is an all-too-real reminder of what's at stake.
'It breaks your heart'
During THON, you meet people with whom you might never expect to have a conversation about beauticians and styling. A thickset man in jeans, a T-shirt and a white firefighter helmet has become a fixture at THON and might not seem like the sort to wax on about hairstyles and curls.
Michael Biancone, a firefighter from Reading, has come for 13 of the last 14 THONs. Every year, he wears a fire helmet a local department had made special for him – all white with the words "Childhood Cancer Awareness" wrapped around "PSU" on a shield in front.
When she was 16 months old, his daughter, Natalie, was diagnosed with acute lymphoblastic leukemia. At one point during her treatment, she became so sick she was flown from a medical center in Reading to Penn State Health Children's Hospital.
She's been in complete remission for 13 years now. "Four Diamonds paid for everything," Michael said.
Soon after she started her chemo, Michael knew it was coming. It happened when she was eating pancakes for breakfast one morning. She ran her fingers, sticky with syrup, through her straight blonde hair and a handful came out. He took her to get the rest of it buzzed off. She was completely bald.
Eventually, the hair came back. Curly for a time. Her chemo curls, he calls them.
Natalie was too little to care. The sorrow was reserved for those who understood. "It breaks your heart," Michael said.
Handling it like a champ
But these days Natalie is a teenager. At THON, as she and her dad mingle among dancers and the families they've befriended over the years, the lights shine on the mop of wavy brown that hangs to the middle of her back.
Cancer survivors at THON run a gamut of styles. Some children are hair-free, still suffering the alopecia that sometimes results from chemotherapy and lasts two to three months on average, according to the U.S. Centers for Disease Control and Prevention. At THON they have squirt gun battles and get high-fives from Division I athletes along with kids with full heads of hair.
Some have chemo curls. Sometimes hair of a different color or texture grows in after chemotherapy is finished, as though one child went in and a slightly newer one came out. Other children have never lost their hair, or they've long since moved on. Scars and some old photos of a bare-headed child are the only reminders.
But even the reminders can sting. Ten-year-old Isabelle Taylor was diagnosed with cancer just before Thanksgiving in 2016. She was so young at 4 years old that her mother, Beth, thought she might escape any of the horrors some kids endure when they lose their hair. Societal pressures include gender identity stigmatism and bullying.
One day, Beth told Isabelle how pretty she was. Isabelle said she didn't feel pretty. Pretty girls have hair. She drew pictures of herself with long blonde hair.
In kindergarten, she lost it a second time.
Seven years later, Isabelle wears a long wash of chestnut brown hair, but memories of those days still bring tears to her eyes. "It was a hard time," Beth said.
Today is better. She's visiting old friends at THON ― among them the college students who came to see her when times couldn't be worse.
Just before Devin's date with the scissors, 10-year-old Riley Rejniak is waiting in the Family Room ― a slightly quieter space off the dance floor for Four Diamonds Miracle Children and their families ― to head to the stage and then out for a game of lacrosse or a chance to visit with real-life football players.
Riley's hair is starting to grow back from his latest round of chemo to treat the stage 4 neuroblastoma with which he was diagnosed about six years ago. Relapses have put him through this
routine twice, along with brain surgery. Some of the baldness comes from a surgical port doctors had installed on the top of his head.
The hair was blonder before the surgery, but now it comes back as a soft brown. He feels no pain when it falls out, he says, just touches his head with his fingertips, and they come back with hair. "The annoying part is when it falls in my eyes," he said.
This part is harder on his parents. The first time his mother, Ashley, noticed it falling was a couple weeks after his first chemotherapy. He was lying down, and she was stroking the top of his head. Some of the hair didn't stay.
She cried. It was hard. "For everything he went through, it was small," she said. "But the physical part of it. Seeing it come out. That was tough. I have to say he handled it like a champ."
The family set out to show solidarity. Ashley is a beautician, and one time she dyed his hair for fun. He loved it. Now, every time the chemo takes his hair away, Riley dyes it when it comes back. Orange is his favorite.
"I'm waiting for it to grow long enough to dye it again," she said.
Riley's father offered to shave his head, too. Riley said no. "He didn't want anyone to have to look like that," she said.
'It makes it all real'
Celia Cosentino's sister, Adeline, cut eight inches off her own hair to show solidarity when Celia first planned to have her hair shaved off. In the end that day, Celia opted not to shave it.
During THON's opening moments, Celia and her family weaved through the dancers toward the main stage, hanging close to friends like the Rejniaks and the Biancones. Celia is keen on the
synchronized steps the dancers will perform once every hour 46 times throughout the weekend. She learns them from a few of dancers she's come to know, first tentatively lifting her arms and legs, then slowly gaining confidence.
The Cosentinos pray the worst is behind them. Celia was diagnosed with central nervous system ganglioneuroblastoma ― a variety of brain tumor ― in August 2018 when she was 9. Soon after she received her first chemotherapy treatment at Penn State Health Children's Hospital she became so sick she had to spend much of her day in bed. In those days, she had the famous Cosentino hair – it was thick, too thick to get a brush through sometimes. It had become matted from being in bed so long.
Her mother, Sara, noticed clumps of it coming out on her pillow.
Sara began to cry. A personal care assistant at the Children's Hospital noticed her crying and offered to help cut out some of the mats. Sara had to step away and go to the bathroom to hide her emotions.
"Why am I crying?" she asked herself. "It's only hair."
Over time, Celia took ownership of her hair loss with her sense of humor. She used to wear a scarf on her head in most school pictures, but one year she chose not to. She wanted to be able to point to the pictures and be able to say, "Hair. Hair. No hair."
She received her final treatment in 2019, and her hair has since come back – but not the Cosentino curls. In their place is a thin, light brown hair, missing in some places where Sara says it won't return. They're talking about extensions. But for now, Celia runs her fingers through it and jokes that she can get a brush through this hair.
Sara has come to realize the hair lost because of childhood cancer is no small thing. "It's huge," she says. "It's so huge. It makes it all real."
'Don't let them not be a kid'
Like most things in life, Devin's family decided to head off her hair loss, so to speak. Just before her first surgery, anticipating what was to come, Devin allowed them to shave her head. It was Nick Pulaski and Debbi Miller's little girl, so they made it a party. They did the deed at her karate dojo and invited friends. A neighbor shaved her head to show solidarity.
When she first caught her reflection and saw a little bald girl looking back, Devin's face fell. The storm broke fast – she returned to making goofy faces and playing minutes later – but it was a dark moment. There'd been others and more would come. Throughout her 10 years, Devin has carried her family through most of them with unrelenting energy.
The family, her friends at Penn State and THON have no shortage of pictures of Devin hugging athletes, dancing, wearing costumes. In many, not a single strand of hair is to be found. "She has a nice skull," Nick says. "She likes to be the center of attention, and believe me, a pale, bare-headed little 5-year-old coming into the room, she drew attention. And she loved it."
What was on her head didn't seem to make much of a difference. "We're following her lead," Nick said. "They're still a kid at the end of the day. The best thing is just don't let them not be a kid."
Moments after she donated her hair, Devin and a group of others who'd given theirs paired off with a stylist, who smoothed some of the edges of Devin's new do. The waterfall is shorter now, ending just around her earlobes.
Will she grow it back, or is this Devin's new look for good?
"Grow it back," she said. "And donate it again."
If you're having trouble accessing this content, or would like it in another format, please email Penn State Health Marketing & Communications.