College of Medicine researchers discover different types of bladder cancer cells share common genetic ancestry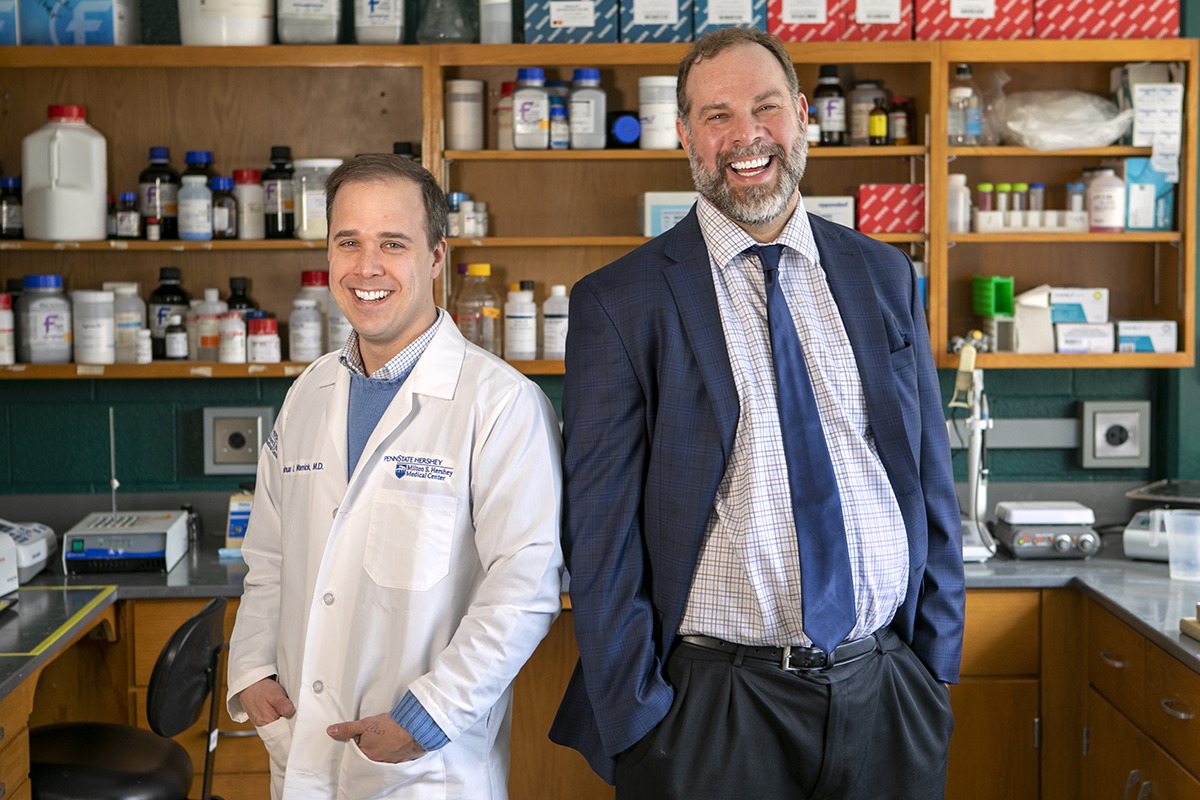 Penn State Cancer Institute researchers study why some bladder cancer tumors are resistant to certain immunotherapies
Why are some bladder cancers resistant to a type of immunotherapy called immune checkpoint inhibitors? Penn State College of Medicine researchers have found that the genetic and pathologic diversity of cells within the tumor may be part of the challenge.
By collaborating with oncologists and researchers at Penn State Cancer Institute, Penn State Health Milton S. Hershey Medical Center and beyond, the team is striving to find new preventive strategies and treatments for bladder cancer.
"One thing that scientists, physicians and patients often don't think about is that cancer is an evolutionary disease," said Joshua Warrick, MD, associate professor of pathology and laboratory medicine and of urology. "When we study the details of any tumor, particularly bladder cancers, we see that different parts of the tumor are not always identical. They're often heterogeneous, with different appearances and genetic profiles, which can make them challenging for an oncologist to treat."
Approximately 80,000 bladder cancer cases are diagnosed in the United States each year. For decades, researchers have used platinum‑based combination chemotherapies to treat patients with metastatic bladder cancer that has spread from the tumor of origin. Treatment plans may include a type of immune therapy called immune checkpoint inhibitors. However, a majority of bladder cancers are resistant to these checkpoint inhibitors and even patients that respond may find their tumors eventually resisting the treatment.
Bladder cancers are typically classified by pathologists like Warrick as urothelial carcinomas. But in locally advanced and metastatic bladder cancers, pathologists may encounter mixed histologies, or different types of cells, within a tumor. In the case of bladder cancers, you may have squamous differentiation – a different type of cancer cell from the urothelial carcinoma.
"This means you have two types of tumor cells present in some patients," Warrick said. "Prior research tells us these patients' cancers may be less responsive to treatment. Understanding the biological origins of these mixed histology tumors will help us develop new therapeutic approaches for this evolving disease."
Our researchers are collaborative. They embody what medicine means.
A large team of researchers and doctors from multiple institutions partnered with Warrick on this project, including David DeGraff, PhD, associate professor of pathology and laboratory medicine, urology and of biochemistry and molecular biology, who co-lead this study with Hikmat Al-Ahmadie, MD, from Memorial Sloan Kettering (MSK) Cancer Center.
"These collaborations are key," DeGraff said. "The array of Penn State researchers involved in the project, and also our collaborators at Memorial Sloan Kettering (MSK) Cancer Center and elsewhere, helps us ensure this research is translational. Clinical observations shape laboratory research, and in turn, our findings could someday lead to changes in clinical care through new prevention, diagnostic or treatment strategies."
First, the researchers analyzed nearly 850 bladder tumors which were collected at MSK. Sixty‑nine percent of these tumors were pure urothelial carcinomas, while 10% had evidence of squamous differentiation.
To study tumor cell differentiation and the biological processes driving it through a more in-depth approach, urologic oncologists like Jay Raman, MD, Matt Kaag, MD, and medical oncologists like Monika Joshi, MD, provided Warrick and DeGraff with samples from patient tumors collected at Milton S. Hershey Medical Center. Through a series of experiments and computational analysis led by Vonn Walter, PhD, assistant professor of public health sciences and biochemistry and molecular biology at Penn State, and Wenhuo Hu, PhD, from MSK, the researchers learned more about the genetics of the tumors. They showed that while urothelial carcinoma and squamous cells appear different, they share a common genetic ancestor – or cell of origin.
"We're the first group to demonstrate this concept," DeGraff said. "Over the course of disease progression, urothelial carcinomas convert through a process called plasticity, to squamous cells, but they share the same tumor cell of origin. Before this study, there was debate as to whether the plasticity of urothelial carcinomas was responsible for tumor heterogeneity."
DeGraff studies how the expression and dysregulation of genes like FOXA1, which are key for maintaining the identity of urothelial cells found in the urethra, bladder and other areas, can lead to cancer development. In this particular study, they found that lost expression of FOXA1, GATA3 and PPARG can lead to plasticity in bladder cancers.
Through further analysis, the researchers determined that tumor regions with squamous differentiation have unique interferon signatures, or signal proteins released by cells in response to cancer, which can influence how the immune system interacts with those cells. They found that not only does decreased expression of FOXA1 activate this interferon signature in squamous cells, but that tumors with mixed histologies appear to be resistant to a type of immune checkpoint inhibitor that targets a protein called PD-L1. Cancer cells that make high amounts of this protein are more susceptible to immune therapies. The results were published in the journal, Nature Communications.
Ultimately, DeGraff and Warrick said their study has some implications for clinical trial design and patient care. They noted that patients with heterogeneity, or mixed cell types, within tumors are often excluded from enrolling in clinical trials. Since molecular predictive tests are being developed for cancer, they said there is a strong need to avoid sampling bias during biopsies. If only selected regions of a tumor are sampled, they explained that differentiated tumor cells could be missed.
"Our work has implications for identifying bladder cancer patients who are most likely to respond to certain immune therapies," Warrick said. "We've found that morphologic heterogeneity, or the presence of different cell types within a tumor, also implies heterogeneity in the immune environment. Further profiling of tumors and clinical trials that identify optimal treatments are needed."
Efforts to better understand cancer are not possible without the support of the Departments of Pathology and Laboratory Medicine and Urology, as well as financial donors and patients who donate samples for study. DeGraff noted that the contributions of the Penn State Health Bladder Cancer Survivor Group were appreciated and reminded him of the importance of his work.
"As a scientist who works in the lab most days, it was meaningful for me to connect with patients," DeGraff said. "Hearing their stories and being moved by their generosity helps clinicians and scientists propel these important discoveries forward."
Wenhuo Hu, Fengshen Kuo, Irina Ostrovnaya, Judy Sarungbam, Ying-bei Chen, Anuradha Gopalan, Sahussapont Sirintrapun, Samson Fine, Satish Tickoo, Kwanghee Kim, Jasmine Thoams, Nagar Karan, Sizhi Paul Gao, Timothy Clinton, Andrew Lenis, Timothy Chan, Ziyu Chen, Manisha Rao, Travis Hollman, Yanyun Li, Nicholas Socci, Shweta Chavan, Agnes Viale, Neeman Mohibullah, Bernard Bochner, Eugene Pietzak, Min Yuen Teo, Gopa Iyer, Jonathan Rosenberg, Dean Bajorin, Victor Reuter, Yu Chen, Samuel Funt, David Solit and Hikmat Al-Ahmadie of Memorial Sloan Kettering Cancer Center; Hironobu Yamashita, Lauren Shuman, Jenna Craig, and Suzanne Merrill of Penn State College of Medicine; Lan Gellert of Vanderbilt University Medical Center; Mauro Castro of Federal University of Parana; A. Gordon Robertson of Canada's Michael Smith Genome Sciences Centre; Rosalyn Adam of Boston Children's Hospital; John Taylor III of University of Kansas Medical Center; and Peter Clark of Levine Cancer Institute also contributed to this research. Penn State researchers declare no related conflicts of interest. Other disclosures are available in the manuscript.
The research described above was supported by the Albert Institute for Bladder Cancer Care and Research, Cycle for Survival, the Mark Foundation, the Parker Institute for Cancer Immunotherapy, the Samuel Waxman Cancer Research Foundation, the Department of Defense (grant number W81XWH-21-1-0916), the American Cancer Society (grant number RSG 17- 233-01-TBE), the W.W. Smith Charitable Trust, the Ruth Heisey Cagnoli Endowment in Urology at Penn State College of Medicine, the Bladder Cancer Support Group at Penn State Health, The National Institutes of Health (grant numbers R01 CA233899, P01CA221757 and P50CA221745), the Sloan Kettering Institute for Cancer Research Cancer Center Support Grant (grant number P30CA008748), and the Marie-Josée and Henry R Kravis Center for Molecular Oncology. The views above are those of the authors and do not necessarily represent the views of the research sponsors.
If you're having trouble accessing this content, or would like it in another format, please email Penn State Health Marketing & Communications.