Huerta-Saenz recognized for Exceptional Moments in Teaching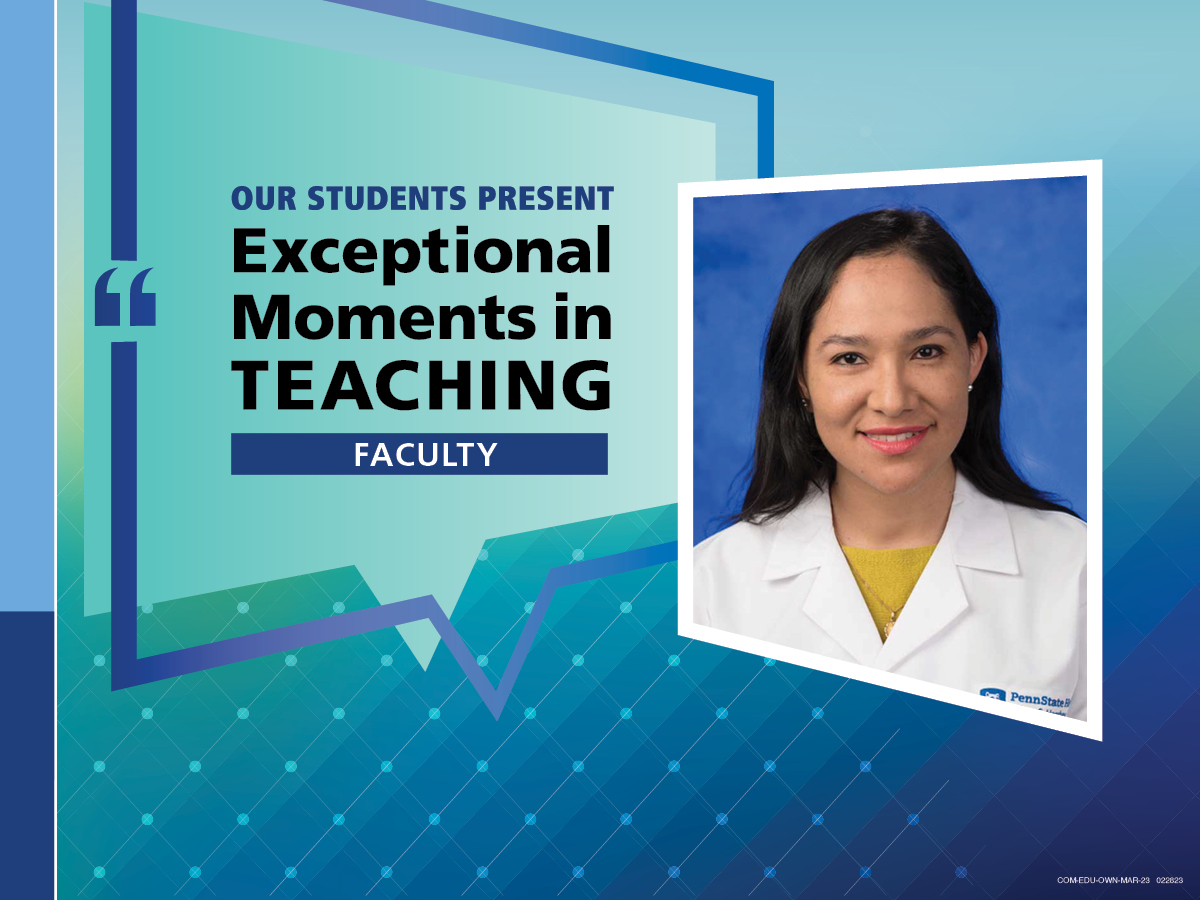 Dr. Lina Huerta-Saenz, a physician in the Department of Pediatrics, is featured for March in the "Exceptional Moments in Teaching" program.
"Dr. Huerta-Saenz took a very special approach to patient care," a current student wrote. "More than any other physician I have worked with, she incorporated a systems approach to language barriers and socioeconomic factors with patients.
"I really appreciated how she took her time to bridge educational gaps with patients and treated individuals and not diseases when she talked about healthy eating and nutrition within cultures. It inspired me to want to take this approach when I become a physician."
Huerta-Saenz is a pediatric endocrinologist and physician-scientist focused on diabetes prevention and treatment of Type 1 and 2 diabetes. She completed her residency training at Einstein Medical Center Philadelphia and her pediatric endocrinology fellowship in Kansas at Children's Mercy Kansas City. After graduation, she practiced at Children's Mercy Wichita, where she developed a multidisciplinary, bilingual program to prevent Type 2 diabetes in youth. This innovative program won the 2017 Health Care HEROES award from the Wichita Business Journal in the category of Health Care Innovations.
Huerta-Saenz joined Penn State Health Children's Hospital and Penn State College of Medicine as a pediatric endocrinologist and assistant professor of pediatrics in 2018. She has also worked as a sub-investigator for multicenter clinical trials related to diabetes and growth hormone disorders in children. She is currently the principal investigator for the DINAMO clinical trial for youth with Type 2 diabetes, as well as a study for youth with a prolonged Type 1 diabetes honeymoon phase, which is funded by Children's Miracle Network at Penn State Health Children's Hospital.
Huerta-Saenz is a 2022-2024 Penn State Clinical and Translational Institute KL2 scholar with funding to conduct a pilot clinical trial for diverse youth with a new diagnosis of Type 1 diabetes. She is committed to creating more precise models of care for the diverse community of youth living with prediabetes and diabetes.
Penn State College of Medicine's Office for a Respectful Learning Environment recognizes exceptional faculty, residents and fellows with the monthly "Exceptional Moments in Teaching" program. One faculty member and one resident/fellow are highlighted each month for their contributions. College of Medicine students are invited to submit narratives about faculty members, residents, nurses or any other educators who challenge them and provide an exceptional learning experience using the online nomination form.
The Office for a Respectful Learning Environment fosters an educational community at Penn State College of Medicine in which all learners and educators feel supported, challenged, valued and respected. It serves all learners at the College of Medicine: medical students, graduate students, physician assistant students, residents and fellows.
See previous faculty and resident/fellow honorees here.
If you're having trouble accessing this content, or would like it in another format, please email Penn State Health Marketing & Communications.