Neurosurgery resident Fritch recognized for exceptional teaching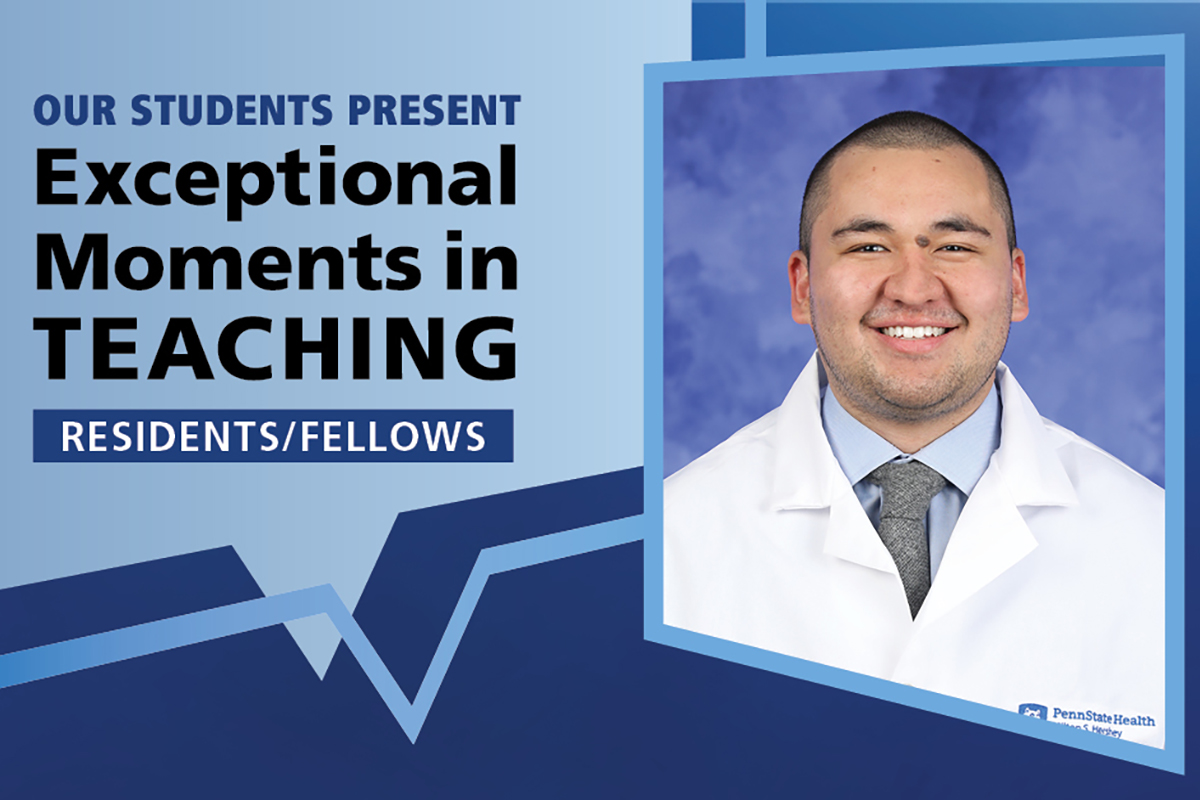 Dr. Chanju Fritch, a neurosurgery resident at Penn State Health Milton S. Hershey Medical Center, was recognized in March 2023 as part of the Exceptional Moments in Teaching program of Penn State Health and Penn State College of Medicine.
"Dr. Fritch is an excellent educator," a current student wrote, "and he always finds small bits of downtime to interact with and educate medical students. One day in the operating room, he and I crossed paths while I was waiting for a procedure to begin. He recognized that there was a different surgery about to occur that would have more educational benefit for me.
"He gave me all of the information I needed and even walked me to that operating room so I could be involved. While it doesn't sound like much, it's little moments like this that make a huge difference for students."
Fritch is a third-year neurosurgery resident at the Milton S. Hershey Medical Center. He was born and raised in New Mexico and drawn to medicine after a series of meaningful relationships in his church. He chose neurosurgery at the University of New Mexico School of Medicine in Albuquerque, New Mexico, because it encompasses a patient's functionality, consciousness and quality of life. Fritch is leaning toward a focus on vascular neurosurgery, with interest in stroke, aneurysm and vascular malformation care. When not in the hospital, he can be seen playing with his German Shepherd mix, Montgomery, or searching for a great coffee shop.
Penn State College of Medicine's Office for a Respectful Learning Environment recognizes exceptional faculty, residents and fellows with the monthly "Exceptional Moments in Teaching" program. Each month, one faculty member and one resident/fellow are highlighted for their contributions. College of Medicine students are invited to submit narratives about faculty members, residents, nurses or any other educators who challenge them and provide an exceptional learning experience using the online nomination form.
The Office for a Respectful Learning Environment fosters an educational community at Penn State College of Medicine in which all learners and educators feel supported, challenged, valued and respected. It serves all learners at the College of Medicine: medical students, graduate students, physician assistant students, residents and fellows.
See previous faculty and resident/fellow honorees here.
If you're having trouble accessing this content, or would like it in another format, please email Penn State Health Marketing & Communications.