Penn State Health names Vyas vice president and physician leader for Penn State Health Children's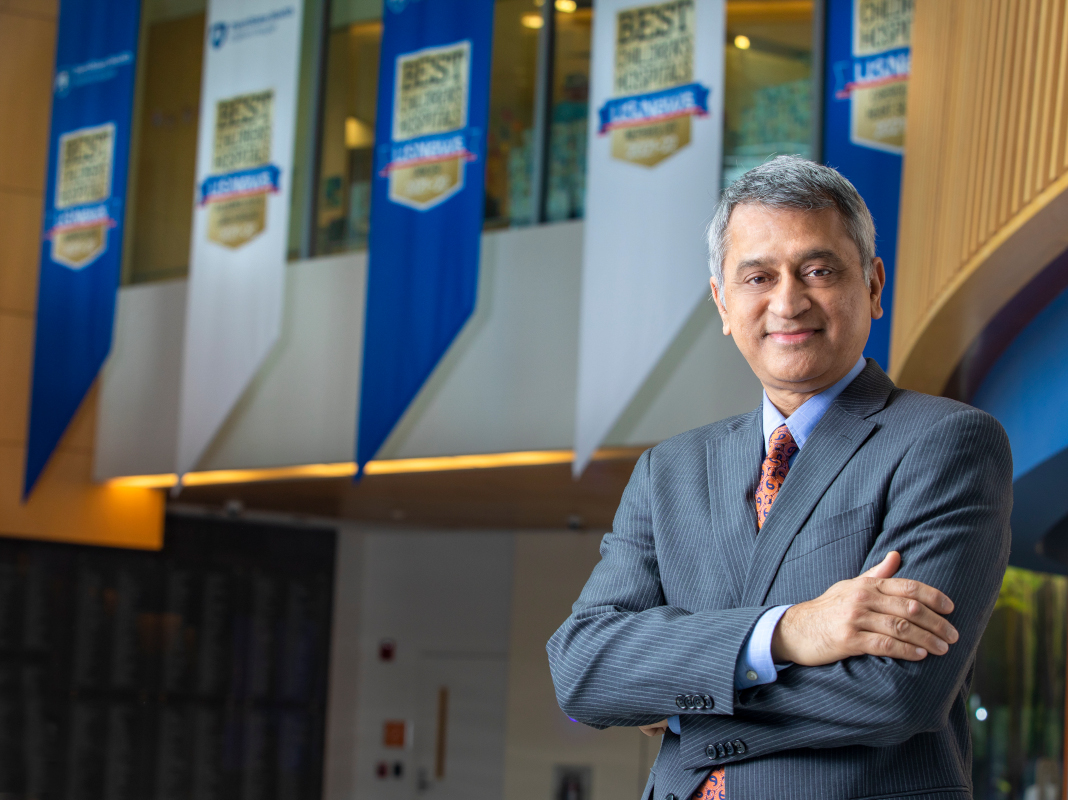 Penn State Health has appointed Dr. Yatin M. Vyas to the position of vice president and physician leader for Penn State Health Children's, the health system's approach to providing comprehensive pediatric care across central Pennsylvania.
In his new role, Vyas will oversee the coordination of pediatric services for the entire health system, in addition to maintaining his current responsibilities as pediatrician-in-chief for Penn State Health Children's Hospital and the Children's Miracle Network and Four Diamonds Endowed Chair of the Department of Pediatrics for Penn State College of Medicine and Penn State Health Milton S. Hershey Medical Center.
Vyas will drive the patient care strategy for Penn State Health Children's services — medical, surgical, mental health, diagnostic and social — across the health system, including making recommendations to its senior leadership on the scope and site of clinical services, quality of care measures and clinical standards of care, and key investments in technology and facilities. He will also oversee pediatric workforce planning efforts, the deployment of pediatric care resources throughout the Penn State Health Children's service area and outreach to and collaboration with other regional physicians and care providers.
His focus will include continuous improvement of the patient journey, from childhood health, wellness and prevention, to early diagnosis, treatment and recovery for various pediatric illnesses and injuries. He will foster coordination, integration, innovation, design and development of pediatric programs at all Penn State Health hospitals and outpatient practice sites.
Penn State Health created the position as part of its strategic efforts to develop a highly coordinated system of care that focuses on delivering unparalleled patient outcomes and experience for patients and providers alike, across all of its hospitals and outpatient practices, ensuring that no patient needs to leave the region for primary, specialty or sub-specialty pediatric care.
"Dr. Vyas is well positioned to lead the continued expansion of our world-class Penn State Health Children's services across our health system given his strong administrative and clinical experience," said Dr. Peter Dillon, executive vice president and chief clinical officer of Penn State Health. "He has an established record of leadership in research, clinical care and patient safety that will guide Penn State Health's efforts to extend the highest level of care and support to our pediatric patients and their families throughout the region."
Vyas joined Penn State Health in November 2021. Previously, he was the Mary Joy and Jerre Stead Professor of Pediatrics at the University of Iowa in Iowa City and directed the Division of Hematology/Oncology. During his time as director, Vyas led the team at the Stead Family Children's Hospital to become a beacon of excellence for pediatric cancer care. He served the department as vice chair and leader of pediatric research. Additionally, he served on the executive leadership advisory committee for the National Cancer Institute-designated Holden Comprehensive Cancer Center at the University of Iowa.
Prior to joining the University of Iowa, Vyas served as a faculty member in the Department of Pediatrics at the University of Pittsburgh Medical Center's Children's Hospital of Pittsburgh and at the Memorial Sloan-Kettering Cancer Center in New York City.
"Penn State Health Children's has long served the children and families of central Pennsylvania and beyond. Our commitment to our patients calls on us to find ways to make our renowned care even more convenient to them," Vyas said. "By fostering coordination and focused pediatric program development across the health system and partnering with physicians in the communities we serve, we can ensure that sick or injured children can get the compassionate and comprehensive care they need from nationally recognized caregivers close to where they and their families live and work."
Vyas trained in pediatrics at the New York University Medical Center/Bellevue Hospital and completed a fellowship in pediatric hematology/oncology at the Memorial Sloan-Kettering Cancer Center inpatient hospital and New York-Presbyterian Hospital/Weill Cornell University Medical Center, both in New York City. Vyas holds certificates in Leadership Development for Physicians in Academic Health Centers from the Harvard T. H. Chan School of Public Health and the Joseph M. Katz Graduate School of Business of the University of Pittsburgh. He is a scholar-graduate of the Association of Medical School Pediatric Department Chairs Physician Leadership Development Program.
If you're having trouble accessing this content, or would like it in another format, please email Penn State Health Marketing & Communications.