Outside the lines: Penn State Health physicians find challenge, inspiration in South America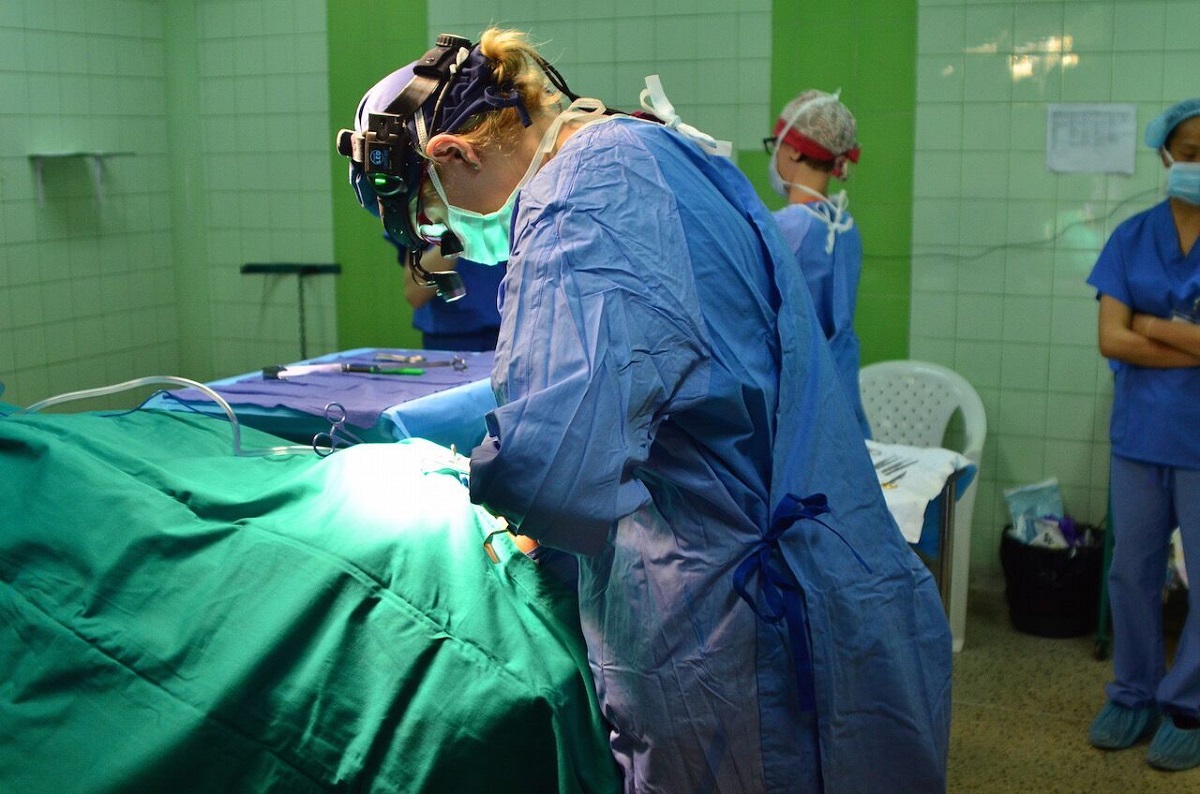 Some perform dozens of surgeries with shoddy equipment. X-ray machines fail, governments create roadblock and some of the hospital rooms were constructed hundreds of years before their home was even called the United States.
But some Penn State Health doctors spend time every year helping patients in far-flung corners of the world.
Sometimes, the physicians like a challenge. Others are looking to re-center themselves. Or they just want help out in the wider world.
Whatever their reasons, Penn State Health professionals are extending their care and expertise to other nations and populations that greatly need it.
Below are stories of two Penn State Health doctors in South America.
Finding voices and creating smiles in Peru
Surgery had closed the girl's cleft palate, but she still couldn't find her voice.
In countries like Peru, the birth defect that occurs when a baby's mouth doesn't form properly continues to negatively affect lives even after surgery to fix the deformity. Most patients need follow-up surgeries. Some need four or more. Most need therapy to help them learn to speak correctly. Many can't find work because of their inability to speak understandably. In Peru, cleft patients often find themselves removed from public life. Some spend their days locked in rooms with minimal contact with the world outside.
'One of the most wonderful things we do'
But this girl, who Dr. Jessyka Lighthall had met in Peru through the Foundation for the Advancement of Cleft Education and Services (FACES), had greater ambitions. She wanted to go to
college.
Lighthall is division chief of facial plastic and reconstructive surgery at Penn State Health Milton S. Hershey Medical Center. She has been visiting Peru with FACES since 2013. Her first trip was when she was a resident at Oregon Health and Sciences University in Portland, and she's been returning nearly every year since. She and her colleagues from hospitals around the Unites States donate their time and pay their own expenses to perform dozens of surgeries on patients who can't afford them.
"It's really hard work, but it's one of the most wonderful things that we do," she said.
In addition to performing cleft lip and palate surgeries, FACES volunteers work to help educate the general population and local healthcare providers about the condition and partner with local doctors to provide better continuity of care after the initial surgery. They provide social services to help families in need, dental care, orthodontia and speech therapy. The team follows these patients long term to provide all their needs.
That's what the girl who wanted to go to college needed-a surgery to improve her speech. Doctors had repaired a significant deformity, but many people like her who are born with cleft palate need help forming words. Her problem forced her to drop out of college. She might have gone no further, but she returned to one of the facilities where FACES was working. She received a free screening and underwent speech surgery.  Her speech immediately improved.
High-quality care
Lighthall has worked at facilities throughout Peru, where one in every 500 to 600 children are born with cleft lip or cleft palate. She and other FACES representatives work primarily in Lambayeque and Chiclayo, cities on the northern coast, mostly at the Belen Hospital.
They go for eight to 10 days at a time, but the relationships FACES help build and technology, like electronic medical records and telehealth, allow her to keep tabs on patients long after she's gone. "We provide the same kind of high-quality care in Peru  that we do here in the United States," she said. "It's just one of the reasons I really like this group."
Stateside, Lighthall pitches in on fundraisers. During COVID, she and the other surgeons performed virtual patient screenings to identify children with cleft lip and palate deformities in need of surgery and speech therapy.
"These trips are an emotional reset for us and remind us why we got into medicine in the first place," she said.
Lighthall feels that medicine is her true calling, but sometimes given the mountains of paperwork, challenges with access to care, and demands of the profession, she sometimes loses sight of her why. What brought her to medicine in the first place?
She grew up on the West Coast, put herself through college and tried a job in marketing while she made sure medicine was what she really wanted. "Work is hard," she said. "But I enjoy coming in every single day. I feel like I do good work, and I put my whole heart into it. I treat everyone like they're my family."
Every visit to Peru, though physically demanding, reminds her.
The girl found her voice after surgery and speech therapy and eventually finished college. She got a job working as an engineer. And she has returned to FACES in Lambayeque ― as a volunteer.
"We work very hard, but we get back probably more than we give through the emotional reset and the relationships we build," she said. "It's a really lovely feeling."
Intimate relationships 4,000 miles apart
Sometimes, Dr. John Weaver's cell phone buzzes with an alert from WhatsApp, an international messaging system.
"Professor Weaver," the message might read, "I have a 37-year-old who was in a car accident with a thoracic fracture. Here are the images. What do I do?"
Weaver, a neurosurgeon with more than 20 years' experience, is used to conferring with the colleagues on cases. But this question is unique, since it comes from nearly 4,000 miles away from where Weaver ordinarily works at Penn State Health St. Joseph Medical Center in Reading.  The call is coming from the South American nation of Bolivia.
"One of my WhatsApp buddies," Weaver explains, which means it's a neurosurgeon at one of the dozens of hospitals in the landlocked nation just east of Chile and Peru. Bolivia is one of the poorest countries in the world, and the health care system can barely take care of the population of about 12 million.
What borders on miraculous is Weaver's ability to provide answers – not just in terms of expertise, but supplies and logistics. He can tell the caller how to proceed and where to get the equipment. "I know their resources," Weaver said. "I know the tools that they have. I know one hospital has a pretty terrific drill, and another hospital has a Black & Decker that plugs into a wall. I have a pretty good sense of what resources they have available to safely care for somebody."
Weaver knows because he's been there, has used the equipment and in some cases delivered it there. Since 2008, as part of the charity organization Solidarity Bridge, geared to help bolster and supply medical staffs in the impoverished country, Weaver has been visiting Bolivia almost every year. And in April, he will don a tuxedo and accept the Solidarity Award at the organization's gala in Chicago for his commitment to improving neurosurgical care in South America.
'Challenge your imagination'
Until 15 years ago, Weaver had done all of his medical work in the U.S. A colleague invited him to join him on his first-ever trip to Bolivia, in part to "challenge your imagination." It began as week to 10-day visits, where he'd work in desperately poor and ill-equipped hospitals in cities around the nation, some of which had been constructed hundreds of years ago to perform operations with Bolivian neurosurgeons and bring supplies.
The need for equipment like microscopes, basic surgical instruments and pharmaceuticals is dire. Patients must bring their own medicines and anesthesia to procedures. If they can't afford X-rays or surgery, they often must turn back home and attempt to live with their injuries and disabilities. And the equipment they can afford can be hit-or-miss. Weaver has performed procedures on picnic tables. One time, an X-ray machine broke down when it was needed for an accident victim. Weaver talked the attending physician through surgery without imaging and
using the patient's anatomical landmarks.
Though Bolivia has universal health care, it ranks at or near the bottom among Latin American nations in life expectancy, mortality, malnutrition, fertility, poverty and education.
Shifting tactics
After several years, the disposable supplies brought by Weaver and his colleagues had been depleted, and they decided they needed to change to better meet their goals. Now, Solidarity Bridge works to facilitate purchase or donation of medical equipment from companies worldwide at cheaper prices. Weaver also spends more of his time helping to train practitioners and participate in demonstrations.
Weaver and his colleagues also meet with high-level hospital officials throughout the country to encourage them to lower costs and invest more in equipment.  The Solidarity Bridge mission goals are to increase access to safe, essential and timely neurosurgical care with Bolivian partners in year round programs.
Weaver also has worked to forge partnerships with other doctors. That's important for a lot of reasons, but one is the continuum of care. "These not our patients but those of the Bolivian physicians," he said. "And they need after-care."
COVID-19 curtailed a couple of Weaver's planned trips. To compensate, Solidarity Bridge representatives began meeting online using video conferencing with translator features. It wound up opening even more doors, Weaver said. Where once Weaver spoke with doctors only about once a year in person, now he can consult more regularly. He joins neurologists from Bolivia and the U.S. every other Thursday night on Zoom to talk about cases.
And his WhatsApp buddies can reach him at any time.
"You talk to somebody every other week, you get to know them a little bit better," Weaver said. "It's become a more intimate relationship ― and a much more trusting relationship."
If you're having trouble accessing this content, or would like it in another format, please email Penn State Health Marketing & Communications.