Birthday surprise on wheels: Life Lion staffers' gesture restores patient's spirits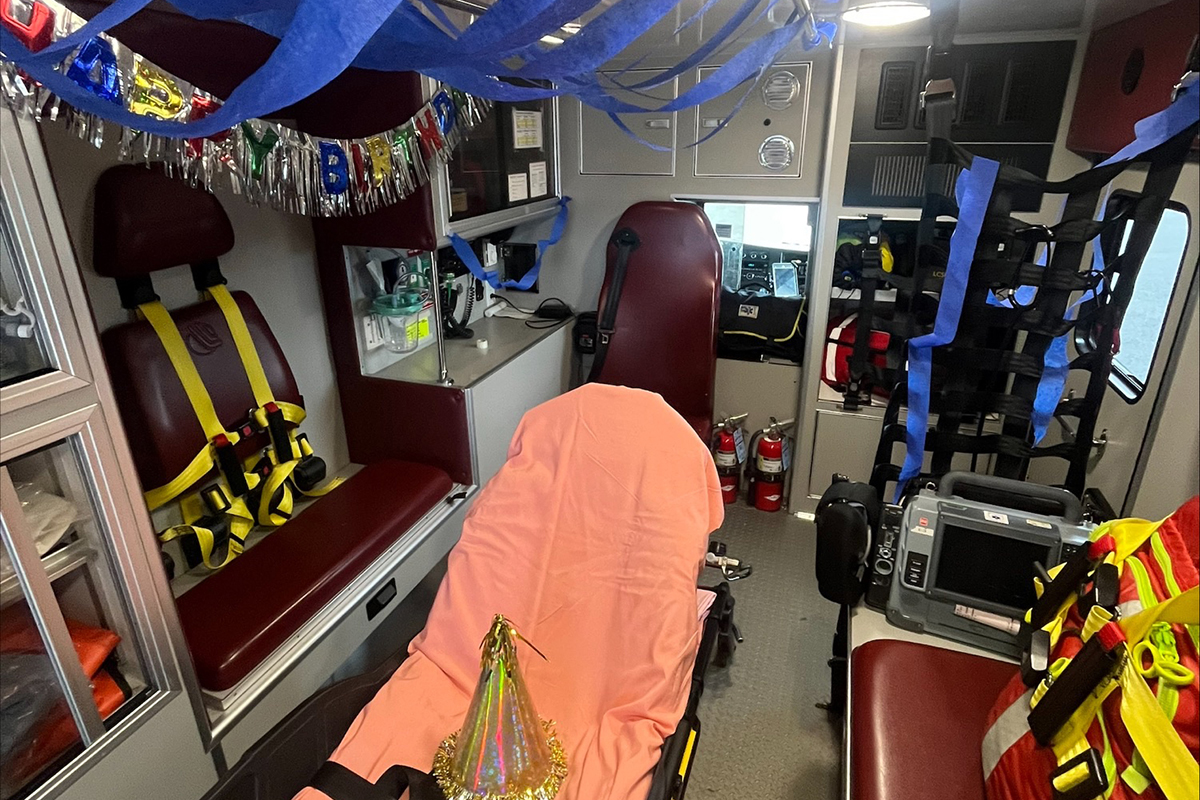 It's no Chuck E. Cheese, but that didn't stop Emma Anselmo and Rachel Wert from working to make a birthday happen in an unlikely place ― the back of an ambulance.
Anselmo, an advanced emergency medical technician at Penn State Health Life Lion LLC, and Wert, her emergency medical technician teammate, were assigned to transport a cancer patient from Penn State Health Hampden Medical Center to Penn State Health Century Drive Cancer Center. Their return trip to Hampden Medical Center was delayed, and they noticed their patient seemed a little down.
Anselmo and Wert worked to make the man comfortable and lift his spirits. During the conversation, they learned he would be receiving radiation treatment again on his birthday in a couple of days.
That's when Anselmo and Wert decided to turn their emergency transport into a birthday fun zone. Between appointments, they made a stop at a local Dollar Tree store and bought streamers, a party hat and a banner, and decorated the back of the ambulance for a mobile party. When the patient returned, he was so grateful he shed "tears of joy" throughout the transport and remained upbeat until the day's treatments were complete.
"For a moment, the focus shifted from the routine transport to the celebration of life and reaching another milestone," Anselmo said. "Our patients truly become extensions of our own families, and we treat them accordingly with the utmost physical and emotional care that they so deserve. This is the most important part of being a member of the Life Lion family."
Afterward, the crew took the decorations to the patient's hospital room for him and his family to enjoy.
"One philosophy I hold close to my heart is to try to leave a place or a situation in a better condition than I had found it," Anselmo said. "This translates into my work with people as well."
If you're having trouble accessing this content, or would like it in another format, please email Penn State Health Marketing & Communications.