Hospitals, nurses take the cake: Penn State Health celebrates National Hospital, Nurses weeks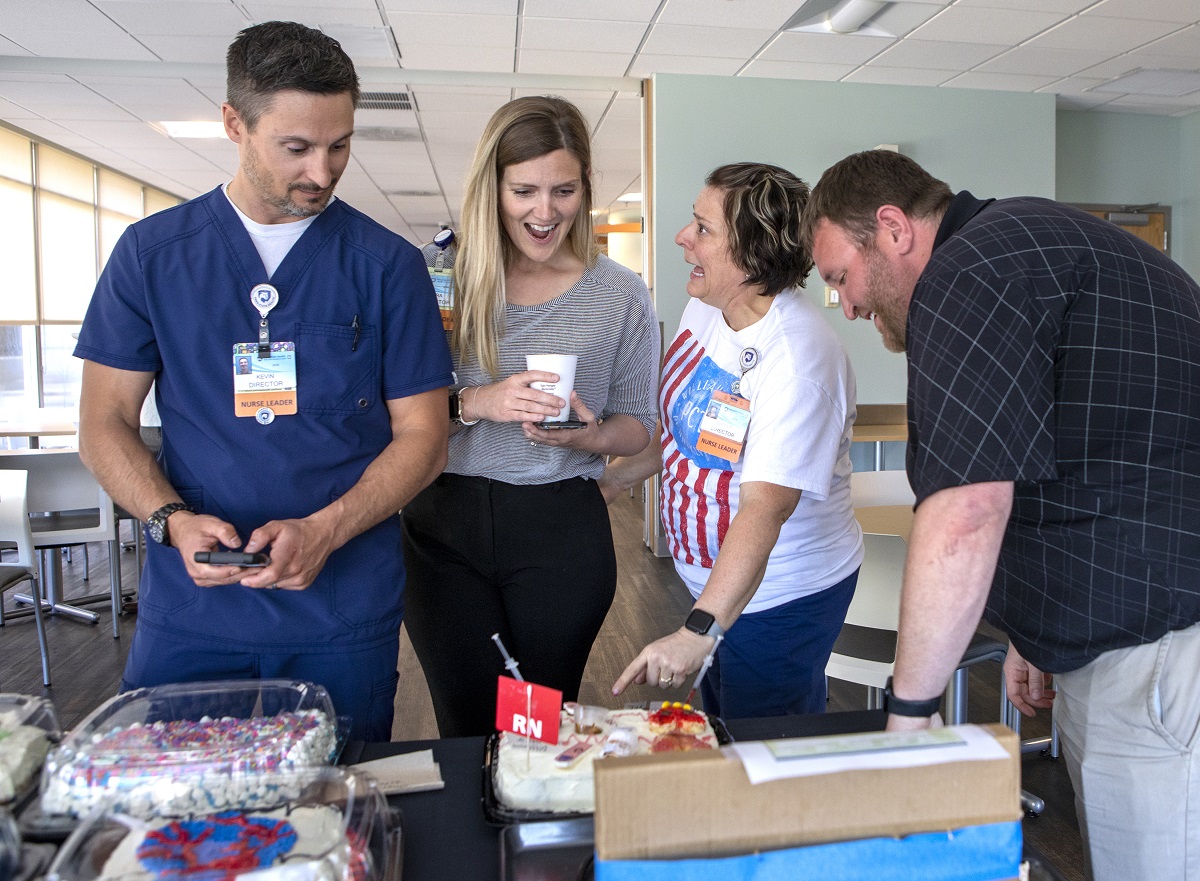 In the hours before it starts, nurses and medical staff of all stripes huddle in offices and hallways across three of Penn State Health's five acute care hospitals.
Tasks are divvied up. Logistics discussed. This event requires creativity and precision.
After all, it's National Nurses Week and National Hospital and Health System Week. All over the growing Penn State Health system, doctors, nurses, phlebotomists, food service workers ― you name it ― will square off in kickball games, race three-wheeled bicycles and frolic with puppies.
But perhaps no other moment in all the hoopla will make better use of the traits the simultaneous celebrations are meant to honor ― characteristics health care professionals rely on every day. This event demands inspiration, adapting when the bottom falls out and above all ― teamwork.
This is cake decorating.
T-minus 24 hours …
At Penn State Health Holy Spirit Medical Center and Penn State Health Hampden Medical Center, food services delivers sheet cakes to the competing artists. Nearby Penn State Health Milton S. Hershey Medical Center's cake decorating contest is planned for the next day.
The desserts each team receives are decorated only with plain white icing, which will serve as canvases for each department's creation. Teams have 24 hours to work together on their artwork.
At the same time the cakes arrive at the departments in Hampden and Holy Spirit medical centers, therapy dogs are making special rounds at Hampden. Health care workers at Penn State Health St. Joseph Medical Center are accepting prizes at an awards ceremony. Food trucks are just about to leave for the day after serving up Latin food at Penn State Health Lancaster Medical Center.
"Every day, I'm humbled at how our Penn State Health family goes above and beyond to better the lives of our patients and those who live in the communities we serve. We give a large chunk of
our time and our hearts to serving others," said Penn State Health CEO Steve Massini, who, along with other leaders have been making the rounds at the hospitals. "So, it was great to see so many people participating in fun activities like cornhole, kickball, picnics and puppy snuggling during the Nurses, Hospital and Health System week activities. I'm grateful to those who organized and participated in the many activities across our health system and made the week so special."
But for one team at Holy Spirit Medical Center, there's a glitch.
No cake has arrived in the case management/social work department. The team has a solid plan: Make a cake that looks like the old battery-operated Hasbro game Operation – the one where you pretend to be a surgeon lifting out a patient's bones with tweezers.
But instead of drawing the classic operation cartoon character as the human going under the knife in the game, case manager Christina Hipple suggested sketching the Penn State Nittany Lion to be the cake's patient.
The bulk of the decorating duties will fall to case management/social work's secret weapon ― Tina Paulus, a scheduling service specialist who in the past has decorated cakes large and small.
T-minus 22 hours …
But by the time Paulus's shift is done for the day, no cake has arrived.
Several miles away, at the Milton S. Hershey Medical Center, colleagues and their families snuggle and play with puppies in the makeshift Puppy Petting Pit. At Lancaster Medical Center, partygoers arrive for the new hospital's first-ever Recognition and Awards Ceremony. At Hampden Medical Center, gratitude carts loaded with snacks for the night shift staff have started to roll.
At home that evening, Paulus works on her icing and the stencil of the Nittany Lion, which she traces on a piece of paper that will serve as her guide.
T-minus seven hours …
When Paulus returns to work the next morning, the cake is still missing in action. Somewhere, a wire has gotten crossed. The team makes a call and their key ingredient arrives.
But it's another curveball. They were expecting a large, 9-inch by 13-inch cake. The dessert that arrives is much smaller. Paulus' design needs the bigger surface. "We could make the lion littler," she offers, but they're including 14 tiny game pieces with words like "Anklebone connected to the knee bone" written on them – and they won't fit on a smaller cake.
So, while 65 miles east of the Camp Hill hospital, St. Joseph Medical Center's nursing staff is sitting down to a celebratory breakfast, a contingent of Holy Spirit's case management/social work team runs to a nearby GIANT Food Stores supermarket and orders a sheet cake.
"You want that decorated?" someone at the bakery asks.
"No. Plain white."
T-minus six hours …
Paulus decorates the new cake at her desk.
"Everybody helped," she said. "Everybody had an opinion."
T-minus three hours …
At Hampden Medical Center, an awards luncheon is underway. At Hershey Medical Center, players are lining up their game boards for the Lunch Bingo Blast.
At Holy Spirit, so far, two cakes have arrived in the Hearth cafeteria for judging.
One is bigger than the others. A rendering of a Penn State Nittany Lion is spread across the top, tail coiling behind him, finger raised showing No. 1 as he lies on a table for a game of Operation. Smaller. White drawings of bones are positioned in key spots on his brown frosted body, and blue arrows point to little tags with labels like, "Funny bone."
Judgment time
At 3 p.m., nine cakes are positioned on a table at the rear of the cafeteria and several of the judges are surveying the handiwork.
Competition is stiff. One creation features a mammoth sculpture of the lion done in puffed rice cereal treats. Real syringes along with cookie sculptures of diseased hearts, fingers, kidneys and livers rise from another. Psychology's cake features a flower with a pink brain at the center along with the words "You Are Enough."
Paulus and some of her co-workers drop by to see what their colleagues came up with. Paulus has been working at Holy Spirit for 22 National Nurses and National Hospital and Health Systems weeks. This is her first cake decorating contest, but her favorite thing about it every year is the variety of activities. "It's something different every day," she says. "It's great to be outside and just see everyone."
In the end, her Operation cake doesn't take the prize. Honors go to a creation from the Post-Anesthesia Care Unit, which also features a rendering of the Nittany Lion, a dove and the words "You Are! The Difference."
The special weeks finished during the weekend. A Hershey Medical Center team won the annual kickball tournament. St. Joseph handed out awards to nurses. Cookies arrived at every Holy Spirit department on Saturday, the same day Hampden hosted an ice cream social. Lancaster Medical Center staff recognized their colleagues with candygrams.
Next week, the day-to-day business of making people well will go on, and teams like Paulus' will make it happen with adaptability, creativity and teamwork.
It'll be a piece of cake.
___________________
Click the image below for a gallery of photos.
If you're having trouble accessing this content, or would like it in another format, please email Penn State Health Marketing & Communications.