Three faculty accept director roles to advance clinical and translational research at Penn State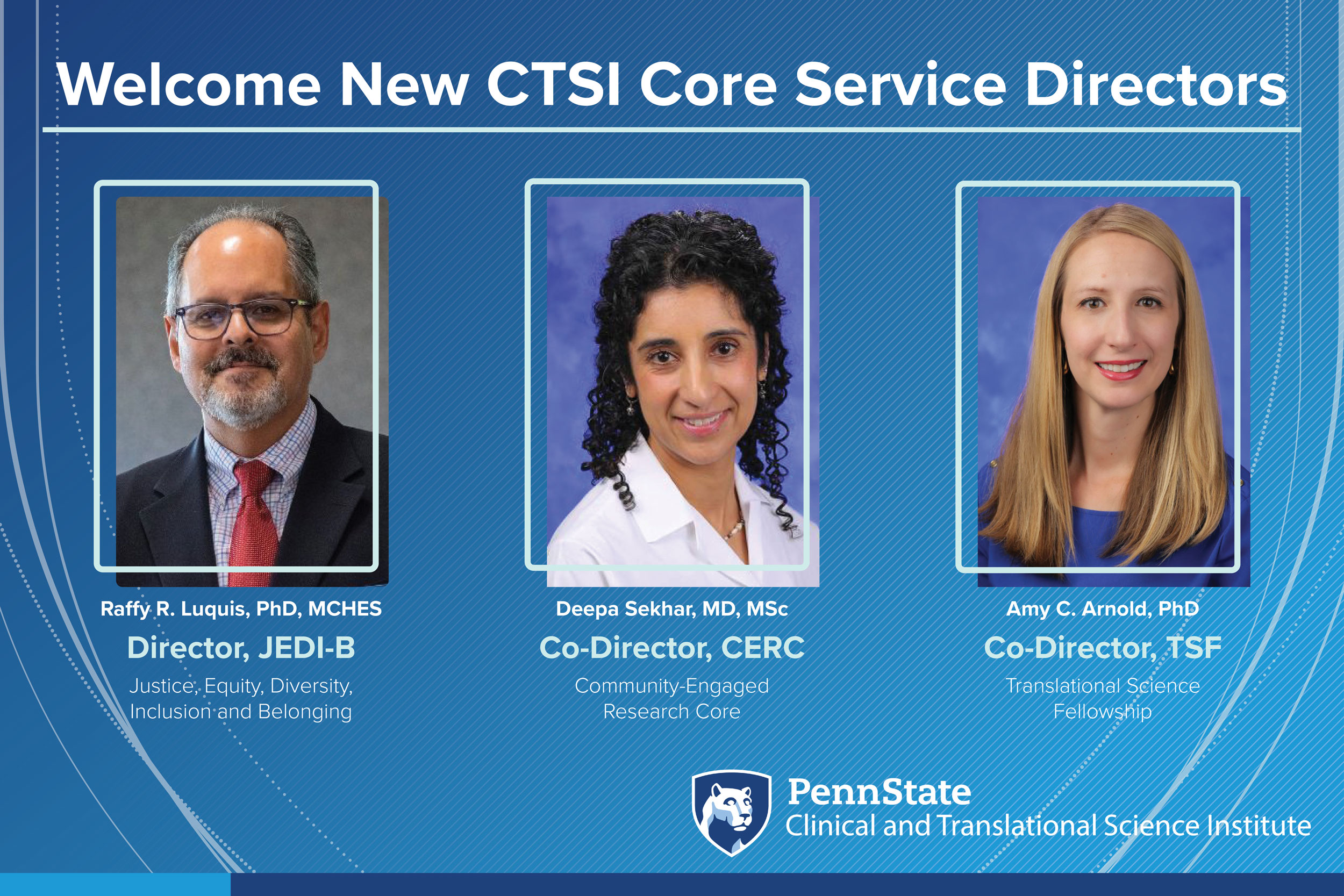 Penn State Clinical and Translational Science Institute (CTSI) welcomes new leadership across three core service areas.
Penn State CTSI offers research support, tools and resources, consultative services, funding, training and education across all Penn State campuses and for researchers at every stage of their learning and career. It accomplishes much of this work, and its commitment to supporting a diverse, equitable, and inclusive environment, within several core service areas—an administrative core and seven other core service areas including Education and Training (KL2 and TL Fellows), Research Methods, Informatics, Clinical Operations, Workforce Development, Pilot Awards and Community Engaged Research.
The CTSI welcomes new leadership in Justice, Equity, Diversity, Inclusion and Belonging (JEDI-B), Community-engaged Research, and the Translational Science Fellowship program core service areas.
Director of Justice, Equity, Diversity, Inclusion and Belonging (JEDI-B)
Raffy R. Luquis, PhD, MCHES, has been named Penn State CTSI's inaugural Director of Justice, Equity, Diversity, Inclusion and Belonging (JEDI-B). In this role, Dr. Luquis will lead efforts across CTSI core service areas and activities to ensure work is aligned with our vision of a diverse, equitable and inclusive environment to promote clinical and translational research.
"It is well-established that diverse teams are stronger teams and produce better results. We are so excited to welcome Dr. Luquis as our inaugural Director of this important focus to help guide our Penn State research community in this critical area," said CTSI Director Dr. Jen Kraschnewski. "Our CTSI is committed to President Bendapudi's strategic goal to foster diversity, equity, inclusion and belonging for our clinical and translational research faculty and staff."
As a forward-looking leader in this space, Dr. Luquis will strategically align and advance JEDI-B efforts across the national consortium of Clinical and Translational Awards and beyond. As a member of CTSI's Executive Council, he will also lead recommendations for equitable and inclusive recruitment practices for students, faculty fellows, pilot funding awardees, and staff.
"I strongly support the notion that diversity involves more than differences based on race and/or ethnicity, but also differences based on gender, age, sexual orientation, nationality, socioeconomic status, linguistics, education, spirituality and religion, politics, and abilities," said Luquis. "My teaching, research, and service underscore my commitment, passion, and engagement in activities related to diversity, equity, and inclusion."
Dr. Luquis is a professor of biobehavioral health in the School of Behavioral Sciences and Education at Penn State Harrisburg. He has a broad background in health education and health promotion. His primary research and teaching interests include cultural competency and multicultural health, public health education, and health promotion. He is the co-editor of the book entitled "Cultural Competence in Health Education and Health Promotion" and has numerous publications and national presentations at conferences in his areas of expertise. Dr. Luquis has conducted research to assess health issues affecting the Latino/Hispanic population, cultural competency among health professionals, health promotion practices among primary care providers, and health behaviors among young adults.
Additionally, Dr. Luquis serves on the Board of the Latino Hispanic Professional Association and the Board of Trustees of the Society for Public Health Education (SOPHE). He previously served on the SOPHE Health Equity and Anti-Racism Task Force, the Advisory Committee of the Office of Health Equity, and the Board of the Latino Hispanic American Community Center. He was recently appointed to the Governor's Advisory Commission on Latino Affairs.
Co-Director for the Community-Engaged Research Core Service Area
Deepa Sekhar, MD, MSc, has been named Co-Director for Penn State CTSI's Community-Engaged Research Core (CERC) service area. In this role, Dr. Sekhar will assist with the engagement and partnership between Penn State research teams and communities across Pennsylvania.
The CERC service area is comprised of an interdisciplinary team of clinicians and researchers who are invested and actively involved in research with various community types (e.g., rural or socioeconomically disadvantaged communities). The goal of the CERC is to extend community engagement and collaboration across Penn State researchers, community members, health policy and other stakeholders within the state and local governments, public health, and other organizations. The CERC is also engaged in activities that advance team science through educational workshops, presentations, and consultations.
Dr. Sekhar will work alongside Co-director Aleksandra Zgierska, MD, PhD to plan and execute several CERC activities across Penn State campuses. This includes facilitating workshops and presentations regarding community-engaged research strategies, recruiting and selecting CERC fellows, and providing consultations to Penn State researchers on enhancing their research efforts in, and engagement with, diverse communities across the Commonwealth.
"As a former CTSI CERC fellow, I was provided key foundational elements for my success in community-engaged research," Sekhar said. "I am at a point in my career where I am well-poised to share back what I have learned in the role of CTSI CERC Co-Director." This experience as a CERC fellow paired with her current research endeavors and clinical practice make Dr. Sekhar uniquely qualified for this role.
Dr. Sekhar is a professor of pediatrics at Penn State College of Medicine and serves as executive director for Penn State PRO Wellness, a center within Penn State dedicated to community-based research and educational programming. She is a practicing general pediatrician and researcher with expertise in health-related prevention interventions and community-engaged research. Further, Dr. Sekhar has been a key part of nearly 20 research projects, the most recent of which focused on adolescent major depressive disorder. Her funded work is heavily reliant on community-engaged research frameworks including the active integration of stakeholder advisory boards that influence the design, execution, and dissemination of her work.
Nationally, Sekhar is Pennsylvania's Chapter Champion for the American Academy of Pediatrics (AAP) Early Hearing Loss Detection Initiative. She serves as a member of the AAP Council on School Health, Academic Pediatric Association and Society for Pediatric Research. In addition to her services with various organizations, she was the 2017 recipient of the Cubby Cares Award at Penn State Health Milton S. Hershey Medical Center for providing family-centered care.
Co-director for the Translational Science Fellowship (TSF) Program
Amy C. Arnold, PhD, has been named Co-director for Penn State CTSI's TSF program. The TSF program seeks to identify and develop promising MD and PhD graduate students, with a wide variety of research interests, and across departments and campuses, who are interested in translational research.
In this role, Dr. Arnold will work closely with Co-director Cara Exten, PhD to plan the TSF program curriculum, arrange for guest speakers and assist with the facilitation of workshops. Additionally, Dr. Arnold will be instrumental in recruiting and selecting fellows, and identifying, scheduling, and evaluating facilitators for sessions.
Dr. Arnold is an associate professor in the departments of neural and behavioral sciences and medicine at Penn State College of Medicine. She has integrative training in whole animal physiology and pharmacology methods to assess cardiovascular and metabolic function, with specific expertise in the renin-angiotensin hormone system.
"My experience in translational research spans over a decade, with my current position reflecting my passion and perseverance to pursue a diverse and translational scientific background in the field of cardiovascular regulation," said Dr. Arnold. "I am thrilled to help lead this program and to engage with students from multiple disciplines across Penn State to enhance their knowledge and perspective of translational research in a supportive and collaborative environment."
Additionally, Dr. Arnold is actively involved in teaching at the graduate and medical levels where she emphasizes translational relevance to help students bridge the gap between basic science and clinical practice. She has served as a primary mentor to trainees at the graduate, medical, and postdoctoral levels from a variety of research interests and programs within the Penn State College of Medicine. Further, she has helped lead the Penn State American Heart Association Undergraduate Summer Fellowship program.
About Penn State CTSI
The mission of the Penn State CTSI is to promote and support equitable, interdisciplinary, high impact, clinical and translational health research. We accomplish this by serving as a University-wide institutional infrastructure resource and through our commitment to supporting a diverse, equitable and inclusive environment. The CTSI is housed in the Penn State College of Medicine (CoM) at the Hershey campus and in the College of Health and Human Development (CHHD) at the University Park campus. It is the institutional home for the Clinical and Translational Science Award (CTSA), funded by the National Center for Advancing Translational Sciences (NCATS), one of the National Institutes of Health (NIH).

Need research support? Fill out a research service request form to get started.

If you're having trouble accessing this content, or would like it in another format, please email Penn State Health Marketing & Communications.