High Foundation recognized for gift to support patient assistance at Lancaster Pediatric Center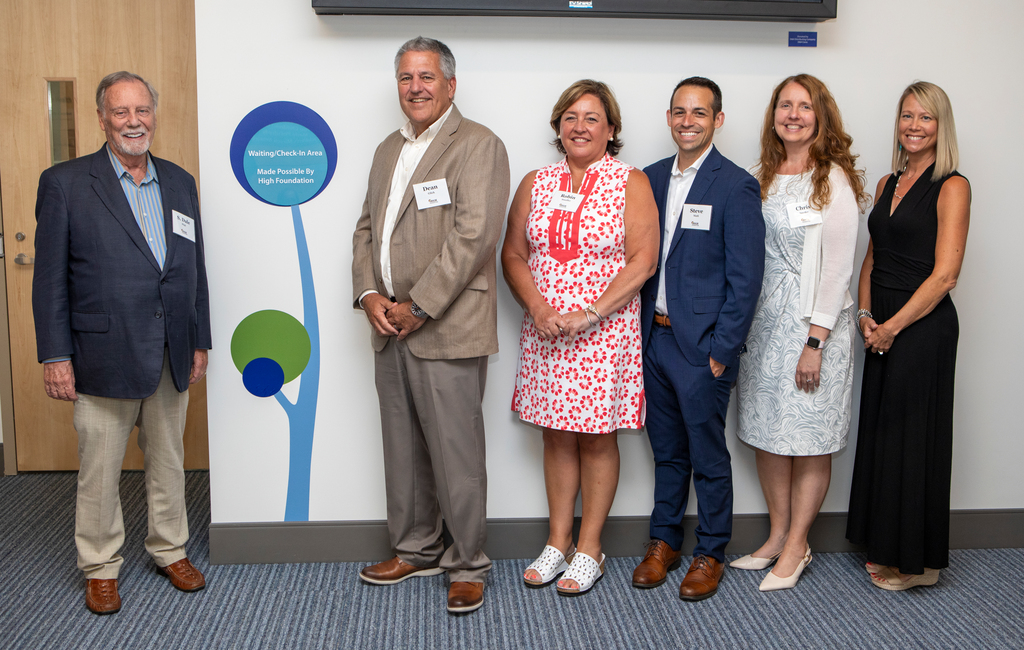 Penn State Health dedicated the Behavioral Health Clinic waiting area at Penn State Health Children's Lancaster Pediatric Center in honor of the High Foundation, which gave $100,000 to support the families of children receiving a range of care services at the center.
The gift provides funds to assist with care costs not covered by insurance, such as medication or medical device costs, and vouchers to support meals, gas and other travel expenses.
"Philanthropy and health care both begin with caring, and together, they foster trust," said Deborah Addo, president and chief operating officer of Penn State Health at a ribbon-cutting ceremony on July 26 in recognition of the foundation's generosity. "We are grateful for the High Foundation's gift, which affirms their commitment to children and families in Lancaster County and the surrounding area and strengthens our ability to deliver high-quality care to all those we serve. Together, we are enhancing access to care and improving lives."
The High Foundation's gift for pediatric patient assistance exemplifies their commitment to enacting positive, systemic and long-lasting change in communities in which High companies provide economic investment and employment, said Robin Stauffer, executive director of the High Foundation. "We are pleased to champion and support projects which enable the dignity and inclusion of all people and generate beneficial social and environmental impact," Stauffer said. "We are grateful for Penn State's leadership in pediatric mental and behavioral health and proud to provide financial assistance that connects families with the specialty care, resources, support and follow-up they need for any health concern their child may face."
Lancaster Pediatric Center offers area residents comprehensive, high-level pediatric care in an environment designed for and dedicated to children, teens and their families. The center opened in June 2022 and offers general pediatric primary care, a walk-in clinic open six days a week and access to more than 20 pediatric specialty and subspecialty services, including cardiology, dermatology, neurology, ophthalmology, rheumatology, gastroenterology, urology and behavioral health.
During the dedication ceremony, Dr. Yatin M. Vyas, vice president and physician leader for Penn State Health Children's, pediatrician-in-chief for Penn State Health Children's Hospital and Children's Miracle Network and Four Diamonds Endowed Chair at Penn State College of Medicine, shared Penn State Health's approach to children's health.
"In the last few years, pediatricians nationwide have seen a rise in behavioral and mental health concerns among children and youth that were accelerated by the COVID-19 pandemic," said Vyas. "The inclusion of behavioral health specialty services at Lancaster Pediatric Center exemplifies our holistic commitment to improving children's health, and philanthropy is one of the most important underpinnings in our ability to transition our perspective from a focus on illness to wellness."
Dr. James Waxmonsky, physician and chief of child adolescent psychiatry at Penn State Health Children's Hospital and University Chair in Child Psychiatry, reiterated the need for pediatric mental health care and the importance of the High Foundation's gift to enhance access to all kinds of care for families experiencing financial challenges. "Despite recent sobering statistics from the Centers for Disease Control and Prevention about the number of adolescents experiencing clinical depression and even experiencing thoughts of self-harm, and the concerns we hear about challenges in access to services, the biggest barrier to pediatric mental health care is stigma," said Waxmonsky. "We know that embedding pediatric mental health care into the rest of health care makes a difference by reducing stigma. It improves access substantially, enhances the quality of the care and, literally, saves lives."
The Horton family also joined the celebration to share their gratitude for patient assistance funds they received during Miracle Child Daisy's early care journey and for the eye care she now receives at Lancaster Pediatric Center. "I can't express how grateful our family is to have specialty pediatric care available right in the community where I work," said Leidra Horton, mother to daughter Daisy and son Lex. "Daisy loves the center and its special little touches, and she really looks forward to her eye appointments. We are so grateful to the High Foundation for their support that helps families like ours."
Donors like the High Foundation advance the University's historic land-grant mission to serve and lead. Through philanthropy, alumni and friends are helping students to join the Penn State family and prepare for lifelong success; driving research, outreach and economic development that grow our shared strength and readiness for the future; and increasing the University's impact for families, patients, and communities across the Commonwealth and around the world. Learn more by visiting raise.psu.edu.
If you're having trouble accessing this content, or would like it in another format, please email Penn State Health Marketing & Communications.